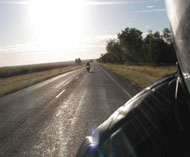 The soft butt challenge
The Hopper gang go west
Have you ever been to a junior soccer game where the wannabe Harry Kewell parent stands on the sideline yelling instructions at their bewildered six-year-old and abuse at the officials and coach? As a teacher, I encounter this kind of thing a bit and I think it's really parents attempting to live their unfulfilled childhood dreams through their children. As this story unfolds, I would like to think I'm not that kind of parent. Rather than live my dreams and ambitions through my children, I am simply picking up where I left off.
When Ben, my son and second child, said, "Dad, I would like to ride bikes", I found it hard to contain my enthusiasm. He was old enough. We started to trawl the net and trading mags for a suitable bike. I borrowed an 82 Katana we had in the family and my love affair with motorcycling was reborn. My wife, Robyn (part of the team from day one), and our oldest daughter, Anna, quickly embraced the cause. Our youngest daughter, Kate, adopted the status of designated passenger and we started to plan the family touring holiday.
Inspired by the late Davo Jones (ARR #45) story on the transcontinental GTR, and armed with internet research about the Iron Butt Challenge, Ben and I had planned a complying route in western Queensland for our family adventure. Sceptical of the hardness of our butts, we went for the soft-butt option, planning to travel about 400km a day and making a rule to stop every hour for a chat, a walk around and a stretch. So the plan was Mackay (home) to Emerald, Longreach, Hughenden via Winton, Townsville and back home, about 2000km round trip.
We had not progressed in living the dream to a collection of super tourers, but we were ready to run with what we had: Robyn and me on an 03 Suzuki Bandit, Ben and Kate on an 08 Suzuki Bandit (the ABS one) and Anna on a loaned 95 Yamaha YZF600R. Interestingly, the improved Suzuki had a much harder seat, not much of an improvement, but the problem was mostly solved by fitting an Air Hawk.
The only other treat we added to our equipment was Cardio Bluetooth intercoms. The ability to talk bike to bike and to your passenger passed the time on the long, straight roads. At first, these appeared temperamental in the connection department, but once underway they were great. With the earpieces positioned right, they were crystal-clear at any speed.
With all the prepping done, we were ready to roll. We pulled out of our Mackay home driveway on a drizzly morning about 8am, went through Walkerston and Eton and up the Eton range. The Peak Downs Highway leads from Mackay to the mining communities of the Bowen Basin. A large number of trucks and wide loads use this road and it pays to be alert for tired miners returning to Mackay from their shifts.
With the first hundred kilometres done, our first stop was at The Junction BP Roadhouse, about 6km from Nebo at the turn-off to Glenden, a mine-built mining community. This servo started out as a bus depot for a company contracted to transfer miners to and from Mackay. It's now a roadhouse and an accommodation village as well. Many of these roadhouses have a story. The Shell at the turnoff to Moranbah a little further out began life as a caravan and some 44-gallon drums with a lever pump.
Turning south, we headed west past Middlemount to a late lunch at Tieri. Communities out there resemble a social science experiment. Tieri is another mine-built community where mine workers live for very little rent. Our visit to the bakery for some lunch revealed a quiet, very well-kept place with lovely people who kept serving until the shift ended. It was a great spot for lunch. At Emerald, we caught up with family. If you get to Emerald, make sure you have a look at Fairburn Dam, an impressive expanse of water, which explains all the ski boats you see around town.
We left Emerald early with the sun on our backs and our noses pointed west again and had the first sense of what a big country this is. Congratulations to the councils of the region for the great roadside stops, some which even had flushing toilets. We rode through Alpha and Jericho to Barcaldine, which is a town steeped in history, though you get the feeling the locals are not that stoked about it. It's famous as the home of the "Tree of Knowledge" and arguably where the Labor Party was founded.
When the famous tree died, Barcaldine put up a new, curious landmark in the shape of a big wooden box that dominates the main street. [Ed: was the box made from the tree?] The lady putting the menu boards outside the pub told us, "Sure it would help tourism, but I think we could have done more with the $5 million." She was certain the old tree was not poisoned, as reported in coastal media, but rather old age got it.
We arrived at Longreach at about 1pm, found our pre-booked accommodation and headed out to see the attractions. The women opted for the Stockman's Hall of Fame while Ben and I went on the 747 tour at the Qantas Museum. The last flight of this plane, which dominates the skyline as you enter Longreach, was a mission to evacuate the injured from Bali after the bombings. It was then flown to Longreach and decommissioned for the museum.
Over the road at the Hall of Fame, the girls were gathering stories of how the west was won and the characters that made it happen.
The third day, we had a sleep-in but were packed and on the road by 8.30. One thing that has changed in motorcycle touring in the past 20 years is the amount of electronic stuff you carry around. We have chargers for everything and in a group of five there is hardly enough motel power points to satisfy chargers for five phones, four intercoms, two cameras and one iPod.
Near Winton, you really experience the flatness as the road vanishes to the horizon in front and behind in the mirrors. On the hour, we pulled up in a property driveway to soak it up. It was the Easter weekend, so the traffic was up on my last visit with a vehicle every couple of minutes. I love the expanse and the quiet. Just us, some sheep and a few emus.
It had been a great season and the good body of grass was keeping the roos and other wildlife off the road, where they often graze and die in drier times. Not that there wasn't an even spread of roadkill.
It was there that we met with our only mechanical drama. As Anna climbed back on the YZF and turned on the key, she had no lights, no indicators and no taco. The electrics were dead, but the good news was the motor was unaffected. So we rode on to Winton. After a bit of ratting around, we discovered a couple of blown fuses and, after blowing a couple more, we found that one of the rear tail-light globes had dislodged and broken, allowing the element to short out on the frame. Two new fuses and we were back in action and pretty happy with our efforts.
This upcoming stretch was my greatest concern. Riding after lunch with the risk of what Ben referred to as a "food coma" did not seem ideal. My fears proved unfounded, although we did most of it into a solid head wind. A number of floodways along this piece of road were a bit rough, but the road was wide and generally in good order. At our stop, a road train pulled up on the other side and the driver came over for a yarn. Turns out he was a Hayabusa rider carting fertiliser from 180km southwest of Winton to Ayr on the coast; 13 hours each way, three times a week. It really put our meagre effort into perspective.
Hughenden was nothing to write home about except for the great hospitality and the steak and vegie dinner we got at the Mum and Dad servo on the east side of town.
Day 4 looked ominous with the potential to get wet, and we did. The intercoms came into their own. In a long line of traffic behind a road train, we managed to work our way through the traffic without drama. There, too, we saw our first and only live roos. The rain provided Kate, our designated passenger and photographer, the opportunity to try underwater mode.
I guess the surprise of the day was Charters Towers, a bustling town with, compared with where we'd been in the past few days, lots of people. We had to pull ourselves together and lift our alertness as we again engaged with multiple road users. Charters Towers deserves a longer visit than we gave it. One of Queensland's older towns, it was founded on gold mining, which still goes on there today. It's also well known for its boarding schools, built to educate the western graziers' children. The streets were lined with heritage-listed buildings. Like I say, it needs more time than we could give it this trip. The next day we hit Townsville and on the homeward leg we were back to the familiar ride between the cane fields.
This ride was one of those memorable moments in our family history. To quote whoever it is the Bear is always quoting, "It is the journey that is important not the destination." To me, motorcycle touring provides a frontier and the great joy of being able to say "I did that". It was a pleasure and a privilege to share it with my family and I hope I may have inspired some of you to share the camaraderie of touring with your family, too.