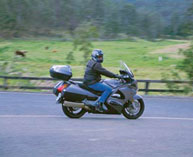 The road of living dangerously
Just because some riders have overcooked it doesn't man the rest of us can't enjoy this road
Feel like living dangerously? Well, you don't need to ship your bike to India and tackle the Himalayas or even ride across the Simpson Desert. If you're a Sydneysider, all you need to do is take a quick run up to the Hunter Valley.
The particular run I have in mind is the road through Wollombi, and the danger comes from many directions but especially from other motorcyclists and from within.
An old friend who spent some of his younger years as a highway patrol officer and now lives not far away rides this run for relaxation. It hasn't been especially relaxing lately; he's found one body and helped at other serious crash scenes. Sadly, the thing that seems to tie many of these accidents together is that the riders, in racing parlance, ran out of talent.
Even the local council has been motivated to get into the act. I wrote quite a while ago in ARR about Cessnock Council naming one bend "Lemming Corner" and pointed out the dangers of the road then – but now a long-time reader who also lives not far away has come to the defence of the area.
"It's easy to make this sound like some kind of horror stretch and scare people away," she writes, "but that's not fair to riders or to the businesses that service them. How about giving the other side of the story, Bear?"
The other side of the story is that this is a lovely road, great for riding and with much to see and do along its course and at the end. And it's quite true that it is hardly fair to make such a pleasant road sound unattractive. So let me try to make up for any unintentional blackening of the Wollombi Road's name.
The road has only been tarred for its entire length for a relatively short time. A lot of locals, our correspondent not included, actually campaigned to keep it gravel, to discourage increased use by non-residents.
It's easy to find, even without a map. One way is to simply take the Sydney to Newcastle freeway to the Calga Interchange. You can also carry on up the Old Road to Road Warriors Café at Mt White, but because of the road collapse north of here you will need to then cut out to the freeway to get to Calga. From there you follow the signposting to Peats Ridge along what used to be the Pacific Highway. A lot of very large earthmoving trucks use this road, so beware. Fill up at the little servo on the left if your tank isn't reasonably full.
The turnoff to Route 33 tourist drive and Central Mangrove is just past Peats Ridge, also on the left. Ride straight through Central Mangrove and you're on the way. This is all farms and orchards and there is quite a bit of local traffic. There are several small settlements, including Kulnura and The Letter A, and a few connecting roads off to the sides. Just before Kulnura you can turn off to Yarramalong Valley across Mulligans Range on the right and just after Kulnura there's a road to Mangrove Creek Dam on the left.
I have ridden this road many times and to my eternal shame I have to admit I've never turned off and had a look at this dam. Go ahead, beat me to it.
We're getting into the area where there are few people or houses and mobile phone reception is patchy. For a fair distance now we're in the bush. At the turnoff to St Albans there is, according to my map, supposed to be a place called Bucketty but I've never seen it. And I don't ride that fast!
That road down to St Albans is worth taking, by the way, if you don't mind dirt and gravel. It runs through some wonderful remote country and tends to be in pretty good shape – for dirt. It is the original convict built route from the 1840s and we'll write about it some time soon. After Bucketty, our road follows the convict road all the way to Wollombi Village.
Yallambie, a little further north from Bucketty on my map, doesn't exist either except on paper but there is a turnoff to the right that will take you – once again on gravel and dirt – to Watagans National Park and then to Cooranbong.
The next real settlement is Laguna, which combines a terrific little café-servo-wine bar with informal outdoor seating. It's a little way off the road on the left; don't miss it if you feel like a rest break. Great roses, too.
We're back in farming (and b&b) country now. The next stop is Wollombi itself, with its tavern, general store and "antique shop". On any halfway sunny weekend, the road outside the pub looks like a sports bike shop but the township is not the only attraction.
Being on the southern edge of the Hunter Valley, the place naturally has some wineries. Heading up Main Road from Wollombi and turning left will take you to Yango Creek Road and Undercliff Winery. Go straight ahead instead of turning into this road and you'll find Wollombi Village Vineyard.
If you turn right instead onto the Cessnock road you'll come to Cedar Creek Vineyard and, on Mt View Road, to Millbrook Estate and Millfield Wines.
All the area's wineries are open for cellar door sales on weekends and public holidays from 10am to 5pm.
You can return home the way you came or by way of Cessnock and Mulbring down to Freemans Waterhole. Or, if you're keen enough and if the day is young, by way of the Putty Road. Just don't live too dangerously.