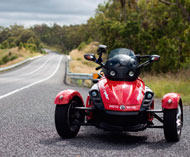 Spyder Man

How a Spyder converted this true-blue biker
When I first saw this contraption on the web early in 2007 I had just completed a 19,000km trip around India on a Fireblade. I was a true-blue motorcyclist; my preferences were for two wheels — not one more, not one less. Cars were out of the question.
Despite my fierce, unyielding two-wheel stance I was strangely attracted by this thing that looked like a moon buggy in white and a Mars explorer in red. It was pure sci-fi — radical enough to be starring in Transformers and loaded with enough high-tech electronics to qualify for a role as a James Bond escape vehicle.
Fast forward three years. I recently had the opportunity to have a week-long ride on a Spyder courtesy of Todd from Spyder Ryder Australia. I was excited and a little concerned about my ability to handle its dynamics, especially after I'd heard I would have to unlearn everything I knew about two-wheeled riding.
When I first saw two Spyders side by side in Todd's garage, I tried to find suitable words to describe how colossal and futuristic I thought the Spyder looks in the flesh. The massive 255mm-wide rear, the 1397mm front wheel track and the 1727mm wheelbase made the "Y factor" really pop.
The quality of the plastic and components seemed top notch; overall, it looked as if it could take pretty much anything.
After a brief but comprehensive pre-ride instruction session from Todd, I hopped aboard. The controls take a little getting used to, though everything is ergonomically placed on the handlebar. I was riding the SE5 version, which has a semi-automatic transmission with gear change achieved using an index/thumb finger-activated button on the left side. The transmission automatically shifts down at low speeds to avoid stalling, but you upshift manually. There's also a very useful reverse gear.
I set out from Tweed Heads, NSW, in the rain and my first 50km were travelled in fear and uncertainty. Years of motorcycling experience were rendered useless. My brain and the environment told me to handle the Spyder like a motorcycle but the Spyder drove somewhere between an ATV and a car. There is no counter-steering involved and the lack of any handlebar levers takes a bit of getting used to. The only familiar things were the handlebar, the open environment, my helmet and the foot-actuated CBS brake system lever on the right.
However, by the time I had gone 100km on the Spyder I was feeling confident and at the end of the first day at Tenterfield (via Lismore) I was happily doing the prescribed highway 100km/h instead of crawling along in the left-hand lane afraid of going more than 70km/h.
I soon began taking corners with élan. I didn't even become rattled when approaching road trains blasted by me at more than 100km/h, threatening to throw me off-balance in their wake.
The only issue I was a little worried about was "tram-lining" on uneven tarmac due to the wide, flat rear tyre, something I had experienced with the Suzuki Boulevard's 240mm rear tyre. But the electronic traction control and the two tyres up front seem to do their jobs very well and I never experienced slides or loss of traction on any corner, no matter how tight it was. The Spyder simply sticks to the ground.
Some motorcyclists might say the Spyder is not a motorcycle, that it's cheating to have three wheels and there's no lean factor so how can you enjoy the twisties on offer? The answer is best found in riding one because no matter what I write I will fail to explain the thrill of riding the Spyder — you wear a helmet, you grab onto a handlebar, you have a meaty engine underneath you, you can feel the vibes through the bars, the wind hits your face, you can get wet in the rain and are possibly just a little more safe than on a motorcycle.
The Spyder also did well on short passages of gravel road encountered during the ride when its three wheels gave extra confidence.
I think a fair amount of upper body fitness is required when riding along twisty roads because you can't subtly counter steer — you have to muscle the Spyder round — which makes you more involved in the whole thing, sometimes even more so than riding a motorcycle! Heresy? Try it yourself before hurling abuse at me. Of course, you can't touch your knee in the corners but the Spyder is for intercontinental touring, not for fast Sunday fangs.
Route taken
Day 1: Gold Coast to Tenterfield.
Day 2: Tenterfield to Gloucester via Glenn Innes, Armidale and Walcha.
Day 3: Gloucester to Taree via Stroud and Forster.
Day 4: Taree to Armidale.
Day 5: Armidale to Grafton via Grafton Road.
Total 1900km.
Highlights
• I had the pleasure of doing some of the best motorcycling roads in Australia: The Thunderbolt's Way, Oxley Highway, Waterfall Way, Lakes Way, Bucketts Way and Grafton Road.
• Lots of deer behind our cabin at an Armidale holiday park.
• Lunch in Dorrigo at Juan's Motorcycle Cafe.
• The road from Taree to Upper Lansdowne. This eventually turned into a good gravel road engulfed by dense foliage and tall trees that turned into a cul-de-sac courtesy of a fallen tree.
• The Sunday Market at Armidale.
The highs of the Spyder
• Great feeling of involvement (the G forces) while making tight turns.
• Tremendous stability.
• Generous 58-litre boot — it swallowed up my laptop.
• Plush and very comfortable seat.
• Reverse gear.
• Good braking.
• Belt drive.
• Great profile.
The lows
• Steering through turns and roundabouts is an effort.
• The front could be more beautiful — it looks empty when viewed directly perpendicular at eye level.
• Needs a higher windscreen.
• You get too much attention.