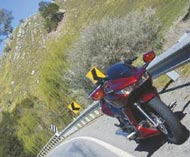 By dirt or by tar

Getting out of Melbourne
It seems that Whitfield came into being as a spelling mistake. Intended to be named after a local pastoral selection called Whitefield, it somehow shed an "e" on the way to gazetteer. You'd have to say that for a place that began as an error it has done terribly well for itself.
Lying in the upper King River Valley, below the Alpine National Park, the prosperous-looking little town is set in paddocks almost surrounded by forest. The major tourist attraction is Powers Lookout, an apostrophe-deficient clump of rocks that the eponymous bushranger is supposed to have used to spy out gold transports in the valley below. Seeing that there doesn't seem to be a practical way of getting down to the valley road from the rocks, this appears a little unlikely to me; how would he have got to the transport to rob it? Perhaps he had a very early model mobile phone and rang fellow miscreants lurking below.
I bet Telstra wouldn't have treated a full-on bushranger the way they usually treat me.
While I'm in this rather snippy mood, let me tell you that my favourite mountain rears its peak not far to the south of Whitfield. In a stunning display of nominal boredom it is called "Mount No. 3". Mounts Buggery and Despair are not far away. I suppose we should be grateful that there isn't a Mount No. 1 or, even worse, a Mount No. 2. Not on my maps, anyway.
Making up for all this is a wonderful network of roads, mostly tar but also gravel, and the excellent Mountain View Hotel at the T-junction formed where the Mansfield-Whitfield, Wangaratta-Whitfield and Rose River Roads meet.
The pub has long been a Sunday gathering place for motorcyclists, so forgive me if I repeat the obvious. But as my partner has been known to say, that's one of my most, er, obvious talents. Note how he becomes my partner, not my husband, when he says things like that.
Whatever. The pub makes a good destination, but there are several good roads to get there.
The simplest is the Maroondah Highway, which takes you up to Mansfield where you can pick up the road across the range. This has been tarred for several years now, but there are still riders who avoid it because of the dreaded gravel. The only dirt along here is the side track out to Powers Lookout. Mind you, there's plenty of dirt along the side of the road and it seems that a bike finds this every so often. Why else the warning signs? No doubt paid for, you'll be pleased to know, by your annual levy. Funny how all other road users get their signs paid for out of general revenue…
There are, of course, several other good ways of getting up to Mansfield, including the Melba Highway, the road through Flowerdale and the back road from Strath Creek up to Kerrisdale. But the one I'm going to suggest is a bit different.

Dirt alert!
Yes, this one involves a few kilometres of gravel. Don't worry, most cruisers can handle dirt easily (often more easily than sports bikes). Even the
Honda DN-01 we recently punted over this road went really well.
Make your way out to Diamond Creek by the Western Ring Road, or whatever route you like to use, then take the terrific road up through Panton Hill to Kinglake. Turn right here, then left into the Melba Highway and ride up to Yea. Another right turn, into the Goulburn Valley Highway, but don't continue to Mansfield. Stay right to head to Alexandra instead and continue along the same road until just past Snobs Creek. Turn right here into the Eildon-Jamieson Road.
This is a highly scenic road. Try to stop before you devote yourself to the view as it's also rather unpredictable and the gravel stretches, like a lot of dirt roads, are prone to corrugations. It's still quite a good place to learn dirt riding, because there's little traffic. There's a pub and even a brewery in Jamieson, but we'll cross the river and turn left to head for Mansfield on good tar. After that you're on the main road described above.
When you reach Whitfield after this ride you'll have earned your lemon squash.
LMc
Most Searched Terms: Motorbike Travel in Victoria, Australia, Motorbike Tours in Alpine National Park, Motorbike Riding around Whitfield, Mountain View Hotel, Motorcycle Cruisers, Motorbike Adventures, Motorcycling Touring, Motorbike Trips, Best Motorbikes, Best Motorcycles, Best Road Bikes.