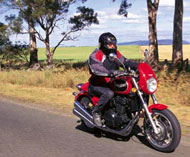 There's more than gold in…
them thar hills
Take a ride around Victoria's Gold Country
IT SOMETIMES SEEMS to me that every town I visit in Australia was founded for just one reason: because gold had been discovered nearby. And these Australian towns are not only in Australia! We even exported them. There is a town — well, a pretty sad-looking collection of ruins — in Death Valley, California, called Ballaarat.
Until I did a bit of research about this place I didn't know that that's how the Victorian town that spells itself Ballarat now was once spelled.
So was gold the driving force, in some way, behind the establishment — the creation — of European Australia? In a way I think it was.
More than the use of the continent to dump the refuse of Britain's teeming cities, more than the spread of the sheep on whose backs we supposedly travelled for all those decades. Convicts could not inspire anything much except dumb resistance, and could go only as far as supervision could also go. Sheep could make a few men — and women, of course, with Elizabeth Macarthur in the van — very wealthy, but they could not attract the keen legions of men and women who responded to the possibility of becoming very wealthy indeed by the sweat of their own brows.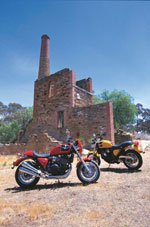 It took gold to bring to Australia's shores the bright, the industrious, the clever and the dull, the crooked and the moral who were the true founders of our country. Not a bunch of Irish convicts, not a sneer of English pseudo-aristocrats. No, the many minds and bodies that gave rise to democracy and to the sneaky streak of anti-authoritarianism which is still one of the most attractive parts of the Australian character were those of the gold miners, who came to this dry land from 1851 on.
It's no accident that the only serious competitor to our "slave flag", as one of my ex-English friends calls it because of the Union Jack in the corner, was devised by gold miners. So what if they were just trying to get out of paying a government fee? Isn't that still considered to be a perfectly reasonable thing to do? It's a shame that the Eureka flag has become identified so closely with sectional interests; I think the "blue and the silver" would make a fine symbol for our land.
By the way, you can see the original in the Ballarat Fine Art Gallery. But enough controversy.
There is something else among the many effects that gold mining had on the Australian countryside that is pretty important to us motorcyclists. Take a look at a map of, in this case, the Victorian gold fields. I'm considering now the Bendigo/Ballarat/Castlemaine area. You'll see that the network of roads is rather tighter than over most of the rest of the state. That's because the density of population made it economically worthwhile to build more roads.
And many of those roads followed contours and natural features rather than just running straight over flat country, which makes them … yes, terrific bike roads.
Imagine yourself at Bridgewater on Loddon (nice pub, good Asian food, believe it or not). This is just 30km or so south of Bears Lagoon (no bears there, sadly). You can head south and south-east from here and ride the most fantastic network of well-surfaced back roads down to Ballarat, to Daylesford or to Woodend. Distances are short, there are many small and often desperately historic towns and even the scenery is not bad.
It all adds up to one of the best bike riding areas in Australia. Why is it not better known and promoted?
Well, for one thing I guess that's because it isn't easily summed up — there isn't just one road, there are literally dozens; for another, it's because it doesn't have a snappy name like "The Great Ocean Road". Whatever you do, don't let that put you off.
You can easily get out of Melbourne along the Calder or Western Highways and by Bacchus Marsh or Woodend you're ready to spear off the freeway and off into gold country — but now it's motorcycle gold country!
There's more to it than good roads, of course. Between 1851 and 1890, a staggering amount of gold was dug from the ground and some of it was invested in building the towns that dot the hills. Their streetscapes, with many impressive buildings, are worth looking at and many of them have museums and galleries that give you even more insight into the times and landscapes of the gold rush.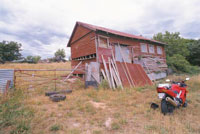 Perhaps the best-known attraction is Sovereign Hill, the recreation of a gold mining community over 60 hectares in Ballarat. It's one of the better historic re-creations I've seen. The town that's probably kept the most genuine streetscape is Clunes. This is where the first gold strike in Victoria was made, on the 7th of July 1851. Nearby, the town of Talbot is worth seeing as well. Last time Mrs Bear and I were there we stopped in at the Bendigo Potteries. We bought a couple of things, too, but carrying their wares home on the bike proved a little difficult. They're pretty bulky.
There are hidden stories, too. When I was researching my book on the history of Sydney's Tooheys brewery, I discovered that Matthew Toohey, the father of brothers James Matthew and John Thomas who actually started the brewery, laid the foundations for the family's fortune in these goldfields. He didn't dig for gold, though. He found a much more reliable and consistent way of making money: he supplied the miners with beef.
Maybe you can find your own untold story on or off the roads of the goldfields. See you out there.
PT

Most Searched Terms: Motorbike Travel in Victoria, Motorbike Travel in Australia, Motorbike Tours in Victorian Goldfields, Motorbike Touring in Gold Country, Best Motorcycle Trips in Australia, Road Rider Magazine, Motorbikes, Cruisers, Motorcycles Touring, Trips, Journeys, Adventures, Motorcycle Adventures, Reviews of Best New Motorbikes, Best new Motorcycles in USA, Best new Motorcycles in Australia, Best new Motorcycles in Europe, Best new Motorcycles in Asia.