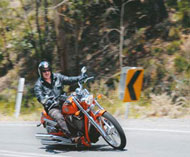 Blackwood buzz

Just out of Melbourne, a sweet run
There are many ways to get out of Melbourne and, unlike with Manchester, the recommended route is very rarely a bottle of Gordon's gin. We like Melbourne very much and we like the country around it even more — so much that choosing a Great Cruiser Ride out of the place almost turned into a fist fight. In order to get this one accepted, I had to agree we would do several more GCRs out of Melbourne, but that's no hardship.
It doesn't much matter where you start, but at some stage you need to find yourself on the M8, the Western Freeway, direction Ballarat. Take the Deer Park Bypass if you wish, but note that there's a decision to be made shortly after it joins the M8 again: will you stay on the freeway to Bacchus Marsh or will you take the back roads?
I'd recommend the latter. Take the Hopkins Road exit and turn south (signposted to Geelong). After crossing the railway, take Greigs Road to the right. It's pretty open country along here, not exactly scenically stirring, but it's still a nice ride and you cross the top end of Melton Reservoir on a little bridge.
The road is now Exford Road and in Exford (which ain't actually there, if you know what I mean) you either continue to Bacchus Marsh to the right or pick up Nerowie Road, a shortcut to the left. I'd suggest staying with Exford Road, even though it's pretty straight, because Bacchus Marsh is quite a nice place and this might be the time to call a cold drink or coffee stop.
If you do take Nerowie Road, you'll find yourself on Rowsley Road (and/or Glenmore Road) before long. They've got more than enough roads down here to supply the average Third World country with a complete set and are therefore forced to give some of their roads two or three names. You will cross the Bacchus Marsh–Geelong Road pretty soon and then the Bacchus Marsh–Balliang Road.
I said they had plenty of names, not that they were interesting names.
If you chose to sample the pleasures of Bacchus Marsh back there in Exford, pick up the Bacchus Marsh–Balliang Road when you're done in Bacchus Marsh and you'll rejoin our other friends at this intersection, only you'll be coming in from the right, whereas they'll be going straight on.
We are now in fun territory. The road actually has a few nice curves and passes prosperous-looking farms on the way to Glenmore, which is once again absent — possibly without leave. You'll know when you're there because the road changes its name again to — wait for it — Mount Wallace–Yaloak Vale–Glenmore Road. Despite its triple-barrelled name, it's not at all pretentious, being content to wind its way as a narrow tarred ribbon lined with poplars through a pretty little valley on the way to the jump-up that will take it up to the level of the midland flats.
The climb takes the form of a few pleasant but relatively undemanding switchbacks and is fun on even the lowest of cruisers. We had so much fun on a Honda VTX1800 along here — the bike had just been released — that Honda MPE reckoned we'd removed something like half a kilo of metal from the its nether regions. If you find it on the road you can keep it. No, really.
And while we're on the subject of seriously, here is a warning. This road is used regularly by Ducati riders, who foolishly believe it to be their secret. Well, it might have been their secret … once.
When you reach the Geelong–Ballan Road, turn right and head for Ballan. This is another pleasant town, a little less prosperous than Bacchus Marsh simply because it's smaller and couldn't cope quite as well with being bypassed by the freeway. It's kept some of its older buildings and looks sleepy but is not at all in decline.
Take Blackwood Street up to the freeway and after crossing it continue on the Ballan–Greendale Road (it's the same road). Don't worry, this is the last time on this ride that I'll mention the name of a road — it won't be necessary after this. Thank the powers.
The road takes you to the tiny hamlet of Greendale, which really consists of little more than the pub/general store, unless there's a lot more including a mega-mall hidden behind the hill. Straight through the roundabout and you're on your way across a southern outlier of the Great Dividing Range.
You're in forest now, much of it part of Lerderderg State Park, which also includes Lerderderg Gorge, through which flows the Lerderderg River. Told you they had a way with names down here. The forest is full of koalas and Eastern Grey kangaroos, so watch it. Koalas can leave a nasty mark on your front forks, not to mention your radiator.
Oh, all right, sorry, sorry.
I got tired of trying to find out where the name Lerderderg comes from; it sounds like it was made up by MAD magazine cartoonist Don Martin. All the interwebs seemed to want to tell me is that you can take dogs into parts of the park on leashes and that O'Briens Crossing has public toilets. If you have more luck, do me a favour: don't send me the details.
But enough curmudgeoning. This is a wonderful road and Blackwood — a little more than halfway up to Trentham — is a really sweet little place with a good pub. It's a little off the road itself, but the access is all tarred, so make sure you take the time for a look and a leg stretch.
The road continues to be hugely enjoyable up to Trentham, a goldrush town with more photo opportunities than you can poke a Leica at. Very pretty, both green and historic. The old pub on the left as you come into town appears to have closed its doors beneath its swayback roof. Pity.
From here it's only about 10km over more of that excellent road — though it now runs through farmland rather than forest — to Tylden, where you need to take the right turn and continue for another 13km or so to Woodend.
If you take my advice you'll make this your lunch stop. You have several options but the most interesting in my experience is the Holgate Brewhouse. It's at 76 High Street, 03 5427 2510, and is still sometimes known as Keatings Hotel. They brew their own, very interesting beers, they're open for lunch every day except Monday and they even have accommodation. The food is good, too. Oh, and they don't have pokies. Sold!
It depends on how active you feel after lunch, but if my experiences in the place are anything to go by you'll want to drift gently home now. The easiest way to do that is to just pick up the Calder Freeway and follow it back to Melbourne. Of course, there are alternatives — like tackling Mount Macedon, for instance — but we'll leave that for another Great Cruiser Ride.