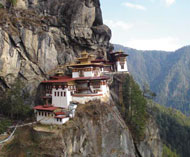 Take the high road
Australian tour operator Mike Ferris will really get you high
Ferris Wheels Motorcycle Safaris has announced another new international tour, beginning in 2010. Combining elements of its long-established safaris through India, Nepal and Bhutan, the new Pan-Himalaya tour takes in all three countries in one extended 26-day Enfield extravaganza.
Starting in the Indian capital of New Delhi and riding a classic-design Royal Enfield, you'll head for the Nepal border and then ride the entire length of that country. Crossing back into India for a couple of days and visiting the tea gardens of Darjeeling, the tour then continues to the Bhutan border and traverses the entire length of this country, too. Finally, returning to India again via the little-visited northeastern state of Assam, the tour concludes in the capital Guwahati.
Nepal has been on the tourist map for many years, but the Kingdom of Bhutan has been "discovered" only recently and has featured on popular TV travel shows such as Getaway and The Great Outdoors. Despite that, tourism is strictly controlled and limited by royal decree from His Majesty's government — no independent shoestring travellers need bother turning up at the border. Entry is via officially sanctioned tour operators only.
The country is sandwiched between India and China, two of the most over-populated nations on Earth, but its own population barely exceeds half a million people in a country larger than Switzerland and many other European nations. A few years ago, Mike and Denise Ferris were granted government approval and became the first two people to ride motorcycles right across Bhutan from one border to the other, opening up the hidden Himalayan kingdom to motorcycle touring.
The Pan-Himalaya safari is not for the faint-hearted, warns Mike. It has some long, gruelling days in the saddle and not many rest days. The India and Nepal sections have all the chaotic traffic conditions normally associated with this part of the world, and even though Bhutan does not have a single set of traffic lights in the country and traffic is very sparse outside of the capital Thimpu, some challenging days involve climbing seriously steep mountain passes.
Sydney-based Ferris Wheels kicked off back in 1994 with a single group riding to the highest road in the world in the Indian Himalaya and has expanded to now offer 12 tours a year into nine diverse destinations, including Turkey, Morocco, the Dalmatian coast, Bolivia, Peru, Nepal, Bhutan and Kashmir. Fully detailed itineraries for the new tour as well as all other destinations can be found on www.ferriswheels.com.au or phone (02) 9970 6370.