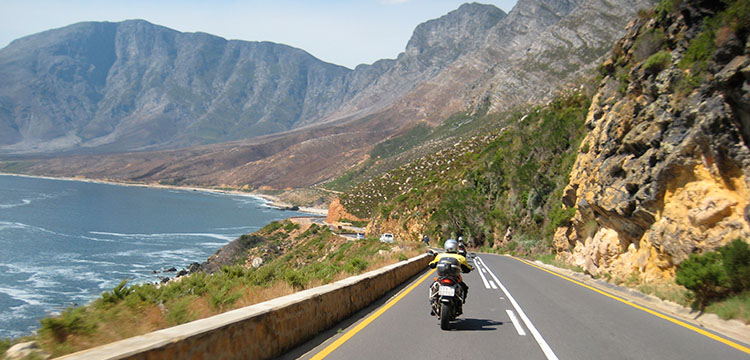 Ride with ARR in either South Africa or New Zealand next month on one of two incredible road trips we're doing! But get in quick.
Time's running out to book into the tours, but it's not too late to ride South Africa's best roads or see Warbirds over Wanaka during a scoot around NZ's South Island.
SOUTH AFRICA'S BEST ROADTRIP EVER
I've already signed up to do SAMA's Best SA Roadtrip Ever tour and I'd love you to join the fun of this sensational 17-day ride from March 11 to 28, 2016.
To add to the temptation, SAMA is throwing in a free overnight elephant experience exclusively to you, our loyal readers, and I'll ensure you get some professional-quality photos to add to the memories you catch on your own camera. You might even appear in a video I'll produce!
The Best Roadtrip tour takes in the winding coast roads of South Africa as well as scenic routes away from the water, and includes a safari in famous Kruger National Park.
It's a 4000km journey beginning in Pretoria and looping to beautiful Cape Town. I can vouch for the quality and excitement of the roads down Cape Town way!
En-route we visit the world famous Kruger National Park, we ride the magical Kingdom of Swaziland, and we get up close and personal with hippos and crocodiles in the World Heritage site of St Lucia. You'll have the chance to try the world's highest gorge swing at Oribi Gorge and the world's highest bungee jump.
There's history, stunning countryside, sensational roads and exotic wildlife all the way along the route.
The accommodation is in luxurious 3-4 star hotels and lodges and the food promises to be excellent.
All riding will be on good tarmac roads but we'll be able to opt in for some exciting offroad routes on rest days.
And then the bonus elephant package for ARR readers adds even more! We'll visit an elephant sanctuary where you can interact with these magnificent animals, literally going trunk-in-hand with them and taking a ride.
You'll learn a lot about them, and spend a night in the Elephant Guesthouse near their stables. You'll visit a monkey sanctuary, go for a cable-car ride over Hartebeestpoort Dam, and we'll take care of all the transfers.
SAMA is a family-run business that's established its reputation over 12 years of leading groups around their homeland, and they'll provide immaculately prepared BMW F700GS, F800GS and R1200GS LC bikes for you to chose from.
Depending upon what you want to ride and the exchange rate when you book, this trip of a lifetime will cost about $8000-$9000 plus airfares and other extras. See the SAMA website for the full details, costs, inclusions and so on.
As I post this, the March 2016 tour hasn't been added to SAMA's online calendar, so contact them directly to express your interest. When you do, let them know you're with ARR to ensure you get the exclusive Elephant Package.
WARBIRDS OVER WANAKA
See Warbirds over Wanaka on a New Zealand motorbike tour with ARR and South Pacific Motorcycle Tours!
We're going on a fantastic South Island tour over Easter 2016 and we want you to come along with us, so much so that every ARR reader who comes along will get an incredible bonus: free fuel for the entire trip, a quality backpack full of motorcycle goodies and a special tour T-shirt.
You'll not only get the generous deal that SPMT is offering exclusively for ARR readers, you'll be part of the feature story we'll run in the magazine.
ARR deputy editor Matt Shields is going on the trip, and it's not his first foray to NZ. He's been going there since attending street-race meetings as a kid and he reckons it's still his favourite destination.
The ride loops out of Christchurch on March 22, returning on the 30th after taking you on a mind-blowing tour of some of the choicest roads NZ has to offer.
We'll enjoy traffic-free sealed roads that wind around the snow-capped Southern Alps, rivers, lakes, fiords, and rainforests. There'll be endless scenery of unimaginable natural beauty, all day, every day! Other great activities include:
Warbirds over Wanaka International Airshow!
Entry to Highlands Motorsport park museum and a go-kart race to remember
Private tour of Burt Munro's 'Fastest Indian Scout' and Motor-works Collection
Thrilling jetboat ride
Nature cruise on Milford Sound.
"We've taken out all our 'trade secrets', so if you think this itinerary is good, you ain't seen nothing yet, guys!" Carole and Mike at SPMT told us as we discussed the trip with them.
We said we wanted something special, and they've delivered.
SPMT has a big array of bikes you can ride, such as GS BMWs, V-Stroms, Bonnevilles, Tigers, VFRs, Harleys and Gold Wings. The tour price depends upon which bike you want and whether you're going with a partner, staying twin-share or having a room to yourself.
The full details are on the South Pacific Motorcycle Tours website. Email SPMT for more info. And don't forget to tell them you're with ARR so you'll get free fuel, the backpack full of goodies and the special T-shirt!