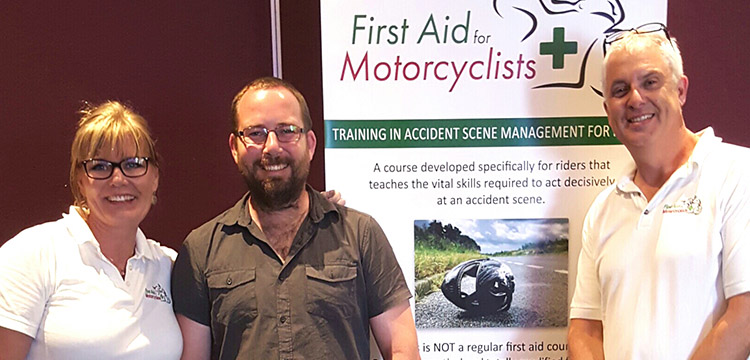 Specialist training organisation,
First Aid for Motorcyclists
, recently visited Sale in Victoria and invited Senator Ricky Muir of the Australian Motoring Enthusiast Party to come along to support local motorcyclists within his electorate.
The invitation was a chance for the Senator to see how the community-based Motorcycle Accident Management course that is currently being delivered around the country can provide critical knowledge and skills for riders to manage a dangerous accident scene and provide the best chance of a good outcome for casualties.
He talked during the session about how he is representing the motoring and motorcycling public at a federal level but acknowledged that much of the decision making rests with the States.
Senator Muir, or Ricky as he prefers to be addressed, has a particular interest in road safety matters. His view is that enforcement only occurs after an offence has occurred, i.e. when it is too late, and that vehicle safety systems can lead to too much reliance and complacency and are only supposed to be a last resort.
He believes good roadcraft skills training is essential too and lies at the heart of reducing the road toll and serious injury.
He made the well-noted point that up to 50% of fatalities are caused by otherwise survivable injuries and that it is therefore vital that a casualty gets professional medical assistance in the first "golden hour".
This means that those first on the scene need to act fast, send for help without delay and be confident about managing casualty injuries until the help arrives.
In addition to his well-known love for four wheels, Ricky also enjoys getting out on his dirt bike and going camping, fishing and shooting whenever he can but sadly for him the opportunities are a lot fewer these days due to his Parliamentary duties.
It's good to know that Senator Muir has ensured that he has access to an experienced voice from the motorcycling community by retaining the services of Shaun Lennard, formerly Chair of the Australian Motorcycle Council (AMC), to act as his media advisor.