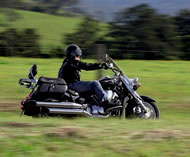 Handle with care

It's not the safest road in Australia, but it's one of the best
In his book, Down Under, Bill Bryson credits Lachlan Macquarie with "the world's first nearly successful attempt to name every object on a continent after himself". He envisages Macquarie "poring over maps and charts with a magnifying glass, and calling out from time to time to his first assistant: 'Hae we no' got a Macquarie Swamp yet, laddie? And look here at this wee copse. It has nae name. What shall we call it, do ye think?"
Apart from the fact that we do have a Macquarie Swamp, this rings scarily true. To give him his due, Macquarie also established the name "Australia" to replace "New South Wales" and "Botany Bay"; I guess he could have called the entire continent "Macquarie"…
Not that it matters. The important thing is that he (presumably) arranged for the road over Macquarie Pass to be constructed.
This is one of the quintessential bike roads in Australia, and how pleased would old Lachlan have been to find that his name is attached to such an important thoroughfare? Very pleased, I imagine. It's a shame that not everyone shares this (purported, admittedly) pride. The people responsible for the road today treat it in a curiously varied fashion. One moment they're resurfacing with nice new tar or scraping out the gutters with flash-looking multicoloured machinery, the next they're ignoring the oil and diesel spills that make riding Macquarie Pass something of a lottery.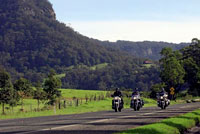 Oh, I got a dreadful bollocking a while back for printing a letter that suggested that the diesel was dropped by trucks. So let the record state quite clearly that I simply note the presence of diesel — and I'm sure of that because I've dipped my finger in it quite recently — without casting aspersions on the heavy goods transport fraternity (and for all I know, sorority).
The fact is that it's bloody well there, and I've seen Jimmy Barnes fall over on it on a Honda cruiser launch. So you're not safe from it even if you're an Australian entertainment icon.
The other thing that's perhaps not quite up to its legend is the Robertson Pie Shop at the top of the pass. This place has also acquired iconic status somehow despite, in my opinion, offering savoury and fruit pies of only average quality and coffee that's much the same. Better places to refresh yourself are near the other end of the road, at Jamberoo with its bakery and Kiama — the terraces in Collins Street are especially recommended. We also like the pub in Robertson. It is not much to look at but it has good food.
To be fair, we're currently planning a Great Pie Tasting Ride (you can see how important it is by the capital letters) and we'll establish some benchmarks for pastry filled with alleged food. How the Robertson establishment will fare I do not know. I do not wish to pre-judge it in any way.
But let us return to our road.
Macquarie Pass is part of the Illawarra Highway, which leads from nowhere in particular to nowhere in particular. Well, all right, the eastern end is sort of near Albion Park but in the west the nearest settlement to the beginning of the road appears to be a place called Sallys Corner. On the map even that — and I have no idea if it really exists — is a couple of kilometres down the road from the junction. The point of this road is that it connects the Hume with the Princes Highway, and that's a very useful link.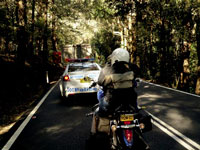 Anyway, unlike many renowned bike roads that require you to endure dreary or boring approaches, Macquarie Pass is very well served by its connections at both ends. From the Hume Highway, it's a fast, open, well-surfaced and very pretty run through the Southern Highlands to the Illawarra scarp and the pass. If you're coming from Mittagong or Bowral there's a terrific back road that brings you out at the top of the pass. Just stay left all the way. Down below, the valley is certainly one of the most beautiful stretches of country in Australia. The road is not too bad either.
Between the two, Macquarie Pass is not actually all that long, but it will show you just about any type of corner you can imagine, including a couple of very tricky ones. Ride it first to discover it, then ride it to enjoy it.
Sadly, the pass sees motorcycle crashes all too frequently. It is tricky, but you'd hope that anyone riding it would know that and keep a margin of safety. With varying camber, an unpredictable surface due to lubricants and a tendency for oncoming traffic to use both sides of the road, that margin needs to be fairly generous.
Keep that in mind and you will enjoy your visit enormously — on a cruiser or a sports bike. Fuel is available in Albion Park and Robertson. Just about opposite the Pie Shop there's the turnoff to the Jamberoo Road, which makes a circuit back down to the coast. The Illawarra Fly is down there, too, and despite the name it is not the front of a big pair of trousers but one of those high steel catwalks in the treetops.
Thanks again, Lachlan.
PT