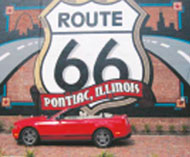 Guide to the kicks
Old Route 66 has almost disappeared. Dale Butel is there to make sure it doesn't evaporate completely
Believe it or not, there are more roads in the world than we have time or opportunity to ride, so every now and then we encourage a tour operator to write about his/her offerings. Take it away, Dale, with the story of Route 66 Tours!
"Imagine the wind in your hair, the road stretched out before you and a Harley-Davidson to propel you on the adventure of a lifetime," he writes. "Route 66 Tours wishes to introduce you to a road trip like none other on offer anywhere in the world. Come and get your kicks on Route 66.
"Route 66, The Mother Road, Will Rogers Highway, National Old Trails Highway and The Main Street of America, are all names describing the famous and now historic ribbon of concrete and tarmac that stretches from Chicago, Illinois, to Santa Monica, California. Covering almost 2400 miles, depending on the alignment you measure, this is truly Road Trip Heaven.
"I first drove along Old 66 in 2004 and it instantly became my passion. It soon became a dream of mine to introduce others to this amazing road trip, along with the enormous amount of history it encompasses, and as a result Route 66 Tours was born.
"Route 66 itself was just one of many highways created after the Federal Aid Road Act was passed in 1921. Established in November 1926, Route 66 was the joining up of old trails that were mostly a mix of horse-and-wagon tracks and farm-to-market roads. It became the road of flight when the dust storms of the early 1930s drove the farmers off the land and in search of a better life in California.
"The road was in its prime after WWII when the economy boomed and the automobile industry took off again. Returning soldiers and other Americans hit the road to discover their own nation; businesses boomed and new ones developed to serve this new traffic. It was a major highway and made its way into books, songs, poems, TV, the movies and the psyche of Americans and Australians alike. With the route passing right through the town centres along its length, it was literally the Main Street of America.
"Just as the end of the war was a part of the reason Route 66 boomed, it also played a part in its demise. General Eisenhower returned from Europe having seen the autobahns and realised the need for roads to move the military in an efficient way and the US interstate system was created. It took five interstate highways and 28 years to replace, but in 1984 the last section of Route 66 was bypassed and in 1985 the Mother Road was decommissioned.
"Between 1956 and 1984, Mom & Pop businesses and towns alike went bust as the traffic was redirected away onto the interstate. It is along this old road and through these towns that Route 66 Tours takes you on our Harley-Davidsons or in Mustang convertibles. This is a self-ride/drive independent road trip tour giving you the freedom to explore and discover the heart of America on your own at your own pace.
"We also have guides to show you the Route 66 that isn't easy to find. You choose: follow the guide or set your own pace. This amazing route is experiencing a comeback as people filled with nostalgia go searching for the America of yesterday — some say the real America. In some places, the old alignments have tumbleweeds growing up through the pavement and in other places only cows now graze.
"We take you along this wonderful highway and introduce you to the people of the Mother Road and show you the businesses that have stood the test of time and the remnants of those that didn't make it. Highlights include classic motorcycle museums, Route 66 museums, historic gas stations and motels, great food from real diners right out of the 50s and 60s and so much more.
"We are extremely proud of our tours and have hundreds of happy clients that will tell you they have seen a part of America that few tourists ever see."
Route 66 Tours has comprehensive tour packages, flying to the States with Air New Zealand. Check out the details and read testimonials on the website www.Route66Tours.com.au. We have to tell you, we here at Cruiser+Trike are mightily tempted ourselves.