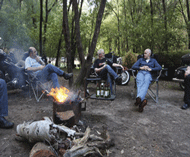 Cruisin' half dozen
Some of Australia's greatest (and little known) cruiser rides
A year or so ago I was approached by Harley-Davidson Australia to put together some touring stories for its Harley Owners Group (HOG) handbook. In case you're not familiar with HOG, it's a huge, worldwide organisation that offers all sorts of benefits including mutual support, chances to socialise and the opportunity to rent bikes at very attractive rates all over the planet. I'm tempted to buy a Harley just so I can join!
In this case, what it offers by way of the handbook is a lot of useful information — now including a whole set of terrific (even if I do say so myself) cruiser rides around Australia and New Zealand's major cities.
But then I thought, hang about. Why should HOG members be the only people to have a list of great cruiser rides? Obviously you deserve the same thing. And I know that many of you will also be HOG members, so clearly the list I compiled for this story had to be different from the handbook's. It does overlap somewhat at times, but there's no direct duplication. One major difference is that this list is not necessarily based on major cities; some of these roads are way out in what one of my Canadian mates (Canucks need friends, too) used to call "the tulies". Well, actually he was my only Canadian mate, but that's just because I haven't met many Canadians…
But let's go with half a dozen of Australia's great cruiser rides to augment the regular rides we feature!
PT
New South Wales
Bathurst to Mudgee
This is not the shortest route between these two towns, but it is what I would consider the best. It's also tarred all the way — one of the alternatives is by way of the Bridle Track and Hill End; it's very scenic but has lots of pretty poor gravel.
So let's stick to this road. Turn north into Gilmour Road at Kelso, just east of Bathurst on the Great Western Highway. Fill up before you start; it's about 155km to Mudgee and while there is fuel available in a few places along the way, you're better off starting with a clean fill from a service station tank that has a good turnover.
The road takes you out through new housing developments until it becomes Peel Road and soon leaves the town behind. There isn't much at Peel or at Wattle Flat, but the road is terrific with great views out over the countryside. A lot of this road has been fairly freshly surfaced, which adds to the attraction. The road drops nicely into the valley of the Turon River by way of a set of wide, sweeping corners.
Off to the right before the bridge is Sofala, a great little place with a good coffee stop at the general store. Sit outside and take in the country quiet! There's a pub, too, and a few other facilities including impressive public toilets (seriously) but Sofala's main attraction is that it is an historic town, great for a bit of a wander and photographs.
The run up the hill to Ilford on the Castlereagh Highway will keep you on your toes, figuratively speaking, with a few tighter corners. Turn left at Ilford and then almost immediately right again to Kandos and Rylstone — this is a lovely road, through forest and farmland. The Globe Hotel in Rylstone is one of our favourites, especially in winter when it has a roaring wood fire in the bar's fireplace. There are a couple of good cafés in town, too.
Cross the bridge over Cudgegong River and turn left a little way out of town to Lue and Mudgee. This is a wonderful country road, but it is narrow in places and you can't necessarily see a long way through corners. It's best enjoyed at a moderate pace. The Lue pub, accessible by a spur road under a railway bridge, is a small gem.
Before you know it you'll be rolling into Mudgee and I'll bet you will have enjoyed your ride like few others!
Victoria
Bright to Omeo
Not for nothing do they call this the Great Alpine Road. This is actually only a 110km section of the entire GAR, but I thought we'd keep it manageable — especially since there are a number of different ways of getting to, and away from, both Bright and Omeo.
You can reach Bright either directly from Wangaratta and Myrtleford or from the Kiewa Valley Highway near Mount Beauty. Actually, the latter road — over Tawonga Gap — reaches the GAR a few kilometres past Bright, so you don't need to go into town.
The road follows the Ovens River to Harrietville, a pleasant and smooth run with little in the way of corners. Harrietville is a good coffee stop and also a good place to refuel. From here on, the road gets considerably more challenging and unless you want to shave a considerable amount of metal off your frame, pipes or footboards I'd suggest you take it pretty easy up to Hotham Heights. You cross the Great Dividing Range here and there are some wonderful views from this road across to Mt Feathertop and Mt Loch.
The road, fairly recently sealed and in generally good condition, gets considerably easier from here past Dinner Plain — there's a pub with good meals just a little way off the road — but the corners come back on the way to and past Cobungra. It's only about 25km to Omeo and the end of our ride now, once again along a fairly easy stretch of road.
As in a lot of old gold towns, Omeo has some impressive buildings in a scenic setting. From here you can continue down the GAR/Omeo Highway to Bairnsdale and the Princes Highway, or you can turn north again. If you take the turnoff to Falls Creek you can return to Mount Beauty on freshly laid tar, but if you continue north on the Omeo Highway you'll strike a couple of gravel stretches before you reach the Murray Valley Highway near Tallangatta.
The Great Alpine Road was named as a sort of competitor to the Great Ocean Road. In some ways it's better, although it is, of course, missing those wonderful seaside cliff roads.
Queensland
Caboolture to Nambour
This is practically Ride #11 from the Hema Maps Australia Motorcycle Atlas, but I've simplified it a little in the first half.
Leave Caboolture along the railway line, heading north. This is a pleasant enough, if uneventful ride, which takes you to the small town of Beerburrum, kind of the gateway to the Glasshouse Mountains. Cross the railway and turn left and you're on Steve Irwin Way. A bit further up the road this will take you past Steve's Australia Zoo, but we're not there yet. The view to the left along this road is of the discrete peaks of the Glasshouse Mountains, a worthy subject to admire and photograph. There are several sealed roads that will take you up quite close to the peaks if you want an especially impressive photo.
After Beerwah and the zoo you'll reach Landsborough, and this is where things get a little less sedate. Turn left and take the Maleny road up into the Blackall Range, but don't forget to stop and admire the view along the way. Four kilometres before Maleny, turn right towards Montville. You are now on the ridge road that will take you all the way to Mapleton, but don't rush. Montville is a bit like a smaller, more intimate Maleny and has terrific cafés and small restaurants. Perhaps it lacks the bookshops of Maleny, but then it tends to get fewer tourist coaches, too.
Turn right when you do get to Mapleton — not that you have a lot of choice — and control yourself on the downhill run to Nambour. This is a fast road, but don't try to make it too fast or you could overcook it on one of the tighter corners.
You don't have to go into Nambour — if you're going north to Noosa or Eumundi, you can just carry on to the Bruce Highway and turn left. If Maroochydore is your target, carry on straight ahead. Should you be going south, however, it's more fun to do it through Nambour and Woombye before joining the Bruce near the Big Pineapple.
This is not a long run; you can easily treat it as a day ride from Brisbane or as a detour if you're heading north or south along the Bruce Highway.
South Australia
Clare to Port Augusta
In the movies the cops say, "There's an easy way to do this, and there's a hard way" when they interrogate a suspect. I'll just say that "there's a quick way to do this, and there's an enjoyable way".
If you were heading north from Adelaide in a hurry you would just take Highway 1 along the outside of the southern Flinders Ranges, through Port Wakefield and Snowtown, to Port Augusta. If you were — as you are — a motorcyclist who likes something more than just a truck-infested super-slab, you would be tempted to take the road on the inside of the ranges instead. Let's take a look at that, but we'll start at Clare because the direct road up there from Adelaide through Gawler — Main North Road — is actually not much better than Highway 1…
Clare is a lovely town, and I don't just say that because it's in the middle of a major wine region. It strikes just the right balance between size and "comfortableness".
Head north and at the first big fork in the road go left towards Crystal Brook, instead of right towards Jamestown. This is pretty open farming country, through Rochester and Yacka to Gulnare. Don't continue down to Crystal Brook here, but stay right on the B82 towards Gladstone. From here on, the road becomes steadily more interesting and by the time you reach Melrose you're enjoying the hilly terrain of Mt Remarkable National Park.
The best is yet to come, but linger for a while in Melrose. I really like the coffee shop in the old blacksmith's building, Bluey Blundstone's. They even have rooms to let out the back. I'm not so keen on the flash pub, the North Star, which once took my booking for a night's stay and then turned out to be closed for a month when I arrived.
Continuing north from Melrose takes us to the equally pleasant town of Wilmington. Here, we turn left for Horrocks Pass. This isn't really a pass in the Alpine sense, it's just a road that follows a creek along a narrow valley through the range, but it's a nice ride anyway. Just don't get too close to the edge of the road — there's a vertical drop, and in some cases there's no fence or warning.
When you come out of the range you're facing the environment that anyone who's come up the highway has ridden through most of the way from Adelaide. It's dry, dusty, dull and flat. At the T-intersection turn right into the Princes Highway and you'll be in Port Augusta before you know it.
Western Australia
Roelands to Arthur River
You may think that I have deliberately selected two apparently insignificant towns to serve as the beginning and the end of this ride, to make some sort of point. You would be wrong. I have selected them simply because they are the beginning and the end of this ride, which in fact connects two very important arteries: the South Western Highway and the Albany Highway.
This run is called Coalfields Road for one very simple reason: it passes the only place in all of Western Australia where coal is mined: the town of Collie. Yes, we're all used to thinking of Western Australia as an absolute treasure chest of minerals, but it's actually short of coal. I don't imagine they lose too much sleep over that.
It's a beaut and not-too-long run up the hill from the coast to Collie, with wonderful views as you cross the Darling Scarp. You will pass the turnoff to Wellington Dam, although you probably shouldn't (pass the turnoff, that is). The dam has some excellent camping areas and lookout points, and good — if not always sealed — roads to reach them. Collie itself has a lot of sightseeing available, with parks and gardens as well as a replica coalmine (book a visit at the tourist info centre) and mining and locomotive museums.
Like our Queensland ride, this one pretty much duplicates one of the rides in the Hema Australia Motorcycle Atlas; in this case it's Ride #80. It was too good to pass up. Coalfields Road is a good ride all the way up to Arthur River, so please consider it seriously when looking at the southwest of WA. Obviously the most interesting part of the road is where it crosses the Darling Scarp, but the rest of it is all right as well, with fairly gentle corners and generally good surface.
Bowelling is a cute name for a town, isn't it?
Once you reach the Albany Highway you have the choice of turning left to return (presuming that's where you started) to Perth or right to ride straight down to Albany.
On the way back, should you decide to go back instead, you could take the road to Bridgetown via Boyup Brook. You could. But then you could also stick your finger up your nose and break it off. I would suggest neither of these options. In the case of the road, this is because the last time I rode it I found it to be very narrow, very poorly surfaced, very winding as it followed Arthur River and very badly infested with log trucks. I suspect it still is. I liked it very much, but I'd never recommend it.
Regarding the nose picking … I'll leave you to make up your own mind.
Tasmania
Longford to Miena
This is based on the better half of the Hema Australia Motorcycle Atlas Ride #65. The better half? Yes, since it leaves out the dirt section along the Great Lake. Our point of departure is Longford because once again this is an easy place to reach from a variety of directions.
You can come down from Launceston or up from Hobart by way of the Midland Highway, turning off at Perth. Or you can come over from the ferry at Devonport, as well as points west, by way of the Bass Highway — turning off at a big cloverleaf intersection where the highway meets Illawarra Road, pretty much in the middle of nowhere.
However you get there, Longford is a nice town with historic buildings and good coffee opportunities. Take the latter, even if you're not interested in the former, because good coffee is a bit scarce on the ground (no pun intended, at least originally) where we're going.
And where we're going is up. First to Cressy (along Cressy Road, naturally enough) and then onwards. Don't miss the turn; you want to stay on the B51 even if it looks as if you're branching off to the right. You will soon find yourself on the way up into the Western Tiers, and part of the way up the hill you'll come to the turnoff to Poatina. This is a small town trapped in a time warp — you'll be transported back to the '60s and the heyday of Tasmania's Hydro. Have a snack at the motel.
From here on you're riding the Poatina esses, a series of hairpin bends that takes you up to the Central Plateau. Beware the light dusting of sand that the corners sometimes get, and the log trucks. Otherwise it's a great ride, with some nice views of the plains below.
At the top you'll find yourself on a fairly fast road that runs south between the Great and Arthurs lakes. Watch for wildlife along here. When you reach the T-intersection with the Lake Highway, consider turning south for 12 kilometres or so to Steppes, where there's a fascinating sculpture garden just off the road.
Retrace the 12 kliks and continue to Miena, which essentially offers a pub and nothing much else. This is trout fishing territory, so the pub kind of specialises in that, but the last time I was up there the publican and his wife both rode Harleys, so you're with kindred spirits.
You can continue up to Deloraine or down to the Lyell Highway near Derwent Bridge, but both of those roads involve gravel. A better option is probably to take the Lake Highway south, heading for Hobart, or to return the way you came. Either way is fun!