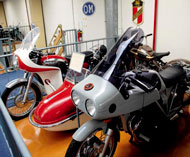 Sir Len's shed
A giant car and bike museum filled with mystery
It's probably true that, as I'm frequently told, I have one of the best jobs in the world. Editing a motorcycle magazine takes some beating. But I've found another job that I would enjoy almost as much. I would really like to research and write information cards for the displays at the Southward Car Museum.
That's partly because so many of the exhibits are just wonderful — not just the bikes, but the cars as well. It's also partly because the cards they have at the moment are so abysmal. Some carry effectively no information at all; indeed, some displays completely lack any details, even their names. Some others are simply expressions of someone's opinion. Yet others are largely wrong.
The trouble is that if you're even the slightest bit like me you really, desperately, want to know what you're looking at.
There's a little single-seat car, for example, badged as a Suzuki CV-1. There is no further useful information on its card and I haven't been able to find any information about it anywhere. Can you help? If so I'd be eternally grateful. It looks as if it might be a New Zealand prototype, but how do we know?
This cavalier attitude to identification probably explains why most of the other visitors on the day were older blokes making purposeful forays into the body of the huge hall that holds the cars. They knew what they wanted to look at and where it was.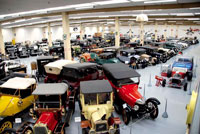 But if I hadn't known before I arrived that the huge blue Tatra that forms a centrepiece at one end of the hall is powered by an air-cooled vee-eight (yes!) I wouldn't have known afterwards either.
And what about the equally gigantic three-wheeler halfway down? The card tells you that it was owned by some American military man and driven in some president's inaugural parade, but what is it? How did someone decide a three-wheeler the size of a limousine was a good idea and who was this remarkable person? How … never mind.
Layout leaves a lot to be desired as well. The cars are arranged in double rows, so usually you can only see the front bit in any detail. The rest is often hidden by other cars, and it's only rarely that you can get a clear 360 degree view of a vehicle.
That's all the more unfortunate because so many of the displays are so unusual and interesting. Several home-built and bespoke cars are clearly unique and the standard of restoration among the cars is generally very high — although few of the bikes have had much attention.
The structure that houses the car museum was purpose-built on six hectares of park-like grounds. Apart from the 6000m² exhibition hall, it holds an engineering workshop, gift shop and café. The building also includes a 474-seat theatre, which regular ARR contributor Lester Morris rates as one of the best small theatres in new Zealand. It features a 1929 Wurlitzer theatre organ, which is pretty remarkable in itself.
The car collection, now more than 350 strong, was put together by Sir Len Southward and his wife, Lady Vera Southward. They began collecting cars in 1956 and the Southward Car Museum opened in December 1979.
The museum's car collection includes Marlene Dietrich's 1934 Cadillac Town Cabriolet; a 1915 Stutz Indianapolis race car; a rare Gullwing Mercedes-Benz; a 1950 Cadillac "Gangster Special", with reinforced panels and windows that belonged to Chicago heavy Mickey Cohen; and an 1895 Benz Velo, imported to New Zealand in 1900. Two of Ed "Big Daddy" Roth's creations will blow any 1960s fan of the weird and wonderful car customiser away — and puzzle others, who don't know about Ed, completely.
Motorcycles include a representative sample of bikes from the '70s and '80s along with some classics such as a Ner-a-Car and one of the very rare Broughs with the double rear wheel. Moto Guzzis have always been popular in New Zealand, and that's reflected in the collection too. But we would really have liked to know a little more about the NZeta (if that's how it's spelled), a New Zealand-built version of the nosy-looking Cezeta scooter, and many of the other displays. Generally speaking, the bike collection doesn't come anywhere near the rarity and interest of the cars.
Two unexpected omissions from opposite ends of the Kiwi spectrum are a Trekka (New Zealand's own car) and a Britten (New Zealand's own motorcycle).
With those two exceptions, the raw material is clearly there, collected and mostly restored lovingly and very professionally.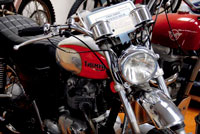 If it were up to me, though, I'd remove at least a third of the displays (possibly putting some of them on rotating exhibition) and use the space to, first, display the remaining vehicles in a more accessible way and, second, combine some of them to illustrate some themes — perhaps historical, technical or aesthetic.
The micro cars, led by that amazing Suzuki I mentioned above, would make an excellent display on their own with proper explanation.
We loved the museum, don't get me wrong, and it's cheap at the price. But on the ferry back to the South Island we debated what it is that makes a great museum. The consensus was that it has to not only have terrific stuff in it, it also has to use that stuff to tell a story. Just displaying it, and especially displaying it without even explaining it, isn't really enough. In the end, the Southward Car Museum is little more than Sir Len Southward's shed, writ large. A shed worth seeing, though, especially if you know even a little about the displays.
With a bit of tough-love curation, it could be great.

Southward Car Museum
www.southward.org.nz
Otaihanga Road, Otaihanga, just north of Paraparaumu on the Kapiti Coast of New Zealand's North Island, about an hour's drive from downtown Wellington.
Open 9am–4.30pm every day except Christmas Day and Good Friday. Admission is $10; there are various concessions. Wheelchairs are available.