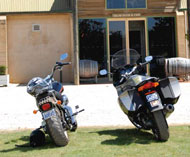 Tasmania the easy way
Let someone else do the planning
Early in the New Year, Mrs Bear and I packed our bike gear and headed south to Tasmania. A perfect Busman's Holiday awaited us — two nights at Country Club Tasmania, just outside Launceston, and a day's riding among the many wineries of north-eastern Tassie.
Life can be cruel, work can be hard … but not always.
We had been invited by Michael Bailey, the marketing manager of Country Club Tasmania, to sample one of the six Tasmanian Classic Touring rides that he has compiled. A keen motorcyclist himself with a sports biker and a cruiser in the garage, Michael devised the routes to show off northern Tassie at its best. I've written a more general story about the routes in Road Rider, but here's a quick summary.
The "Three Passes" ride takes you through temperate rainforest and includes the Sideling, Weldborough and Elephant passes.
On the "Wild Mountains" route you tackle lush farmland and breathtaking mountain passes up to the Central Highlands.
"Mountains, Mines and Meadows" is a former Targa stage through the Meander Valley against the backdrop of the Great Western Tiers.
The half-day "Vineyards Run" takes in the Tamar Valley and its surrounding wineries, including some of Tasmania's best.
The "History Run" passes five of Northern Tasmania's most significant homesteads and the charming village of Evandale.
Finally, on the "Five Beaches" ride you visit Northern Tasmania's most popular beaches including Bridport.
Unfortunately, we didn't have the time to catch the Spirit of Tasmania ferry across from Melbourne (for your information, www.spiritoftasmania.com.au) and bring our own bike. Pity, because it would have made a great introductory ride for our "Project Indian". The crossing makes a terrific introduction to Tasmania and relaxes you, ready for those great roads. Instead we flew to Launceston and then collected a BMW K 1300 GT from Chris Gannon at Launceston BMW. Thank you for the lend, Chris, especially at such short notice. The boys do a great job at Lonnie BMW, even if they don't sell cruisers anymore!
The cruiser component of this ride was taken care of by Michael, mounted on his Softail with wife Jen on the back. Instead of the ferry crossing, Mrs Bear and I got our relaxation from a terrific night's sleep at the Country Club, and joined Michael and Jen in the morning to start our ride.
I chose the only half-day ride on the program (the others all take a full day) not because it covers the wineries (would I lie to you?) but because it would give us plenty of time for photography and to look around. I also wanted to make a small detour or two, seeing I was in the area. The ride organisation easily accommodates that (see box below), but in the end we managed to fill an entire day quite comfortably.
Michael and Jen met us outside the Country Club and we headed for the open road. Well, "open" for a little way, anyway; it's a few kilometres into Launceston on the freeway and then we were right in the middle of peak-hour traffic. There must have been, what, at least a dozen cars …
Oh, one of the things I really love about Tasmania is the electronic sign in the slip road where you turn off the freeway to go into town. It's linked to a speed-measuring device of some kind — I presume a radar — and it flashes your speed at you along with the warning "TOO FAST". Well, it's always flashed that warning at me and from what I've seen, everyone else gets the same message!
In town we shuffled left so we could get a photo of the Harley on Kings Bridge. This is a lovely old structure — cast iron by the looks of it — which is now duplicated by the A7 West Tamar Highway bridge. That's where I stopped to get the opening photo.
After that it's the highway north, a very easy ride. We took the recommended small detour to Rosevears, well worth it to have a look at the historic pub and to ride the quiet riverside road. The nearby Rosevears Estate is considered one of the valley's finest wineries, and we stopped to take a look at the award-winning Daniel Alps at Strathlynn restaurant at Ninth Island Winery. Pity it was too early for lunch!
Oh, be wary of the Ninth Island Winery driveway. Most of it is not too bad, but there is a patch of deep and treacherous gravel — on a rather steep section …
Having survived that, we doubled back a little to the A7 for Brady's Lookout, high above the shoreline, for panoramic views across the Tamar Valley. There are more than 20 cellar doors in the area, marking the highest concentration of wineries in Tasmania, and you can see vines growing wherever you look.
We turned right again onto the C728 and at Jen's suggestion stopped at the riverside hamlet of Gravelly Beach. She remembered a good café there and she wasn't wrong. If our morning tea was anything to go by, I'm more than happy to recommend Koukla's Mediterranean Café. The back road continued through Deviot and past Iron Pot Bay Wines (unfortunately closed) just before the turn-off to Batman Bridge. We took the high, narrow and quite impressive bridge across to the East Tamar.
I was keen to revisit Low Head, the settlement at the northern end of the A8 or East Tamar Highway. That turned out to be an eye-opener; I remembered a very quiet little village, but the place is buzzing now. Mrs Bear raised an eyebrow and asked how long it had been since I'd stayed in Low Head, and once I started counting back I realised that I didn't want to know the answer …
The old Pilot Station has been refurbished as a little café, and there are displays about the original establishment. It's worth keeping in mind that John Batman sailed through these heads from Launceston on his way to cheating the local Aborigines out of the plains that were to become Melbourne … by Australian standards, these settlements are really old.
We returned through, or rather past, George Town to the turnoff to the B83 and more wineries including the well-known Bay of Fires. Yes, I was told, the actual Bay of Fires is more than 100 kilometres further east. But so what, really?
At Pipers River, where the road turns south (the B82 continues east to Bridport), Michael lost track of the fact that he had intended to take us on another little detour to Pipers Brook for lunch. We turned south as well, following the Vineyard Run map instead of continuing east. He realised his mistake quite soon, but we all voted to continue since the scenery was looking spectacular down along the oddly-named Dismal Range.
Eventually we did make it to Pipers Brook and a slightly late lunch. The winery shares its acreage with Jansz, the brand of bubbly that graces the Bear table when we have something to celebrate, but it does pose a slight problem for motorcyclists. The way in through the vines to the cellar door and café is quite long and a bit … well, gravelly. It's no problem, really, but it could be a bit daunting for anyone who has no experience of riding on gravel.
The café is, however, well worth the exertion. The food is excellent and the menu in not at all the sort of standard range of dishes. All four of us really enjoyed our meals. Oh, and the way out is still on gravel, but shorter!
We lingered over lunch and then made our way back through Lilydale to Launceston. Sadly we were just too late for the Boag's Brewery Centre for Beer Lovers, but that was probably just as well …
Just before we got back to the Country Club we noticed a small factory by the road that offered blackwood furniture. We stopped, took a look and bought a coffee table. You never know what you'll find in Tassie.
Dinner with Michael and Jen at the excellent Terrace restaurant at Country Club Tasmania with its amazing wine "cellar" (it's a climate-controlled room right in the restaurant) rounded out a highly memorable and even more enjoyable day.
I know it's easy to lose track of things like cost when you're on a complimentary trip like this, but I would say that the expense (see box) is well worth it, either as a special treat or as the highlight of a Tasmanian motorcycle holiday.
Country Club Tasmania and Michael Bailey, meanwhile, are to be congratulated for offering a classy option for motorcycle travellers.
Get packaged
We can both vouch for the rooms — they're huge and more like suites. The showers have interesting lateral nozzles which spray you from unexpected directions, too …
One-night Tasmanian Classic Touring package: $243 Deluxe Room, $200 One-bedroom Villa, includes your selection of two maps.
Two-night Tasmanian Classic Touring package: $446 Deluxe Room, $360 One-bedroom Villa, includes your selection of four maps.
Five-night Tasmanian Classic Touring package: $852 Deluxe Room, $680 One-bedroom Villa, includes all six maps
For more information on these and other accommodation packages, take a look at www.countryclubtasmania.com.au or phone 03 6335 5777.