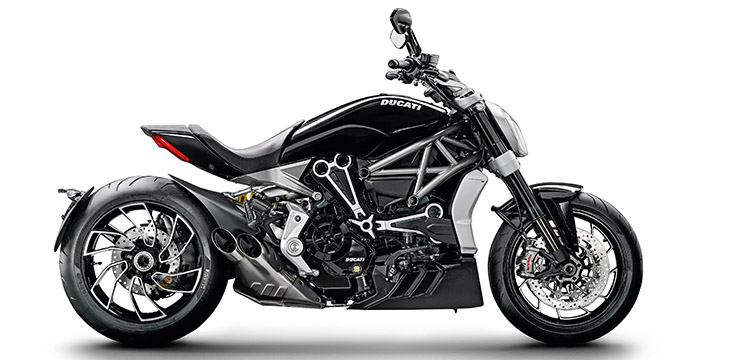 The 2016 Ducati XDiavel threatens to be the world's toughest cruiser as Ducati takes a new approach to its muscle-bike range.
The XDiavel delivers its torque in a wildly different way from the Diavel, its 129Nm peaking at just 5000rpm compared with 131Nm at 8000rpm … a change that promises thumping low-rev, low-speed performance.
It passes through 100Nm at around 2000rpm, and Ducati says its torque curve remains very flat.
Low-revs is a relative thing, though. Many traditional cruisers bang into their rev limiters at about 5000rpm!
And this may be the greatest appeal of the XDiavel, the fact that it will cruise at low revs yet storm along like a superbike when you let it have its head at its full 156hp (115kW) at 9500rpm.
Ducati says the XDiavel "brings together two worlds: the Cruiser world – low speeds, relaxed riding, long journeys and feet forward ergonomics – and the Ducati world, characterised by Italian style, refined engineering and unparalleled performance".
The 1262cc engine gets Ducati's highly advanced electronics, with traction control and other aids that incorporate lean angle sensors, pitch sensors and so on.
We're guesing the Ducati Power Launch system might get a hell of a workout on many XDiavels.
Like a brutal cruiser, the XDiavel runs a 240-section rear tyre, but like a sports bike it will apparently lean to 40 degrees.
The XDiavel's clever design goes further than simply blending two supposedly contrasting performance worlds.
Ducati has ensured it'll fit just about any rider by providing four footpeg positions, three handlebar bends and five choices of seat, for a total of 60 different riding positions.
It gets a belt final drive, the first time it has been fitted to a Ducati.
Ducati also announced the Diavel Titanium, a limited edition model with 162hp and 205kg mass. On top of the high-end styling elements, the Titanium has a 240-section rear tyre.
But maybe what really stands out about this bike is that its service intervals have been stretched to 30,000km!
Keep an eye on the Ducati website for further details.