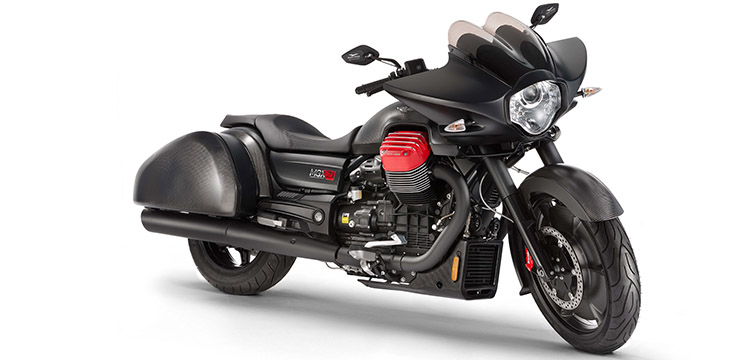 The MGX-21 is Moto Guzzi's high-tech, aggressive, performance-focussed attack on the growing bagger class of motorcycles, lifting the bar even higher than its previous 1400cc California models.
Styled by the Piaggio Advanced Design Center in California, the bike they've nicknamed the Flying Fortress has a bold look that only Guzzi could create: a purely Italian version of something born in the USA.
"Our thinking and inspiration turned to the masters and masterpieces of Italian design," head designer Miguel Galluzzi says. "I mean, Bertone and his extraordinary Alfa Romeo BATs of the 1950s, when these crazy Italians interpreted the American taste for extreme shapes such as fins and translated the wildest dreams into precious metal, masterfully combining Italian creativity with American pragmatism."
Also in true Moto Guzzi character, the old-tech of the air-cooled, sideways-mounted V-twin engine contrasts with some very advanced features such as ride-by-wire throttle, rider modes, dot-matrix dash, variable traction control, cruise control, sportsbike braking with ABS, Euro 4 emissions compliance and more.
The MGX-21 also features a full entertainment system, Bluetooth, and multimedia platform.
The new bagger has a 21-inch front wheel, and Guzzi says its engineers have put a lot of effort into ensuring the bike's ride and handling are balanced and easy, making changes to the frame as required.
As a result, they say their new touring bike feels more like a cruiser to ride … and considering the fact that Guzzi's cruisers handle far better than almost any others, it makes us excited about the prospect of riding the MGX-21.
They've even put carbon covers on the front wheel, partly for styling but with the claimed benefit of improving airflow through the spinning wheel, increasing stability.