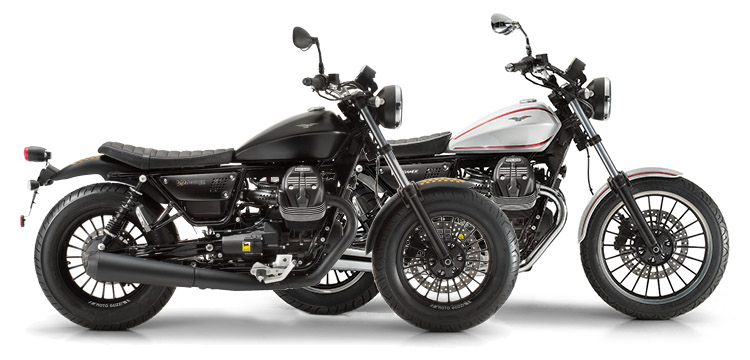 Moto Guzzi has built a new 850cc engine which will power two new custom motorbikes, the V9 Roamer and V9 Bobber.
Based on the V7 engine, the heavily revised V9 promises to give responsive, flexible performance as well as propelling the unique Guzzi V-twin towards its 50th anniversary without running foul of emissions laws.
Suitably, the Roamer and Bobber are retro-cool machines for the contemporary market: the Roamer is a cruiser in the tradition of the V7 Nevada, and the Bobber is the Italian brand's answer to the fashion for that post-war custom style.
This is the first time Guzzi has built an 850 in almost 30 years, since the demise of the 850 T5 in 1987.
Both bore and stroke have been increased from the V7, expanding from 80 x 74mm to 84 x 77 in a top end that's completely revised without deviating from the traditional pushrod design of the Guzzi V-twin.
Changes incluse angled valves, a new ECU, and a secondary air system, and the upshot is not only compliance with Euro 4 emmissions laws but torque of 62Nm at just 3000rpm.
The peak outputs aren't greatly increased by the bigger engine, with power up from 35kW to 40 (48hp to 55) and torque only 2Nm from the V7's 60Nm, but the factory implies this is a much more rewarding and fun version of the powerplant.
"This engine boasts surprising character and responsiveness, which contribute to a really exciting riding experience," the company says in a statement that's filled with similar sentiments.
The engine's liveliness will seem even greater because the Roamer and Bobber are among the lightest bikes in their respective classes at only around 200kg ready to ride.
Seat heights are 770mm for the Roamer and 775 for the Bobber.
Apart from things like colours, seats and handlebars, the crucial difference between the two models is front wheel size.
Roamer Roamer runs on a skinny 100-section 19-inch tyre while the Bobber has a fat 130-section 16-incher.