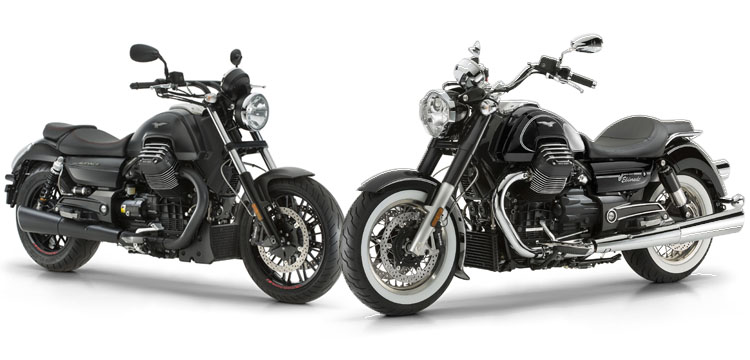 Moto Guzzi has just launched the latest versions of the California 1400 in Australia, and what an impressive sight they are. There are two very distinctive models available, the Eldorado and the Audace.
At first glance the Eldorado looks like it's just been transported from the '70s, complete with pinstriping, whitewall tyres and tons of chrome. On further inspection it becomes obvious this is a motorcycle whose technology is bang up-to-date, with its LED running lights, digital dash, ABS, traction control and variable engine maps.
That was the stuff of science fiction when the original 850 was introduced.
The fact that the big-block 90-degree transverse twin produces 121Nm of torque at just 2750rpm gives you a flavour of the riding characteristics you can expect from this bike.
With a seat height of just 740mm, helped by the 16-inch wheels fore and aft, you don't so much get on this bike as fall into it, the bullhorn bars and footboards adding to the relaxed riding position.
Oh, and while you're in a relaxed mood engage the cruise control on the right switchblock and just take in the scenery.
The Eldorado come is two colour-schemes, Nero Classico, and Rosso Pregiato: that's black or red to you and me.
The Audace on the other hand is a very different kettle of fish indeed. For a start it's black, just black: entirely black.
From its carbon front mudguard (hiding a fork brace within) to the engine block to the pipes, it screams attitude.
The pictures don't really do its low-slung menace justice, but take it from me this is one bad-boy looking bit of kit.
The flat, drag-type bars sitting on huge risers splay your arms out wide, and talking of width, from the rear it looks monstrous.
The tank is massive and then add to that the beautifully machined cylinder heads sticking out even further on each side and it makes the 200-section rear tyre look normal size.
To add to the image the footboards are gone in favour of regular footpegs, and the mirrors are minimal, as is the removable pillion perch.
The Audace contains all the same tech as the Eldorado.
Both bikes are visually stunning but there is also a host of optional extras and accessories available to help individualise them to your taste.
Ride-away prices are 24k for the Eldorado and 23.5K for the Audace, both of which seem like an awful lot of metal for your dollars.