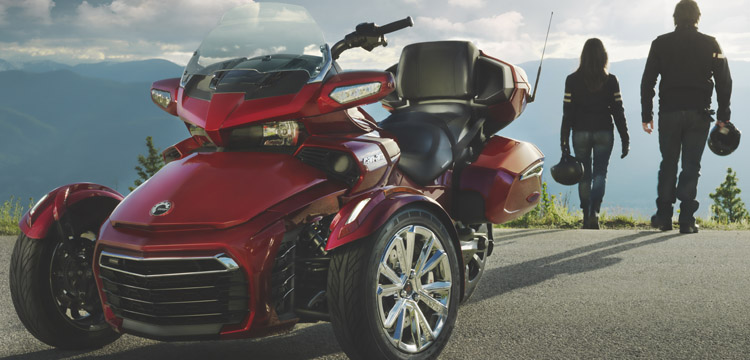 Can-Am has released a touring version of its three-cylinder, three-wheeled Spyder F3, and it has all the hallmarks of a superb luxury tourer.
The Spyder F3 Limited is the most ambitious of the line to date, bulding on the original cruiser basis to add massive luggage space and comfort features to an already impressive spec sheet.
The major change is the addition of a top box large enough to take two full-face helmets, which also acts as a back rest for the pillion.
This makes four models in the F3 line-up, beginning with the base model which for 2017 will come at a lower entry price.
Next in line is the sportier S model, then the bagger-style T model, which is a slightly lower-spec tourer than the new Limited.
"The Can-Am Spyder F3 Limited completes the Spyder F3 lineup," said Anne Bélec of Can-Am's parent company, BRP. "Along with its enhanced comfort, convenience and entertainment features, it has all of the characteristics that define the Can-Am Spyder F3."
All feature Can-Am's versatile UFit adjustable ergonomic system that enables you to tailor the riding position to suit you perfectly.
They're powered by the smooth and very torquey 1330cc triple, which still sold alongside the V-twin range of Spyders.
For more details, see the Can-Am Spyder website.