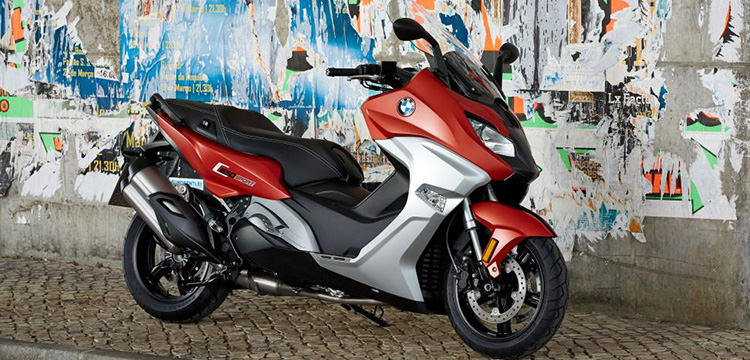 BMW is introducing the world's first blind-spot monitoring system for motorcycles as part of the upgrade of its C650 maxi-scooters.
Side View Assist (SVA) gives the rider a visual warning if there other vehicles in the rider's blind spot, showing warning lights at the bases of the mirrors.
SVA uses four sensors around the bike that detect other vehicles within 5m of the bike, but it only gives the rider a warning if there's at least 10km/h difference in speed of the vehicles. Its operating range is between 25 and 80km/h.
BMW's intention is to prevent riders from moving into the path of other road users after failing to check their blind spots, and the company makes the point that it is "only designed to assist the rider: it is not a substitute for looking in the rear mirror or looking over one's shoulder and under no circumstances releases the rider from their responsibility and obligations".
All the same, in traffic SVA is likely to be a lifesaver, whether protecting someone from their own innattention or from an error of judgment.
However, at this stage the optional SVA technology is only homologated for the C650GT in European markets, and there's no word yet on when it might come to Australia.
SVA is one of a host of new featured on the 2016 C-series maxi-scooters, which will come in GT and Sport guises with sharper styling that hints strongly at BMW's S-series sports bikes.
Both models will now have traction control (ASC) as a standard feature alongside anti-lock brakes (ABS).
Their drivetrains have been significantly revised, with a clutch that engages more quickly for a faster take-off.
Taller overall CVT ratios help the scooters accelerate from the line more quickly too, as well as stretching top speed by a fraction to 180km/h … though it's probably more relevant that the highway cruising revs have been dropped a little.
BMW says a new exhaust system has given the 649cc, 44kW twin-cylinder maxis a "particularly full and sonorous sound".
New suspension spring rates and damping setting promise better ride quality without reducing the previous models' dynamic abilities, BMW claims.
Other changes include colours, ease of use of the centre stand, instrument design and calling the Sport model a 650 instead of a 600.