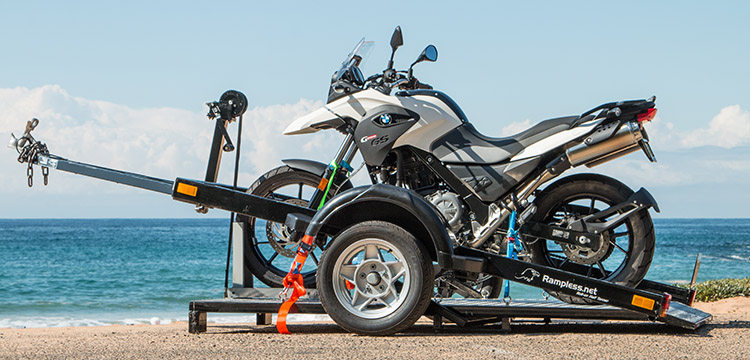 Motorcycle trailers don't come any better than the Rampless Trailer, an Australian design that lets you load a bike at ground level, all on your own. There are no ramps because you don't need them.
It's not unique, but it's very clever.
The concept is simple. The platform pivots from the rear of the boxed trailer frame, so when you detach it from the front of the frame it can be lowered to the ground, where it sits flat. You push or ride the bike on, roll the front wheel into its cradle, strap down the bike, lift the platform up again and drive away.
The execution was a lot more complicated than that though, Jeff says. "It looks simple, and its operation is simple, but it is fairly complex.
"There are three different levers involved when the bike is lifting, to keep it level," Jeff says. "You don't want it getting too steep at any stage.
"The critical thing is that you can wheel the load on and off easily."
The balance appears to be right. Lowering and raising the ramp is intuitive. The weight involved means that you need the winch to do the lifting for you, even though it'll rarely be more 50kg all up.
As for tying down the bike, that's a cinch. With the front wheel rolled into place on the adjustable holder, the bike is held up so you can get on with fitting the tie-downs without having to hold it up. It helps makes this a one-person operation.
A lightweight trailer at 250kg, it's easy to handle, tows well behind even smaller cars, and has a capacity of 500kg before reaching the limit for unbraked trailers in Australia.
The Rampless trailer has wide appeal. I can see uses for individuals, clubs and businesses for the Rampless trailer, and I can see uses beyond just motorcycles (Jeff moved a large fridge by himself, and says there's been interest from quad-bike users, farmers and others).
Until he takes the business side of it to the next level and begins mass production, he will hand-make trailers to order, but at the same price he aims to get the factory-built ones on sale for — $2950.
DETAILS
Price: $2950
Size: 8 x 4ft (custom available)
Capacity: 500kg
Info: www.rampless.net, 0405 353 621
A full review of the Rampless Trailer will be published in issue 121 of Australian Road Rider, on sale December 17.