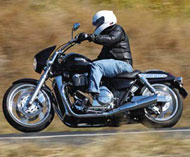 What's in a badge?
Hinckley's latest wins hearts and minds
The near-sainted Edward Turner and I have at least one thing in common. We don't always get it right.
When Turner sketched the Ariel Square Four on the back of a Wild Woodbine cigarette packet, he thought he was designing an engine that would avoid overheating problems. Warped and blown head gaskets soon proved him wrong.
When I first rode the new Triumph Thunderbird, I loved the bike but wondered whether the styling would be strong enough to pull it out of the mass of other cruisers on the market. The reaction from you, the Australian bike buyers, seems to be proving me wrong, too. You've opened your hearts to this bike in a big way.
I introduced Edward Turner, who eventually came into his own with his designs for Triumph, because he had something to do with the success of this Thunderbird, too. He originally came up with the name after a visit to Canada, where he saw carvings of thunderbirds on totem poles. The name was a winner – Ford got permission to use it for a car and Royal Enfield uses it to this day for an Indian-built bike. But it did more.
The name built the Triumph brand. And the strength of the brand is the reason for the new Thunderbird's success. At least that's what I think. I'm not denigrating the qualities of the bike when I say that – read my impression of the T'bird in Cruiser+Trike magazine #4 – but I doubt that an equally good bike from another manufacturer would receive the same overall approval as this one.
Please note that I'm not talking about the specialist motorcycle press here. It's acceptance among potential buyers that matters and that's what the bike is getting going by the reception it's had among the riders I talk to.
Forgive me if I seem to be preoccupied with brands; part of my "civilian" job is editing a book called Superbrands, which, predictably enough, is about brands and which has taught me a lot about their power. In the case of this latest incarnation of the Thunderbird, it's the Triumph brand that has brought and kept the bike at the forefront of potential buyers' minds.
Now Triumph is not, actually, one of the world's 100 most valuable brands. The annual list compiled by consultancy Interbrand has only one company on it that manufactures motorcycles (more or less) exclusively. Yes, that's Harley-Davidson. Honda and BMW also appear, although in both cases this would be mainly because they make cars as well.
But if you asked about the most valuable motorcycle brands, Triumph would be well up there. That's partly because the likes of Edward Turner came up with great names and great bikes but also partly because John Bloor, Triumph's current owner, has capitalised on the brand.
He's not set many feet wrong – there have been unsuccessful Triumphs, of course, including bikes such as the TT but today there are no duds in the Triumph model line-up. That creates its own attraction and here is where I think we come to the reason for the Thunderbird's reception by Australian riders.
We are used to seeing interesting, successful bikes with the Hinckley badge on them – and so, if we're looking for a new cruiser we will be more likely to look at a Triumph first.
Whew. It took a long time to get to a simple conclusion, didn't it? But as with mathematics questions in exams, the working-out can be just as valuable as the correct answer.
Just in case you missed our stories in Cruiser+Trike, where we've featured the bike twice, here's a quick rundown on what all the above fuss is about. Here's a quick summary of C+T editor Bob Guntrip's description of the bike.
"Twin-cam, four-valve-per-pot water-cooled powerplants are enough of a rarity in cruiserdom to get the pulse racing when one is spotted; and the Thunderbird's [displaces] 1596cc. It's unmistakeably a Triumph with that solid lump of vertical twin-cylinder bank amidships and sounds and goes likewise.
"Part of the design brief was for strong bottom-end power and the 270-degree crank emphasises that feel and adds a loping, offbeat exhaust note, delivered via exhaust headers that are double-walled to prevent blueing. Triumph has done bags of work on the T16 engine to damp vibration and muffle noise.
"Cam drive to the four-valve, twin-plug heads is by a small chain that runs up between the cylinders. Add to that fuel injection and clean, low-maintenance 32mm belt final drive – a first from Hinckley – and you've a solid and fuss-free powerplant.
"Triumph went for a twin-backbone steel frame using the engine as a stressed member. The design brief called for the Thunderbird to have 'class-leading handling'. Suspension is via 47mm-diameter Showa forks and twin shocks with preload adjustment. The whole shebang tips the scales at 308kg dry but a low centre of gravity and a low seat (700mm) make the bike very user-friendly.
"To add to its attractions and make it as appealing to as many potential buyers as possible, a solid range of accessories has been tailor-made for the bike there are more than 100 items."
And behind all that hovers the ghost of Edward Turner, possibly still trying to forget the Ariel Square Four but no doubt very happy with the name that he found in the wilds of Canada.