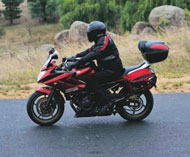 The Grudge
To know it is to, well, find out for yourself!
It would be fair to say that I had a grudge against this Yamaha before I even threw a leg over it.
I had just bought a Buell Ulysses (when the company was on its way out) and was looking forward to taking it for its first long run – eight of us on a three-day 1100 kilometre round trip, which would be right up the Buell's alley. Then Murphy's Law struck, a test rider pulled out at the last minute and, to my dismay, I had to leave the muscular Buell behind in favour of using the little test Yamaha XJ600S instead.
Apart from missing a great opportunity with the Buell, I was more than a little dismayed at the thought of riding a small 600 so far. A minor tantrum ensued but after that I sucked it up and did my duty.
After an hour or so of mixing it with city traffic, our group finally hit the freeway and with the open road ahead I began to feel a little more at ease on the XJ, well except for the seat that is. It may suit some people but for me it is a little too narrow and I was really glad I had decided to slip my Airhawk seat pad into my luggage.
On the south side of Queanbeyan the clouds burst – it didn't just rain, it literally bucketed down like a Queensland wet season. With the amount of water flowing across the roads I really thought our fun on those great roads we were heading for would be spoiled. In fact, it was quite the opposite. The rain was actually a big help because it showed me just how well this bike could cope with terrible conditions. I also think it helped having new Pirelli Angel/Demon tyres fitted and any doubts I had about these fairly new tyres were immediately dismissed.
Now, I've always liked a low revving engine that develops a lot of torque rather than high revving ones but every bike is different and you have to take each one on its merits. The more I rode the XJ the more impressed I was with it. Sure, it's a small bike but what it lacks in capacity it sure makes up for it in sprit (if that makes sense).
As I discovered, it's not too small for longer trips and it does everything it was designed to do. It cruises the open roads with ease and when you need extra power to overtake it's there. Sure, in some cases you may have to knock it back a gear but if you do, hang on! As I found out, the XJ600S is also a great little sports bike and with its power plant inspired by the R1, it had no trouble keeping up with the larger capacity machines on the ride.
Overall the Yamaha XJ600 is great all-rounder and it's fun to ride; it's light, agile and handles well, it has plenty of ground clearance and stopping certainly isn't a problem either with its highly effective front twin discs and single disc on the rear.
While riding in the rain I was thinking about another small bike we accessorised into an entry-level tourer for under 10K. That bike was great and I used it to commute to work and back for months. There's no reason you couldn't do that with this bike. Whether you want a small sports bike or one you can gear up for those occasional long trips, the XJ600 is worth closer inspection. It has a fair bit of luggage space, it was reliable, had no problem sitting on (and well above, if you are so inclined) the speed limit – and the price was right, too. Yamaha says there is a LAMS version on its way, making it even more appealing. So when you're doing your sums, don't write a small bike like this out of the equation. Grudge dismissed.