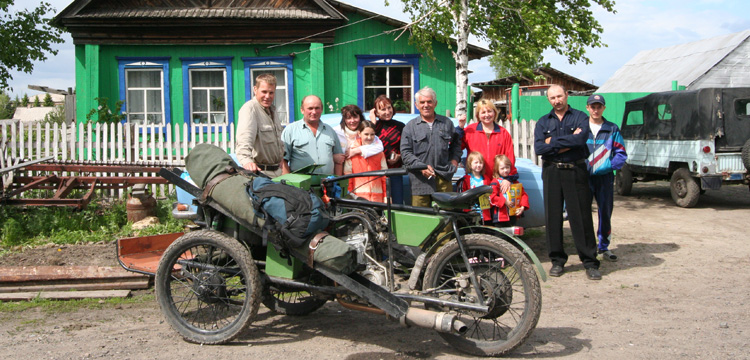 Riding a motorcycle is a great adventure, but riding one somewhere adventurous is one of the greatest things you can do in life.
Ten years ago today I was riding through Russia on the biggest and best journey I've ever done, as part of a small team recreating the 1907 Peking to Paris expedition, and it's still a trip that affects my life in meaningful ways today.
I never could have imagined myself spending 60 days on wild, remote roads, riding a replica of a 100-year-old three-wheeled motorbike, but those weeks rumbling across China, Mongolia, Russia and Europe were amazing.
They changed my life, though not in a dramatic way; I didn't come home a different person, just a better person with a determination to avoid spending my time being dull.
Living up to that determination isn't always easy. There are bills to pay and chores to do, responsibilities to handle and mundane routines to follow. But even in the little things there is pleasure and every short motorcycle ride is an escape. It's just that the big rides are the ones to aspire to.
The next chore I have to do after writing this is cancel plans for a South African ride later this year, because a family event has just been announced and it takes precedence despite being only a one-day thing as oppossed to a mind-blowing three-weeks away. It happens. I'll try to postpone South Africa until next year.
I didn't expect that to happen, but dealing with the unexpected is part of life's adventure. In Russia it happened all the time. In fact, 10 years ago today my Contal replica snapped its throttle cable as we came into a town, but some construction workers where we stopped were able to repair it within half an hour.
A few days beforehand my riding partner Chris and I spent the day with a small-town family as the father helped fix a broken seat spring. We'd previously had similar experiences with broken suspension, and we'd have more occasions to meet the locals for repairs in the future.
It turned out that Russia's people, and our interactions with them, were the highlight of the ride. The riding was always challenging and fun, especially on a bizarre contraption like the Contal, and the country's history, sights and beauty kept adding to the good times.
Every time I think about that I want to go back, but I know too that it doesn't matter where you go because the world is the same all over. So if it's not Russia, it can be South Africa. And if not South Africa, well, there are great people, riding experiences, history, sights, beauty and more right here in Australia.
So later this year I'll go for a big ride in my home country. Somewhere adventurous. Because life is for doing the great things, no matter where they may be.
Got a great ride coming up? Tell us about it in the comments seciton below.