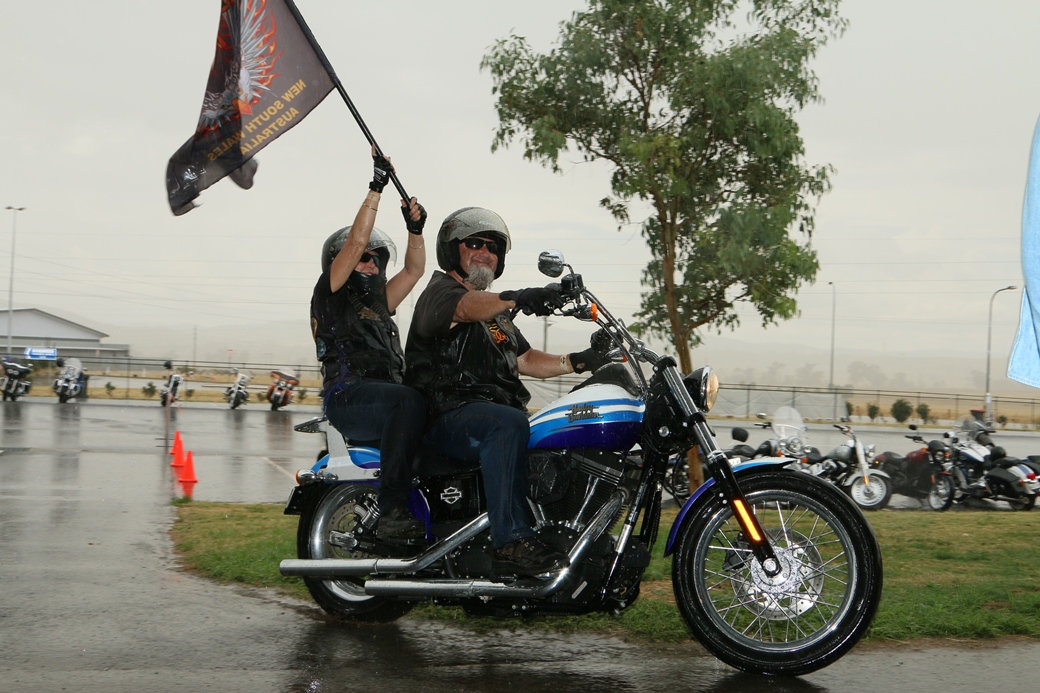 The sky was almost black behind me and I reckoned my timing was pretty good. I'd be under shelter before the storm hit. Thousands of others wouldn't be.
Over 2000 riders and pillions had left in brilliant sunshine for the 2015 HOG Rally's Thunder Run, the climax of a long weekend's worth of good times. I'd ridden into the centre of Tamworth beforehand, and as I stood in the heat of the morning I knew it'd crack well over 30 degrees by lunchtime. I photographed the endless lines of Harleys coming into town, then moved on to a few other locations on the route before leaving them to ride to Werris Creek and back while I went to the final destination.
On the way there I notice the wall of black in the mirrors of my Road King. I cruised to cover.
It belted down! But it was one of those warm storms — unusual in Tamworth at the best of times. It was kind of nice to wonder out in it.
When the riders rumbled back into Tamworth, they were drenched but smiling. The big, fat drops stung skin and blurred vision but no one was cold, just uncomfortable. Some of them laughed  as they rode in. Off their bikes, they waddled around like cowboys in their sopping jeans, boots full of water. The riders who'd entered the show 'n' shine got to it, wiping every trace of grime and water off their previously gleaming Harleys.
It was fun, the novelty of the unexpected storm adding to the atmosphere. I'm sure the good feeling was tinged with relief that it wasn't cold. It's not the rain that makes riding miserable, it's only the cold.
By Mick Matheson