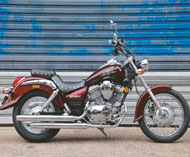 Purgatory's cherubs
Hey, you have to start with these. Might as well have fun
Words: Terri Dodd. Photos: Factories, Peter Thoeming
You've heard of purgatory — that's where you go until you're ready for heaven. The motorcycling equivalent is your time as a learner and P-plater. And here are the cherubs (smaller versions of angels, see) that will see you through motorcycling purgatory before your admission to restriction-free bike heaven!
The interpretations across the brands are wild — these entry-level cruisers are a far cry from their practical baby road-bike counterparts and you get plenty of glamour for your dollar, even if in some cases style trumps substance.
Truth be told, the bestselling Yamaha XV250 Virago (now Star) set the small cruiser standard over a decade ago. Its influence is still strong in this group where there are some obvious homages to it, but it's also apparent that the class is still inventing itself.
It's fascinating that even though a new buyer can choose from bigger engine LAMs-approved models, the 250 class is still going strong — in fact, the category is expanding with brands from China and Taiwan that are completely new to us. That tells us that small-capacity bikes still have enormous take-home appeal as learner, fun and economical commuter bikes with prices that don't inflict sticker shock.
Prices start as low as a "swipe my card" $3990 up to $10,000 for a bigger capacity LAMs-approved 400 or 650 cruiser. That difference in price could have a bearing on how you spend your money, but there are other aspects to consider beyond price.
The important thing to note is that each motorcycle here has its own unique feel, handling and performance attributes — they are as widely spread as it's possible to get in one category. Even the ones that look the same don't ride the same. As you would expect, the established Japanese and Korean brands offer a refined package, the Australian-American designed Hunter knocked our socks off and some other fledglings surprised us with their competence. It also has to be said that some brands need to work on their gearboxes and brakes.
In terms of fit — and we are talking about entry-level bikes, remember — some magically fitted everyone. On the other hand, tall riders liked a couple of bikes that our shorties loathed because they did not fit them.
How can a small-capacity cruiser not fit? Reasonable handlebar reach and span-adjustable hand levers should be mandatory for this class. As you will read, although we love the look of them we also had a whinge about tank-mounted instruments. Riders wearing full-face helmets have to keep taking their eyes off the road to see them, and that's not what a beginner needs.
When it comes to looks, big cruisers are the Kings of Krome and these smaller versions try hard to look just as glamorous, bearing in mind they are built to a price. You have to look very closely at several bikes to confirm they are really 250s not 750s, and if a butch image means a lot to you, there's a couple of imposing cruisers that will appeal.
As with all motorcycle buying decisions, you must first decide who is going to be riding the bike and why. Absolute beginner? Proficient learner? Returned rider? Economy-driven commuter? Or tourer with longish rides in mind? Do you intend keeping the bike for several years or do you want to pass your test and move immediately to a bigger bike (in which case resale value comes into play)?
Most importantly, when you are gaining experience and confidence it's critical that no aspect of the motorcycle detracts from your ability to concentrate on your riding. Safety is paramount. Poor brakes, the aforementioned "hidden" instruments, hard-to-work controls and an iffy gearbox will not be in your corner when you go out to fight all those gadget-distracted drivers in rush-hour traffic. A more experienced rider can overcome a bike's shortcomings to some extent but, as always, we suggest you get a test ride first to find the bike that most closely matches your stature and your experience — we promise you, you will know if you like the bike within 10 minutes.
You will have a great time poring over the choices available to you, and what a choice it is: as well as the 250s (and one 400) we rode, we have included basic info on bigger LAMS-approved cruisers.
Motorcycling is anything but soulless and it's with an appealing first bike — even if bought for purely practical reasons — that a lifetime of motorcycle passion can be ignited. If that happens to you, it will be a bonus. So let's go cruiser shopping.

Honda VT400
In alphabetical order, we start with the Honda, which at 398cc has the only 400cc engine of the bikes we rode. It is at the higher price end of the scale at $9990. Physically, it's hard to tell the chrome-laden VT400 from its bigger VT750 Shadow brother and it looks fabulous with its teardrop tank and bullet headlight.
Fitted with its (accessory) body-shielding windscreen and wide fringed pannier bags, the VT400 could be physically intimidating for newbies, but our shortest riders deemed this bike an absolute kitten when ridden, exhibiting no bad manners at all.
The Honda weighs 180kg (5kg less than the heaviest 250!), but because the seat is so low and the bike so utterly balanced, our smallest riders had no problems managing it.
The gearbox is typically Honda smooth and there were no dramas with the controls or reach for our testers, who ranged in height from 157cm to over 183cm. Incidentally, the tallish windscreen didn't pose a problem for our shortest riders, who both had a clear line of sight over it.
The bike's smooth, torquey, fuel-injected liquid-cooled engine would be as nice to ride on the open road as it is around town. The Honda revs well and has a nice spread of power, and the extra capacity means you make fewer gear-changes than on a 250. It is softly sprung, though, and on ripples and potholes the suspension tends to rebound a fair bit.
The single-disc front brake and rear drum could be stronger for a bike of this weight, but if they are not outstanding, they are also not going to bite learners.
The fatter front tyre makes the steering feel a little heavy and you will have to take care when making U-turns, but the Honda certainly trickled along seamlessly in Sydney traffic. It would make a good commuter, although with the (optional) saddlebags you'll have to pick your filtering places. The Honda is big and comfortable enough for long rides, but you will have to put up with tingling through the bars at certain points in the rev band.
Honda's HISS security system and heavy-duty key cylinder give you extra confidence when you park it and walk away.
Possibly the only thing missing is a bit of bad-boy cruiser menace!
Bling: Quality finish. Besides the screen and panniers, you can dress the Honda up with backrest, chrome carrier, chrome backrest plate and body cover.
Pillion opinion: Even though learners are not entitled to carry pillions, more experienced riders may want to, so we have included our take on pillion comfort for all these bikes. The Honda's pillion seat was comfortable and there is plenty of room, even for a large person, but as with any bike fitted with saddlebags, it's harder to climb aboard.
Fuel used: All our bikes were ridden over the same distance so we could compare fuel consumption. The Honda used 3.34L. We have not converted that to litres per 100km because the test route and ride were very thirsty, but this way you can at least compare one against the other.
Plus: It doesn't look like a learner bike and you can easily tour on it.
Minus: Tingling through bars, soft suspension.
Verdict: Reliable, easy-to-ride Honda for the nicest people.
Quickspecs
Model: Honda VT400
Price: $9990, warranty 24 months
Engine: Liquid-cooled four-stroke OHC valve V-twin
Capacity: 398cc
Suspension: Front telescopic, rear swing-arm with dual conventional dampers
Brakes: Front hydraulic disc, rear leading/trailing drum
Weight: 150kg
Colours: Black/Grey, Silver, White/Silver
Importer/distributor: Honda MPE www.hondampe.com.au
Hunter HMA Spyder LC
By test day, our promised loaner was still in a shipping queue at Botany, so we were fortunate that Hunter Spyder owner, Trevor Siemsen, was willing to let us ride his brand-new pride and joy. When the bike rumbled up to the meeting area, jaws dropped and the entry-level cruiser scene was split wide open. This is a completely radical take on the 250 class and a seriously breathtaking bike.
Loaded with bling, the Hunter looks every inch a California bespoke/aftermarket parts custom special. From its flame paint, wild-looking foot controls from USA company Zodiac, diamond cut-out grips, billet wheels, soft-tail rear end with Harley-Davidson-designed shocks, chunky risers, a skinny front tyre and the fattest rear wheel in the class, the Hunter is a style standout. It has menace in spades.
Trevor bought the bike from Australian company, Hunter Motorcycles, for $8000 and for that he got flame paintwork and Hunter's specially imported aftermarket pipes. It soon became obvious the bike was down on power. Was the optional pipe creating back-pressure? A phone call to Hunter revealed that in the rush Trevor's bike had not been rejetted and a new rear sprocket, which should have been fitted, was on back order. These changes should release the bike's potential and make Trevor's grin even broader.
For a bike with chopper DNA it was a surprise to see the Hunter using a smooth, twin-carbie, liquid-cooled vertical twin engine, but the design certainly works.
The gearbox was good, although neutral was occasionally a little difficult to find. There was a squeal coming from the front twin-disc brake, but braking was reassuringly strong. The rear disc brake was good. Both brakes were linear and safe.
Depending on who was riding it, the soft-tail rear end, fitted with the aforementioned Harley-Davidson-designed shock, was considered "fine" or "a little harsh" on our specially chosen pothole-ridden road section, but the front was rated surprisingly good, bearing in mind the bike has acres of rake. You'd think the rake and long wheelbase would make the bike tricky to manoeuvre, but it turned out to be very easy — and with its low-down weight, anyone could ride it, provided they could reach the forward controls.
The Hunter is unique in this class with its American styling cues — it has loads of street cred and is probably the bike the son or daughter of a bikie would choose to get started on. Yeah, badass!
Bling: Alloy wheels, bobbed rear fender, drag bars with hidden wiring, Trevor will be fitting whitewall tyres to his bike. Nice!
Pillion opinion: No pillion seat fitted.
Fuel used: 3.3L — correct jetting may improve this figure.
Plus: Capable bike with jaw-dropping good looks.
Minus: Long reach to the controls for the very short.
Verdict: A chopper — small, but perfectly formed.
Quickspecs
Model: Hunter HMA Spyder LC
Price: Flame paint model $8000 including ORC, without flames $7200 plus ORC, warranty two years unlimited
Engine: Liquid-cooled OHC vertical twin-cylinder four-stroke, 360° twin carburetor, CDI ignition
Capacity: 234cc
Suspension: Hidden safety ride hydraulic rear suspension with adjustable ride height and damping control
Dimensions: Seat height adjustable from 510mm to 580mm, fuel capacity 15.89 litres, wheelbase 1790mm, ground clearance 27.5mm
Weight: 163kg
Brakes: Front dual disc with two-piston calipers, rear single disc
Colours: Silver Flames on Red, White, Black and Pink. Solid Black
Importer/dealer: Hunter Motorcycles Australia, www.huntermotorcycles.com.au sales@huntermotorcycles.com.au
Hyosung GV250 Aquila Cruiser
Here's another movie star with a look like nothing else in the class.
Our smallest tester almost had to be prised off the GV with a crowbar when it came time to switch riders, but our tallest, heaviest one had a few issues with a hard seat and a backrest that intruded on his personal space.
Though not startling, the Korean-made Hyosung's air-cooled v-twin engine is powerful for its size and electronic fuel-injection helps. The engine is torquey and lugs down to 3500rpm in top gear, making it easy to use in traffic.
Testers were unanimous in their praise of the gearbox, which worked faultlessly. Suspension was reasonably stiff and a little overdamped, but coped well with the test route bumps. Brakes were adequate on the front but a little wooden on the rear.
The bike felt light, was easy to manoeuvre and the riding position was relaxed with a comfortable reach to the bars and pegs. Light rain was falling at the start of our test, but the bike felt planted and inspired confidence.
Hyosung has been making serious waves with its range of cruisers and road bikes and the new EFI versions are particularly good. There's a reassuring and responsive dealer network, too.
Bling: With its billet-type wheels, mudguard valances, huge headlight and billet handlebar ends, the Hyosung looks like a scaled-down Indian and is a definite head-turner. Paint is luscious with complex swirls, and the bike's overall finish is good — it looks solid and well made. Accessories include screen, engine dresser bars, sissy bars and backrest, soft-case panniers and running boards.
Pillion opinion: The seating position put our pillion's knees rather high in relation to the rest of her body.
Fuel used: 2.05L.
Plus: Great looks, gearbox, easy to ride. Plenty of glamour for the money.
Minus: Hard to find, perhaps cramped for very tall riders.
Verdict: Easy to ride with a lot of presence. Established brand and dealer network.
Quickspecs
Model: Hyosung GV250 Cruiser
Price: $5990 + ORC, warranty two years unlimited
Engine: Air/oil-cooled four-stroke V-twin, DOHC four valves per cylinder, electronic ignition
Capacity: 248cc
Suspension: Front telescopic, rear swing-arm with dual conventional dampers
Dimensions: Seat height 708mm, weight 150kg, fuel capacity 14L, wheelbase 1513.8mm
Brakes: Front two-piston disc, rear drum
Colours: Black, Red/Black and Silver/Black
Importer/dealer: Hyosung Australia, www.hyosung.com.au
Kymco Venox 250
At $5490, the Kymco Venox is one of the more expensive bikes in our 250 collection, but you get a big, well-made bike and a certain amount of respect when riding it. Testers were divided on its looks — its shorty silencers, shrouded rear shocks, filled-in rear wheel and swoopy styling were not for everyone — but it certainly takes styling cues from no one else. There is a large chrome oval accent on the tank, nice billet touches on the handlebar mirror mounts and the handgrips were thick. The instrument nacelle had a curious, garish, orange background with oriental-style numbers, but they were easy to read.
Long and low, the Venox is very comfortable and the combination of big tank and wide curved saddle reminded one tester of sitting snugly on horseback. Nothing stuck into our legs. Our short rider thought the forward pegs were just right, while one taller tester thought they could have been placed more forward.
With its raked-out front and correspondingly longer wheelbase we had to use more muscle to manoeuvre the bike about in the car park, but the nicely placed wide bars enabled us to zig-zag our way through a particularly bad traffic queue easily enough.
There was a very pleasant growl from the exhaust, and the water-cooled engine was crisp, torquey and willing and felt as if it had a few more cubes than some of the other bikes on the test.
The single-disc and rear drum were adequate with reasonable feel, while suspension was comfortable and handled our bumpy torture section reasonably well.
The gearbox had a long throw to first gear and the hand levers, which are not span-adjustable, had a correspondingly long throw, making take-off a pain for our little-handed people.
Other than that, upshifts were smooth, but there was a slight clunk on downshift. With its beautifully detailed engine that could easily be mistaken for a 750, the bike has heaps of big bike cred. This theory was borne out while sitting waiting at traffic lights, when a bearded-bikie-type road ganger wildly gesticulated his admiration of the Venox. You don't often get that tribute for a 250!
Pillion opinion: Very good. Comfortable. Roomy.
Fuel used: 1.65L
Plus: Engine, comfort.
Minus: Non-span-adjustable levers.
Verdict: A balanced, well-performing bike. The buying decision would depend on whether you like the styling or not.
Quickspecs
Model: Kymco Venox 250
Price: $5490 + ORC, warranty two years
Engine: Liquid-cooled DOHC, four valves per cylinder V-twin, electric ignition
Capacity: 249cc
Suspension: Front telescopic forks, Rear swing-arm with dual conventional dampers
Dimensions: Seat height 736mm, fuel capacity 16.8L, wheelbase 23.62cm
Weight: 189kg
Brakes: Front single disc, rear drum brake
Colours: Black, Silver and Red
Importer/distributor: Kymco, Unit 4, 13–15 Kevlar Close, Braeside, Victoria 3195, 03 9580 0788 www.kymco.com.au
Laro Regal 250
The first impression is of looking at a Harley — the designers really tried hard to make the Laro 250 Regal appealing to someone with the Milwaukee brand in their future.
The seat is low and the saddle is very comfortable, especially the perfectly positioned mini back support. Everyone thought the handlebar position was especially good, even if the bars are shaped a little weirdly. The sidestand sticks out oddly, too.
The Laro is a watercooled twin with a long, narrow slab of radiator that will not get in the way when cornering. The engine doesn't have a lot of power and needs to be revved a fair bit, but there's a reasonable spread of torque.
Really, it's the gearbox that spoils this bike. A long gear lever throw makes changing up hard — most testers had to take their feet off to change — but changing down is no drama and it's easy to find neutral.
The basic suspension is comfortable enough. There are brakes … but they are poor, with little feel. One tester said that once he thought he wasn't going to stop.
If you want to go longer distances there's room for saddlebags and you can attach a bag to the sissy bar.
Bling: This bike looks good, has footboards, tank-mounted instruments (which are hard to see on the move), some unique braided engine plumbing, billet-look wheels and wave pattern discs. Accessories include footpegs, handlebars and panniers.
Pillion opinion: The small pad is comfortable and there is sufficient room between the rider and pillion.
Fuel used: 3.05L.
Plus: Riding position.
Minus: Gearbox, brakes.
Verdict: A good-looking bike, but aspects of it are not ideal for beginners.
Quickspecs
Model: Laro 250 Regal
Price: $3990 + ORC, warranty two years unlimited kilometres
Engine: Twin-cylinder watercooled four-stroke, coil CDI
Capacity: 234cc
Suspension: Front, 37mm diameter telescopic forks. Rear, swing-arm with conventional twin oil damped adjustable shocks
Dimensions: Seat height 700mm, fuel capacity 14 litres, wheelbase 1570mm
Weight: 180kg
Brakes: Front disc, rear drum
Importer/distributor: Laro Motorcycles, 8/504–508 Victoria Street, Wetherill Park NSW, 02 9609 4788, www.laro.com.au
Lifan LF400
Unfortunately, this model didn't make our test day deadline, but we would have loved to have ridden it. As you can see, the Chinese-made Lifan LF400, bless our souls, is the ghost of the Yamaha 535 returned. From its slash-cut shorty pipes, angle of the v-twin engine to its shaft drive, this bike will have a lot of old 535 owners reliving fond memories. If it's even half as good as the 535, the Lifan will be a good buy.
Price: $5990 + ORC, warranty six months, 10,000km
Importer/ADR licensee: Autoco 08 93094 500 autoco@bigpond.net.au

Loncin LX 250-8
The oddly styled single-cylinder Loncin proves again that, not only is there more than one way to skin a cat, but, to mix metaphors, beauty really is in the eye of the beholder. The Loncin is a different interpretation of the cruiser look. With its large tank with different-coloured inserts, depending on which base colour you choose, extravagant muffler, tall air-cooled engine and single shock, the Loncin is a mix of old Italian road bike and cruiser, and the result is a bike not only taller than all the others but also one that's top-heavy.
This feeling of imminent tip-over unnerved our smallest rider, who could reach the ground only if she hung way off the wide seat and who had to concentrate too much on the lie of the land to feel at ease. Link that with fiddly indicators that you have to take your hand off to reach, and a stop switch impossible to operate from the bars — a knob rather than a rocker — and our smallest riders couldn't wait to get off it.
Taller riders also noted the top-heavy feel but were also not happy with the strange angle of the high bars. For taller people, seat height was reasonable and everyone, including the short ones, deemed the footboards placed about right. Most remarked that the steering was heavy and the bike tended to want to fall into corners. This translated into a bike that was harder to push around in the car park, too. Checking the specifications revealed the Loncin to be the heaviest bike we rode at 185kg, against the Yamaha Star's measly 137kg. The Laro is next heaviest at 180kg — same as the Honda 400.
The wheelbase of 1500mm is about the same as the Star's, but the Loncin feels shorter than that — probably a by-product of those ultra-pulled-back bars.
The bike has a lot of presence in traffic and the engine likes to be revved, when it performs quite well, but one tester said, "It vibrates the living hell out of you." There was lots of driveline lash and weird clunking from the gearbox, but our riders liked the gear position indicator.
Opinion on suspension from our very light to very heavy testers varied from "firm" to "doesn't handle bumps" to "there wasn't much, really".
The front disc was rated as having good feel, but the back drum, which was operated by a car-type brake pedal, had no power and no feel.
The bike looks solid and imposing, more like a 400 than a 250, and the rear rails allow you to secure a tail bag or use throw-over bags. There's a range of accessories listed, including hard lockable panniers, saddlebags, windshield, two different bar variations and even quaintly named "footplanks".
Opinion was clearly divided about the bike's styling, which had lots of plastic, and the buying decision will depend on whether you like its looks. The Loncin will certainly generate attention from the curious.
Fuel used: 2.05L.
Pillion opinion: There's a good, comfortable pillion seat with a rear grab bar.
Plus: Engine, a taller cruiser for big people.
Minus: Top-heavy, seat tall for shorties, poor suspension.
Verdict: Unique looks not for everyone, but ride it first.
Quickspecs
Model: Loncin LX 250-8
Price: $3990, warranty 12 months parts and labour
Engine: Air-cooled four-stroke single-cylinder with EPI ignition
Capacity: 242.9cc
Suspension: Front telescopic, rear single oil damper
Dimensions: Seat height 780mm, fuel capacity 18 litres, 2200mm long x 830mm wide x 1200mm wide
Weight: 185kg
Brakes: Front disk, Rear drum
Importer/Distributor: Market Choice Imports P/L, www.marketchoiceimports.com.au
Mojo CF259T-5
The scooter that thinks it's a motorcycle! The interesting Mojo presents a great alternative if you want the convenience of an automatic but don't like the no-tank scooter riding position. Again, the Mojo's looks divided opinion with its large, closed-in areas. It had clean lines, though, and should be easy to keep clean, too.
This is an automatic, twist-and-go, handlebar-braked motorcycle that will take some adjusting to, particularly if you pull in the clutch — which is actually a brake — by mistake.
The Mojo looks chunky but fitted everyone across our range of riders, with bar reach, controls, footpegs and low seat accommodating everyone — and the odd footboards actually work quite well. The bike feels light and is easy to push about in the car park.
The liquid-cooled engine, modelled on the engine used in the Honda Helix, pulls well for an automatic and is fine off the lights. It sounds OK, too, and if you want to modify it there are exhaust kits, cylinder kits, clutches, belts and other accessories.
Once you get used to them, the handlebar-mounted brakes are easy to balance and they have enough power and good application for town riding. And there are discs front and rear, too.
Suspension is not too bad when ridden solo, but it certainly can't cope with hard knocks two-up (see scathing pillion opinion). One great advantage is the Seamless CVT transmission that puts an end to two-up helmet-banging, which makes for a more relaxing ride for the pillion, who doesn't have to worry about smashing their visor (or face!) and for the rider, who doesn't keep getting thumped in the head.
The old-fashioned-looking instruments are a nice touch.
For a scooter trying to be a cruiser, it really isn't bad. Build quality is a little basic, but there is a model that comes with a hidden radio/MP3 player — which ours might have had, but we didn't know it at the time. Colour choice is Red, Black and White.
Pillion opinion: The seat is fairly hard for the rider. The passenger seat is comfortable, but the kidneys take real punishment over potholes, so expect your pillion to punch you in the back every time their spine gets another unexpected compression. There's also a small seat pad that sticks into the passenger's back, so be prepared for whining and carrying-on.
Fuel used: 1.55L.
Plus: Tidy, easy to clean, no chain to oil, automatic tranny makes heavy traffic a breeze.
Minus: Divorce-inspiring suspension two-up.
Verdict: Not a scooter, not a motorcycle — but a good, economical cruiser.
Quickspecs
Model: Mojo 250 V5
Price: $3990 + ORC, warranty two years
Engine: Liquid-cooled four-stroke with automatic transmission
Capacity: 250cc
Suspension: Telescopic forks, rear dual dampers
Brakes: Front disc, rear disc
Importer/Distributor: Mojo Motorcycles Australia, 530 Boundary Road, Derrimut Vic, 03 8363 1600, www.mojomotorcycles.com.au
Pagsta Cruisa 250 Series Two
The Pagsta Cruisa follows the Yamaha/Suzuki model for small introductory cruisers and is quite a handsome bike in the classic way with its black-finned chrome cylinder head and chrome rear guard brace. Incidentally, the Pagsta was designed in the USA and is manufactured in China.
The Pagsta fitted everyone, with its low seat, easy-to-reach hand and foot controls and nicely shaped handlebars. If anything, the Pagsta bars are better than Yamaha's droopy ones.
The seat is a direct Yamaha copy but is not as comfortable. At rest, you are conscious of the square side covers sticking into your thighs, but on the move, gripping the tank with your knees, the bike feels light and easy to manoeuvre.
The air-cooled twin-carbie single Pagsta feels down on power, although it scored top marks for its brakes, which is as it should be since it has discs front and rear as well as braided brake lines. That's a first! We also liked the gear position indicator, aircraft-type fuel cap and great big fuel gauge.
The Pagsta is easy to ride and fling around in traffic and the suspension is passable if a little choppy.
Build quality is very good and it looks particularly nice in red. This bike was let down by its gearbox, with the change from first to second sometimes impossible, so it's just as well that third gear is the best option around town, offering the most torque and sprightly acceleration. Get in third and leave it there! A handy gear position indicator confirms where you are.
Bling: includes peaky headlight, petal disc brakes, 70s-style cast spoke wheels, Harley-looking rear end and sissy bar backrest.
Pillion opinion: Seat pad is not as bad as it looks, passenger pegs are set right, but expect complaints after an hour.
Fuel used: 1.55L.
Plus: Brakes! Fit, handlebars.
Minus: Iffy gearbox.
Verdict: Alternative to the Yamaha and Suzuki.

Quickspecs
Model: Pagsta Cruisa 250 Series 2
Price: $4795 + ORC, warranty 12 months unlimited kilometres
Engine: Air-cooled twin-cylinder four-stroke, CDI ignition
Capacity: 234cc
Suspension: Front telescopic hydraulic complex damping, rear swing-arm with dual progressive pro ride dampers
Dimensions: Seat height 660mm, fuel capacity 16.5 litres, wheelbase 1480mm
Weight: 158kg
Brakes: Front 260mm disc with wave rotors, rear 240mm disc with wave rotors
Importer/distributor: Pagsta Australia, Unit 5/25 Denninup Way, Malaga, WA 08 9249 2990, www.pagsta.com.au

QJ Supershadow
This Chinese brand will be new to many of you and the Supershadow is obviously inspired by the Yamaha Virago. And why not? The Yamaha is a fine role model? The seat, bars and peg relationship suited everyone and the little Supershadow was relaxing to ride in every way.
The air-cooled v-twin was not particularly torquey but accelerated well and held its speed up our test route hill. The secret was to rev it out. Revving it was also the key to successfully changing up and there is a long gear lever throw.
Brakes were a powerful single disc up front and soft rear drum. It's under hard braking that you remember the handlebars are rubber-mounted because you can feel the bars flex!
Suspension rather let this bike down, being very harsh and hard in the back. Our heaviest rider felt the front forks coped OK without topping or bottoming out, but our lightest tester complained it was like riding a bucking bronco over the potholes. After a while, you notice some vibration through the bars and footpegs.
The bike is super light and is easy to manoeuvre and do u-turns on, but it had one feature that had us shaking our heads. When you put the bike on the sidestand, you feel as if it's going to fall over because it leans so far to the left. Once the queasy "Oh, oh, I'm losing it" feeling goes away and you realise the bike is not on the ground, you then have to heave the bike upright again for riding off. This involved more effort than warranted for our smallest rider, who said it was just like picking the bike up off the floor.
Bling: The Supershadow has billet-type wing mirror mounts, flash wheels and nice design touches, including the solid "Troy" style helmet logo on the tank. The paint was good and the big headlight sets the bike off.
Pillion opinion: There's a rear seat pad that is size-restricted by a short sissy bar. Cosy would be the best way to describe it. You could carry a pillion for short distances only, because there's an uncomfortable edge that digs into your thighs.
Fuel used: 2.0L.
Plus: Light, easy to ride.
Minus: Reservations about the suspension.
Verdict: Alternative to the Star/Virago.
Quickspecs
Model: QJ Supershadow
Price: $ 3990, warranty one year parts and labour, unlimited kilometres
Engine type: V-Twin, four-stroke, air-cooled OHC with CDI ignition
Capacity: 248cc
Dry weight: 149kg
Brakes: Front wheel disc brake, rear wheel drum brake
Fuel tank capacity: 9L
Importer/distributor: Motor Sport Importers, 2 Enterprise Avenue, Padstow NSW, 02 9772 3393, www.motorsportimporters.com.au

QJ Cruiser
We were very disappointed we couldn't get to ride this slightly more expensive QJ model which was delivered but couldn't be registered in time for a road test.
Doesn't it look like a Harley Fatboy!? We spent ages just appreciating this bike. It looks much bigger than a 250, with large-diameter forks and a softail swingarm with hidden shock. From the front, the in-your-face chromed triple-tree cover and small headlight give the bike plenty of presence.
We also like the contrasting black engine, chrome cylinder head and other styling cues. The twin pipes are classic cruiser, as are the footboards, and fitted with the screen and accessory saddlebags the QJ Cruiser would make a great bike for long rides.
The front wheel is semi-solid with a disc and the rear also has a disc. The bike weights 170kg.
If you look at the seat, you'll notice it's quite large and makes the bike taller than we expected or liked. The seat also looks out of proportion. We think you could have nearly 50mm of padding taken from it by an expert, it would still be comfortable and it would improve the looks.

Pillion opinion: Pretty good, but as with all bikes fitted with saddlebags, it's harder to climb aboard.
Quickspecs
Model: QJ Cruiser
Price: $4490, warranty, one-year parts and labour, unlimited kilometres
Engine Type: V-Twin, four-stroke, air-cooled, OHC with CDI ignition
Capacity: 248cc
Suspension: Front telescopic forks, rear conventional swing-arm with dual dampers
Brakes: Front wheel disc, rear wheel disc
Weight: 170kg
Fuel tank capacity: 9L
Importer/distributor: Motor Sport Importers, 2 Enterprise Avenue, Padstow NSW, 02 9772 3393, www.motorsportimporters.com.au
Suzuki VL250 Intruder
The Suzuki is another solidly built, good-looking crowd pleaser and has won plenty of support over the years in its various incarnations. Despite the LC tag, this 2010 model uses a proven single-carbie air-cooled three-valves-per-cylinder v-twin engine. Technically speaking, there's a throttle position sensor that independently adjusts the ignition tuning of the front and rear cylinder ignition maps to match rpm, which sounds like a good thing.
Our brand-new bike had no miles on it and it stalled and carried on until 10 minutes into our ride when it was suddenly reborn, pulling crisply, revving happily and showing good torque from quite low down the rev range. So bear in mind that it is cold-blooded if you get to test-ride one.
Once warm, the Suzuki accelerated well and was happy at speed, giving a fun, enjoyable ride. The brakes were good but rewarded smooth operation. The gearbox was snickety-snick easy with a good spread of ratios. In traffic, the Suzuki was a doddle to ride, feeling perfectly balanced and exhibiting no bad manners whatsoever.
Although tank-mounted instruments look flash, in reality full-face helmet wearers can't see them without taking their eyes off the road for the two seconds it would take for a car to pull out in front of them. Our test route had a speed camera mounted on bends that required the rider to keep monitoring the tank instruments to avoid a fine — that's about 10 seconds of blindness! That is an across-the-board comment on tank-mounted instruments, not just aimed at the Suzuki. This is a case of style over function being questionable.
On our torture bump strip, the Suzuki's suspension was rated comfortable to firm, only pogoing over the worst bits. It handled our test route bends perfectly, exhibiting great cornering ability and stable handling. It was light, fitted everyone, could be thrown around easily, u-turned perfectly and didn't want to fall in on corners.
Again, you could tackle longish rides on this bike because the seat is so comfortable and it suits riders of all sizes. There's a bonus 5L of underseat storage and the rear seatpad lends itself to a pack or throw-over saddlebags. Or you can take the rear pad off to reveal the long sweep of lustrous paint on the deeply valanced rear fender.
Bling: There's loads of bling of the chrome-covered plastic variety — the large single muffler looks great or naff, depending on who's talking, and there were nice chrome touches on the air cleaner cover and long narrow vee beneath the seat that continues to the fender. By the way, there's five litres of underseat storage, which is pretty phenomenal these days. Accessories include saddlebags, windscreen and billet mirrors.
Pillion opinion: Easy to get on and off. Very comfortable with a little rise at the back to prevent you from sliding.
Fuel used: 2.0L.
Plus: Engine, handling, easy to ride and with great looks.
Minus: Hard to find a snivel.
Verdict: A great, good-looking package.
Quickspecs
Model: Suzuki VL250 Intruder
Price: $6690, warranty two years unlimited kilometres
Engine: Air-cooled, SOHC 65-degree V-Twin, three valves per cylinder
Capacity: 248cc
Suspension: Front telescopic oil damped forks, rear swing-arm conventional dual oil dampers, spring preload adjustable
Dimensions: Seat height 685mm, fuel capacity 12 litres
Weight: N/A
Brakes: Front single disc, rear drum
Importer/distributor: www.suzukimotorcycles.com.au
Yamaha XV250 Star and XVS250 V-Star
The bike that started it all (as the Virago), the XV250 is virtually unchanged since it was introduced in the 80s and an entire generation of riders has fond memories of learning on it.
A few years back, Yamaha launched a V-Star version that's more expensive than the Virago but shares the engine and many of the parts. Although there are a few V-Stars on dealer floors, once they are sold the model will no longer be imported. We suspect the main reason is the price difference. The Star costs $6299 and the V-Star costs $8699 — without a major revamp, it's a lot to ask.
The bikes are so similar that, for the purposes of this test, regard them as the same. The Yamaha somehow manages to fit everyone, from very short to very tall riders. Opinions did vary on the shape of the handlebars and the comfort of the seat, depending on the length of their arms and weight of the testers, but the seat is wide and deep.
The quiet engine thrives on revs, is super smooth and a lot of fun. The brakes have tonnes of power and feel, the clutch is light and changes are light, although one tester felt the gearbox to be oddly rubbery. The suspension is comfortable, handling is good with quick turn-in and it's easy to change lines if need be. The brakes are good for a learner: effective but not at all aggressive.
One tester remembered doing multiple long-distance tours on her Virago, including an all-day dirt road ride, and it's certainly up to the job if you are. There's plenty of room for luggage and accessories.
The bike is light and, as one tester put it, foolproof, for learners and you can push it around in the car park easily. The Yamaha will not run with the sidestand down, which is an essential safety feature for newbies.
When we laid the bike down on the ground (on a strategically placed sheet of cardboard) and asked our littlest testers to pick it up again, both women managed it. In the next issue of C+T we have a guide to picking up bikes for you.
The bike is stone-cold reliable even when it's neglected and its automatic cam chain tensioner keeps service intervals down. We like the Virago/Star but feel compelled to say that, although it is an icon, we think it's time for the company to move one step ahead of the competition.
Bling: High build quality, nice paintwork and pinstriping. Two nice mufflers and, even if the second one is fake, it succeeds as a styling exercise.
Pillion opinion: Seat pad will accommodate a passenger in comfort for shortish rides.
Fuel used: 2.3L.
Plus: Will keep its value on the second-hand market, supremely easy to ride, will go the distance — and use minimal fuel.
Minus: If we must nominate one, the shape of bars may not suit all.
Verdict: Classic learner's bike that has earned plenty of respect and will hold its price.
Quickspecs
Models and prices: Yamaha XV250 Virago $6299; Yamaha XVS250 V-Star $8699, one year limited factory warranty
Engine: Air-cooled, SOHC, 60-degree V-twin, Digital TCI ignition, 26mm Mikuni carburetor
Capacity: 249cc
Suspension: Front 33mm telescopic fork, 140mm travel, rear swing-arm with dual conventional shocks with adjustable spring preload, 99mm travel
Dimensions: Seat height 686mm
Weight: 136.98kg
Brakes: Front 282mm disc, rear 130 drum
Accessories: A very extensive range. Visit yamaha-motor.com.au/shop/yshop.asp
Importer/distributor: www.yamaha-motor.com.au