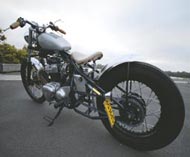 Not chopping, bobbing
As William Shakespeare once said, "There are more things in heaven and earth than are dreamt of in your philosophy, Horatio." One of them is the bobber, and here is a beautiful Australian example

Before teeny boppers, there was the bobber. Before Betty Boop — well, no, Betty was first. But even before the chopper, there was the bobber.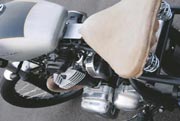 But what is a bobber? One story has it that when owners of American motorcycles needed to change their rear tyres many decades ago, the rear mudguard featured a hinge near its centre that would flip up to make room for the tyre to be removed. You can tell that this is an American explanation because many other nationalities, including the British, made bikes with such a hinge as well, but … well, that's Americans for you.
Good people, but they should really get out more.
Anyway, at some point an enterprising rider decided to permanently remove the hinged rear portion of the guard. That shortened it just like the bobbed haircuts popular at the time. And, of course, once you start something like pulling stuff off your bike, it's hard to stop. The tradition of stripping down to a bike's bare essence and celebrating its simpler forms — in other words, making a bobber — had begun.
Wikipedia doesn't contradict this, although its emphasis is slightly different. A bobber, it says, is "a style of custom motorcycle that took shape in the 1950s and continues to be built today". Bobbers are related to choppers in that they both represent a minimalist approach, where everything that's seen to be unnecessary is stripped from the bike. This includes the characteristic shortened ("bobbed") rear fender and, so says Wikipedia, a rigid frame. Then it contradicts itself.
"The principle [sic] difference between bobbers and choppers is that bobbers are typically built around unmodified frames while chopper frames are often cut and welded into shape," it says. But where does the rigid frame come from in that case?
One thing Wikipedia does have right is that bobbers "often lack most of the chopper's … chromed parts and elongated forks. Thus, bobbers are fairly easy to create from stock motorcycles and are generally hand-built".
They also usually feature a fat front tyre and a tractor-type seat, as well as a minimal front guard, small fuel tank and hidden electrics.
The W650 Custom from Sydney bespoke bike builders Deus Ex Machina, which we rode for this story, is a very good example of a bobber.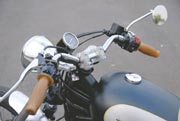 "The W650 twin, bevel gear … superb Japanese engineering in one of the most handsome engines made," says the Deus website. "Deus custom peanut tank finished in matt-black, frame mods, clip-on bars, Wellington rear-set pegs, Daytona light kit (finished in matt-black), Nitroheads seat, heat-tape wrapped two-into-one pipe and a vintage Firestone rear tyre (modern compound)."
This bike has been fitted with the 733cc kit from Beet Racing and would cost $20,500 as pictured, although the price depends on specification and options.
The first thing you notice about the W650 Custom is how small it is. The donor bike isn't a big machine to start with, but stripping it back makes it seem positively tiny. The extremely low tractor-type seat helps here, too.
Jump on and you'll find a seating position that is probably different from anything you've ever tried: upright torso, relaxed reach to the bars, but feet slightly forward and knees very high. You don't really sit on a bobber, you squat on it. This isn't as bad as it sounds, but you'll never mistake it for any other bike's riding position. The small, sprung seat is remarkably comfortable.
The seat needs to be sprung because the bike does, indeed, have a hardtail frame — no suspension on the back. This is achieved simply by removing the original rear frame and bolting on a new one — simpler and sans shocks.
Instrumentation is also minimal — a tiny speedo and just three warning lights (high beam, neutral and something else) and that's it. Controls are pretty much as they were on the donor bike, but the handgrips have been replaced with stylish fat, brown plastic ones.
Handling is not all that different from any older mid-sized bike until you hit a bump. The frame and steering geometry have been carefully calculated to reduce the effect of the hardtail as much as possible, but without shock absorption. Without damping, things can get lively at the back. You learn pretty quickly to ride to this limitation and to avoid potholes!
The bobber is great fun to hoot around on and it draws everyone's eye. If we weren't already working on a slightly similar project with the Triumph Bonneville "cafe racer" I'd be tempted to suggest we build a bobber for the magazine.
As it stands, this bike is not legal for several reasons. Deus will advise you about this and steer you to a legal solution unless you really want to be a rebel. That's at your own risk, though. You would certainly be joining an exclusive club if you rode a bobber — a club that includes, for example, Michael Schumacher.
Several of Schuey's friends were looking for an unusual going-away gift for him when he retired. Knowing that he's a big bike fan, they came up with a plan to build him a one-off, very cool, custom bobber. And, of course, paint it Ferrari-red.
Garage Company, an LA shop with a unique line of retro-bobbers, was commissioned to build the "MS Bobber" (aka Speed Boy Special) pictured.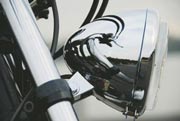 "Based on a 1981 80-inch Shovelhead," says the description we unearthed, "the hot-rodded engine features S&S rods, KB pistons, Rowe valves, a Sifton cam and Crane Lifters, all fed from a classic 'peanut' gas tank via an S&S E carb and treated to what Garage Company calls a 'natural finish'. Details include a vintage H-D six-inch air cleaner for easy breathing. The Shovel shifts gears through a matching 1981 H-D four-speed gearbox benefiting from a Primo clutch/primary drive combo while the whole drivetrain is embedded in a 1981 H-D hardtail frame with a 33-degree rake."
Whether you care about all that information or not, you're certainly looking at a classic Californian bobber. The bike was painted in a very specific colour: 2006 factory Ferrari F1 red. Should you be interested in joining Schuey and his friends, you can talk to Deus Ex Machina at 98 Parramatta Road, Camperdown NSW 2050 or ring them on 02 9557 6866. The shop is open Monday to Friday from 10am till 6pm and Saturday to Sunday from 10am till 4pm. You can also email info@deus.com.au or visit the website www.deus.com.au. Both shop and website are full of inspiration.
For even more inspiration, you might like to get hold of a book called Art of the Bobber by Spencer Drate and published by Motorbooks International, ISBN 9780760325315. It was first published in 2006, so you might still find a new copy, but I'm sure it will be available second-hand on the web. It was originally priced around $US36.
If you do decide on a bobber of your own creation, there's one thing you can be sure of: no more "me, too". You'll be the only one on the block who has precisely that bike.