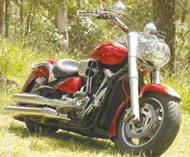 Karma custom
You can almost feel Dwayne's hoary fingers on your neck. He's gonna get you, Boots
I owe it all to Dwayne, whose second name I've forgotten, but who was a mate of a mate who just dropped by to show me his new 125cc Honda. While I was checking it out, pretending I knew something about bikes, Dwayne stood there with a smile on his dial as though he had a wooden coat hanger jammed sideways in his mouth, gloating over his latest acquisition.
Me, 15 years old, no licence and only a pushbike for transport and him, 18 years old, licensed, working and a bloody set of wheels to boot. Talk about rub it in!
However, Karma does go around, because I heard two weeks later that he had to have all his teeth taken out. So Dwayne, aka "Gumby", sure had that smile wiped off his face, for three months at least.
I've digressed. On this show-off visit Gumby made a large mistake — he offered to let me take his pride and joy for a ride "just around the block". Who in their right mind would have said anything else but yes!? So helmet donned, and with a few instructions, I took off down the hill, crunching cogs as I went. It didn't take too long before I had it all worked out and couldn't believe the awesome feeling of actually riding. It was exhilarating. I could go wherever I wanted. And I did.
Halfway back from going "just around the block" I decided to take a little detour to visit mates in suburbs all over Auckland. It was the best day of my life. I got back hours later than I should have with a few thimblefuls of fuel in reserve. I haven't seen or heard from Dwayne since and I would like to formally apologise for getting a little carried away. Sorry, mate!
So that's how my passion for bikes started. One year into my apprenticeship I had my own road bike, switched to trail bikes for a while, sold them, bought a Honda 750cc — great transport, reliable and cheap to run. Unfortunately, someone else thought so too and stole it while I was parked across the road from the Moorabbin police station. Sure, I was insured but the insurance company only paid market value not purchase price and I had to pay the bike off for another six months. I'll leave out the bit about the bike being recovered and then stolen from the police station!
It was Dwayne's karma — it hunted me down and bit me.
Time went by and I bought an XL350. Shortly afterwards, I proposed to my girl, got accepted and a few weeks later the bike went out and a washing machine and dryer came in. It was a very sad day.
Tick off several moves, three kids and a mortgage. Still more years go by and there's no mortgage, no kids and a little bit of disposable "readies". What should I buy? A millisecond later I bought a 1500 Vulcan Classic. Loved it for a month and decided I needed to make it look different to all the others out there on the road. Just like most riders, I wanted to leave my mark, turn a few heads and make my bikes stand out from the others. It's almost a prerequisite.
However, accomplishing this can be an expensive exercise. No matter what you do, I discovered that it all adds up, usually in $500 increments. New Cobra slash cut exhausts ($1200), Corbin seat ($800), Hypercharger ($600), grips, saddlebags etc. Three years on and the bike looked "OK". But it wasn't really what I wanted. Kawasaki released the VN2000. Naturally I traded up (2004 model).
Here we go again.
Cruising the web and seeing what's available out there in the whole world and not just at my local dealers was a big heads-up for me.
Fat guards, that's what I want!
I found Baron Custom in the US of A who sell "Gangster Guards". (AU$660). Sure, they're fibreglass and you have to drill them out, paint and fit them yourself (and in the true tradition of buying aftermarket, they don't exactly fit straight on like they say). A little bit of extra cutting around the brake caliper area and four hours later they did fit.
Same goes for the Air Ride Kit (AU$970), also from Barons. The pump was supposed to fit under the rear guard, but I finished up sacrificing my toolbox to house it, which is OK because I don't use it anyway.
I took the option of a remote control for the air ride (AU$254 per pair), which allows you stand back about 15–20 metres from the bike and scare the daylights out of people who've come for a gander. You can adjust the air ride on the fly, but I strongly recommend running it in the top position to avoid any nasty bottoming out.
Getting goods shipped is painless. I bought guards through Hyperformance Motorcyles based in Eumundi, Qld.
The slip-on exhausts — "Big 'N Nasty Pipes" (AU$455) — were also purchased from Baron Custom via Eumundi. This has been one of my most pleasing purchases to date. I had to explain to the mechanics who fitted them that the slash cuts were supposed to face upwards. Installed right, this really added a nice line to the finished product. And when they're fired up they never cease to turn heads.
The paint job took a lot of procrastination. Hooch, a Kiwi mate of mine, does airbrushing and he asked if I wanted skulls. No. What about flames? No. A Celtic design? No. Then what do you want? I want stripes. Stripes? It's not a Falcon, Bro!
But stripes I wanted. I found Bruce from Airbrush & Custom Painting in Moss Street, Slacks Creek, to do the work. The finish is Candy Apple Red complemented by two white pearl stripes to emphasise the shape of the guards and make them look even fatter. Four days later, the job was complete and at a reasonable $1500.
My whole concept was to minimise: get rid of those huge stock indicators and the massive, ugly tail light assembly. I bought mirrors with in-built indicators from HD Bits online. I had to buy adaptors to fit the VN, which was easy. However, the mirrors vibrate way too much but they'll do until I find better. A set of small but extremely bright LEDs went on the back along with a cool diamond-shaped LED stop/running light. I mounted the tail light down low along with the number plate to keep the guards as clean and fat-looking as possible.
I added braided brake lines in red, of course, to match the rest of the bike. I'm still using the stock solo seat, which suits the overall look. I do have a Corbin dual tourer for the missus, which takes five minutes to swap over, but there is a weight limit of about 75 kilos on the rear guard so she has to watch her diet.
Up front went the hypercharger, air horn, new grips and speakers. Because music relieves the boredom on the long hauls and because I can't stand to hear myself sing, I chose Rumble Roads, from the USA. They're amplified and waterproof and have been problem-free, working well on a run through Guyra in the winter snow. You can plug in pretty much any device to hear your favourites.
Overall I'm pretty happy with the look of the nearly finished product. Next on the cards is satin black powder coating for the mags ($55 per wheel) and forward controls.
So, you can radically change your bike's appearance for less than $2200 just with guards and a paint job, and bear in mind that prices quoted were from 2008, when the dollar was somewhat kinder than today.
Dwayne, we're even on the karma thing now. Don't bother contacting me because you are not getting a ride. Not even around the block.
— Boots