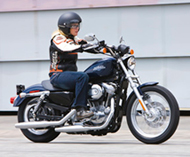 Glam up the ride, ladies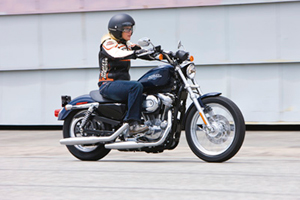 H-D's Isabel Perez says it's the little things that make you feel sexy on your bike
Getting ready for a ride is just like going on a hot date: it's all about choosing the right outfit, makeup and hair. Except that riding involves a helmet, riding gear and of course, a bike — in my case my Harley-Davidson.
My date is called Raul, because I think of him as a hot Latino. I love my Harley and really am getting to know him well now. And, as you'll see from the picture, I ride him in all weathers!
Getting out there on the road is fun but I never look forward to dismounting, taking off my helmet and revealing bad hair and a sweaty face, usually because of nerves! I'm guessing a few of you might relate to that, so I'm letting you in on my tips for surviving the ride in style.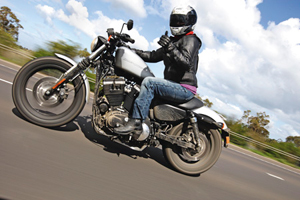 Your skin
When you ride a motorcycle it is essential to wear sunblock on your face.
Also, be meticulous about your cleansing routine, especially if you wear an open-face helmet.
Beauticians will tell you that a gentle but thorough cleanser will prevent traffic road grime from irritating your skin and becoming a problem (by the way, this goes for males, too). One female motocrosser we know swears the best way to get the dirt out is to use oatmeal soap, but any gentle daily exfoliating product is good because it will get in and clean the pores and prevent troublesome build-up.
On the ride I carry some handy pocket-size face cleanser wipes as an interim measure to overcome the sweaty/grimy face. During stops, I make a beeline for the ladies' room to get the dirt off.
When my face is clean, I apply powder from a small compact that fits neatly in my jacket pocket to take the shine off. I also carry a tiny lip-gloss just to touch up. There are so many small-size products designed for travelling that are worth a look.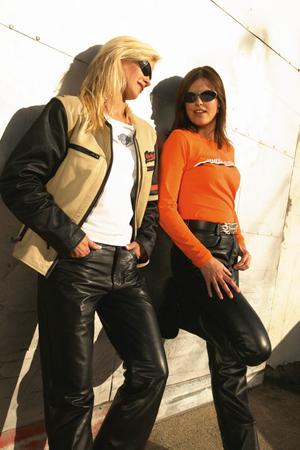 You could also consider applying a long-lasting, non-smear lipstick before your ride because sometimes you are having so much fun on your bike the wind can make ordinary lipstick run! Not a good look, especially with an open-face helmet.
Also, take along eye-drops that refresh and get rid of wind-induced red-eye. And, of course, you always wear eye protection, don't you!
Your hair
Welcome to helmet hair. It's one of the realities of wearing a helmet, but there are a couple of things you can do to minimise the damage.
If you intend riding a lot, consider getting a shorter, helmet-friendly haircut that you can just "zhush-up" with texturiser when you arrive. (You'll have to wash your helmet liner more often, but that's the price you pay.
If you have long hair and want to keep it, you are in luck because an Angelina Jolie-as-Lara Croft Tomb Raider braid peeking out from the back of a helmet looks sensational. You can buy any number of lovely braid jewellery that looks good with a helmet on or off.
The other trick that I find works well for helmet hair is making sure I blow-dry my hair the night before the ride. If I do that I find my hair seems to keep its shape better after a few hours under the helmet.
There's always the "bandana under the helmet trick" to stop the frizz factor and you can keep the bandana on when you stop.
Or you you can always take a baseball cap with you!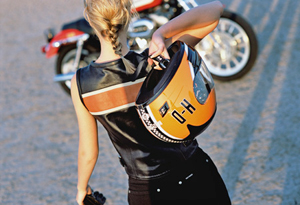 Riding clothes
Clothes are always a challenge because you need to be covered head to toe for safety and it can be tough to make the outfit look sexy. I always choose a Harley fashion style top that's comfortable for riding but that I can unbutton or unzip a little, keeping me cool after the ride.
For summer, try to choose a riding jacket that protects but helps keep you cool while riding. I always look for jackets with venting zips on the back or under the arms. These make such a difference when it's a really hot day.
In winter, look for a windproof jacket with a warm zip-out lining and keep your vents shut. The Harley-Davidson range has some very attractive women's riding gear that is practical as well as good looking.
As thousands of other women have proved, you can still be feminine on a bike. What a sexy look it is to peel off your riding gloves to reveal well-manicured claws with coloured nails. That adds a bit of glam to the day. Nail polish never lasts more than one ride so you can change the colour to match your outfit.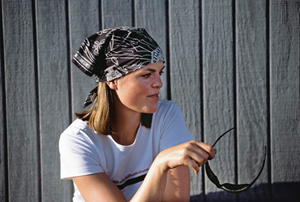 As a morale booster, always wear sexy underwear and don't forget how Audrey Hepburn coped when she played Liza Doolittle complete with dirty face and filthy rags in My Fair Lady. Audrey said that even though she looked a mess she always splashed on her favourite, most expensive perfume!