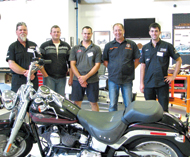 We sit in at a Harley-Davidson Technician Training Course to meet the latest class of Top Guns — or should that be Top Spanners?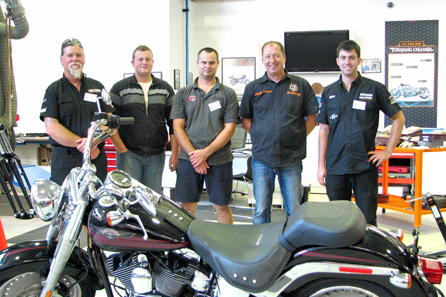 Charlie Palmer is a Harley-Davidson Global Trainer with "The Knowledge" oozing from his pores. As well as a parallel lifetime absorbing other marques, Charlie is the Yoda of all things Harley.
The technicians attending the latest stage of Harley's Service Technician course were lucky individuals indeed — and so was Cruiser+Trike because, through National Service Manager Todd Peisley, we managed to gain entry into one of the sessions and we, too, came away enlightened.
First off, Harley-Davidson's modern Sydney headquarters is the kind of place you'd kill to work. Toys — full-size bikes, that is — are on display in the foyer. On the office walls is a different kind of art: framed Harley posters, significant petrol tanks, scale models, helmets, clothing, parts and merchandise. There's even a Harley clock. If you live and breathe motorcycles, you will be right at home.
The company's ethos towards its staff is admirable. Relaxed and happy workers are good workers so there's a fully equipped gym for letting off steam and keeping healthy; a comfortable staff room with table-tennis table and PlayStation, spotless amenities, a couple of fully equipped kitchens, great work stations and a friendly atmosphere. These people just know they have it good.
That's upstairs. Downstairs is the "engine-room" complex. Dozens of Harleys, including the four Drag V-Rods and a parade of press test bikes, line up against the walls in one long warehouse section. There are crates with bikes waiting assembly and rows of engines. There's even a proper indoor washing station so each bike leaves the premises spotless.
The cavernous service area has four fully equipped pristine work stations worth $50,000 each with red cabinets bulging with precise rows of Snap-on tools. Don't know about Master Technician, but you'd certainly feel like Master of the Universe with all that Snap-on precious metal in your hands. Then, of course, there are all the latest electronic aids, laptops and even hand-held probes that can peer inside the likes of Springer fork tubes and possibly give you a colonoscopy as well.
Looking around, one of the NSW Police model Harley-Davidsons is up on a hoist and there are a number of bikes whose fate is to be repeatedly stripped and rebuilt by the technicians. Adjacent to the workshop is a properly set-up classroom with computer-to-screen facility and it was in the classroom we began the day.
We showed up on Tuesday, so the first item on the agenda was a review of the class homework. Yes.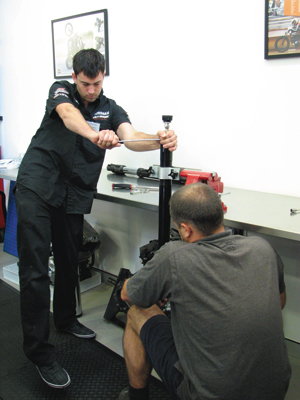 It was obvious that Charlie had high expectations: "When carrying out a valve lash inspection, what do you rotate?" "How do you seat Springer steering head bearings?" "The rocker bearing adjustment on Softails should be …?" He quizzed the class on specific year/model plug gaps, individual torque figures and even which bits you can refit or replace on 2008 fork cap cartridges. Every question, no matter how obscure to us, was answered without hesitation. The "Guns" were already proving themselves.
Charlie is a gifted teacher, managing to put everyone at ease and passing on tricks he's developed over the years, including how to use a small sheet of thick bevelled edged glass to check that forks are in alignment.
Next, in order to understand that power is revs, we did an exercise calculating the revs per minute at idle to revs per second at ultra high revolutions. (I say we, because a calculator was thrown on our desk, too.) The exercise was an eye-opener that left no doubt about the miracle of valve gear.
Then we discussed oils.
Now hear this. How much you ride your bike will determine which oil you use. Charlie said most people think synthetic oil is the greatest thing ever but, he said, if you are not putting the miles on the bike, you would be better off with cheaper conventional oil.
But there's more. Charlie explained, "It takes between 30 and 40 minutes for your engine to reach proper operating temperature. If you only do short trips, or are not using your bike for lengthy periods, you must service it more often. All sorts of horrible things happen. For instance, you can get condensation in the fuel which means the tank has to be drained to get it out."
So you might think you are doing the best for your bike by servicing it "by the book" every 8000km, but if that takes two years to achieve, it's a mistake. If your bike spends most of its life absorbing condensation in the garage it's in your interest to service it more often.
Still on oils, the grade of oil is crucial. The oils specially developed for air-cooled bikes need more detergents in the oil, so ask your Harley-Davidson dealer before you opt for a different grade from that recommended for your bike.
Here's another tip for you, on fuel this time. The worst fuel for fouling plugs in an air-cooled engine is Shell Optimax. So don't use it. Optimax is OK to use in a water-cooled engine.
A discussion on what customers do was also enlightening. Briefly, if you mess with your bike to try to solve a problem, can't fix it, put it all back together and then take it to your Harley dealer, 'fess up: tell them exactly what you did to the bike. The consensus was that owners can sometimes be their own worst enemies, wasting technicians' time and racking up expensive billable hours.
Everyone in the room also advised that when you take your bike in and talk to the service writer, make sure you are very specific about any bike symptoms as well as the items you would like attended to because what you say to the service writer can be misinterpreted. If you don't think you are making yourself clear or are not satisfied with what has been done, ask to speak to the service technician personally.
Next on the agenda was a lengthy and detailed session about drive belts. (This session was so good we have decided to run it as a feature next issue.)
Then it was time for the technicians to get their hands on those spotless, might-as-well-be-made-of-gold Snap-ons for some practical exercises. Each technician had to carry out the set tasks. An FLT was ready to have its steering head bearings adjusted; the forks on an XR1200 had to be disassembled and put back together; and a V-Rod was ready to have brain surgery on its tappets and OHC chain tension adjustment.
Watching the men at work, and their obvious expertise, made us wish that in another lifetime perhaps we too could sign up for Harley-Davidson's Top Gun school.
TD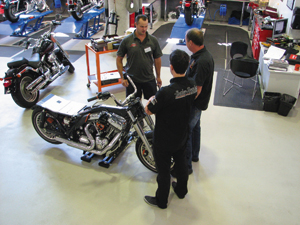 This class of Top Guns came from the following dealers:
Brian Wood Harley Heaven, Melbourne
Luke Howey Griffith Motorcycle Centre
Troy Oakley Horsham Harley-Davidson
Johan Bruns Wellington Motorcycles, New Zealand
Harley-Davidson Service Technician Levels
The path to becoming a Master Service Technician is set out in this story. To start with, before you can go anywhere, you need to be currently employed at a recognised Harley dealership and have your dealer's support. If you have the right stuff and eventually become a Master, you can literally work at a Harley-Davidson dealership anywhere in the world.
Female first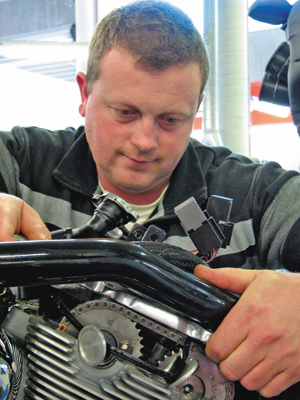 When Karen Davidson (Willie G. Davidson's daughter and designer of the Harley-Davidson clothing range) visited Sydney last year, she made Harley's commitment to its core women riders obvious. That inclusive philosophy is being extended to Alaina McCarthy, who has been working as a technician at Melbourne's Harley Heaven for almost three years.
Alaina will be the first Australian female to start on the path to becoming a Harley Master when she attends the Sydney course in June. Alaina rides a Fat Bob and says she's giving becoming a Master "a red-hot go". The only thing that she thinks may be a challenge will be "the electronic control stuff" on the tourers — something that would daunt even the bravest tech.
It only took two minutes speaking to Alaina to understand exactly what she's about. When we asked her why she decided to opt to become a Technician she said, "Because everyone told me it would be a bad idea."