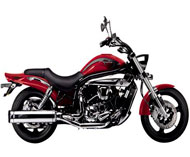 Glammer-puss
The Hyosung GV650 EFI has all the impact of a full-size cruiser
Gee, I wish this bike had been available when I was getting round on my 250 Virago with the mortifying fake second exhaust pipe. Big bike owners couldn't resist pointing out the dummy pipe that looked good but shot all street cred to bits. Owners of the Hyosung Aquila GV650 EFI will have no such sneers to contend with since the head-turning, 60kW, 90-degree vee-twin also comes in identical LAMS-approved 40kW version — up from 25kW for this 2010 model.
It's still a reasonably new name, but Korean company Hyosung, like Hyundai, has its own identity and claims to be the fifth-largest motorcycle manufacturer in the world, so it no longer has anything to prove. You also get great backup support from the Australian importers, PS Importers.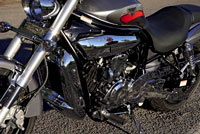 The 2010 model GV650, which is on sale now, has electronic fuel injection to comply with Euro 3 laws, features clear turn signals and comes in three colours — Titanium Silver, 8 Ball Black and Burgundy. The GV650 is billed as a "power cruiser" and that's about right because it's more of a revver than a grunter. In fact, it shares its engine with the 2010 Hyosung Naked, Sports Touring and Sports performance bikes. With 67Nm of torque, the bike will lug to a point, but riding in town requires one more downshift than you might think. On the open road, it feels more comfortable to keep the engine in the mid-range than revving the guts out of it.
The seat/'bar relationship is right and the best bit is that the bike comes standard with adjustable forward controls. Simply rotate the footpeg and change the linkage supplied and the pegs move 60mm back. While short people love this feature, even taller riders who rode the bike preferred the pegs further back.
If you want to find out in 10 minutes or less how well a bike handles, take it up to Dungog north of Sydney. This scenic horror of a road actually features volcano-shaped humps, craters and three-inch-high lengthways ripples to test your suspension and your heart. Although the Aquila twitched ever so slightly over the whoopdies a few times, it corrected immediately. The rest of the time it steered straight and predictably with no harshness from the adjustable upside-down forks. I was expecting the twin rear shocks to come standard as oversprung and underdamped; instead, the shocks absorbed the jolts with a solid thud, which was immediately transmitted to the ribs and kidneys. Some fiddling with rear preload could help.
Ground clearance is reasonable but depending on how you ride it, the GV650 scrapes the exhaust flange on the right and the sidestand on the left. But you don't have to scrape things.
The 300mm twin pot brakes are typically cruiser. The front lacks feel, encouraging and rewarding slow corner entry and early acceleration. This is not a sportsbike even though it is great fun to ride because you feel so physically involved with it through the 'bars and footpegs. You might think it's mad to say it, but some superbikes are so supreme at cornering that bend-swinging isn't a challenge any more unless you go suicidally fast. On the GV650, you go for a ride.
Instead of using the GV650's engine torque to overtake country road traffic, going down a gear or two and revving the bike out surprises with a decent power-band howl reminiscent of, say, the Honda VF 750 but in V-twin form. I think this engine likes revs. There's no tacho but you don't need one to tell you that power is progressive rather than instant, so forward planning and an attentive ear are required. The belt drive was smooth. Tyres are great big Bridgestones.
The seat is comfortable and with the addition of accessory windscreen, solid panniers, pillion backrest, footboards and engine guards this would make a great tourer. It's quiet, too, but if that bothers you, there's probably a noisier muffler option.
Because it's priced at $9990 you get a lot for your money. The bike looks stunning, the engine makes a great vee-twin statement and it looks the part. There are admittedly a few bits that have a model-kit, plastic-chrome look about them, but overall the bike looks appealingly neat and tidy and I would swap the weak bits for the standard adjustable footpegs anytime.
In LAMS guise, the GV650 is a very good option for learners and in standard trim it'll give thousands of miles of enjoyable, good-looking cruising.
Quickspecs
Model: Hyosung Aquila GV650 EFI
Price: $9990
Warranty: Two years, unlimited kilometres
Power: 60kW @ 9000rpm (LAMS Max Power 40kW @ 8500rpm)
Torque: 67Nm @ 7250rpm
Engine type: 90-degree, vee-twin, DOHC, four valves per cylinder. Electronic Fuel Injection. Electric start
Bore x stroke: 81.5mm x 62mm
Displacement: 647cc
Compression ratio: 11.6:1
Transmission: Five-speed, wet multi-plate clutch, belt final drive
Suspension: Front, 41mm USD adjustable rebound and compression. Rear, dual-shock with adjustable preload
Adjustable footpegs: Two different gear-shift link rods provided at no additional cost
Dimensions: Length 2430mm, width 840mm, height 1150mm, Dry weight 220kg
Seat height: 705mm
Ground clearance: 180mm
Tyres: Front, 120/70ZR — 18 59W. Rear 180/55ZR — 17 73W
Frame type: Perimeter cradle
Brakes: Front, semi-floating 300mm twin discs with dual-piston calipers. Rear, 270mm single disc
Fuel capacity: 16 litres
Colours: Black, Titanium Silver, Burgundy
Verdict: Street cred from Korea