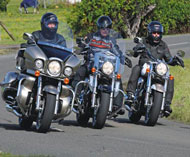 Three sisters
Has Kawasaki covered all the cruiser bases now?
It's always a nerve wrencher for a development team when their baby first hits the spotlight. Have we got it right? Did we miss something? Do we understand the potential buyers' needs and wants? Is the bike going to be a hit or a flop?
Now imagine that multiplied by three.
Kawasaki has launched the latest version of its big (but not biggest) Vulcan cruiser in Australia in three versions. From the relatively basic Classic, by way of the dressed-up Nomad to the full-dress Voyager, the bikes are powered by a new 1700 cc engine and have had the styling wand waved over them in a pretty substantial manner.
In a way, I suppose it's easier to produce several versions of a new bike. Should it have cruise control? Let's just put that on the top-of-the-line model. Should we fit a handlebar screen or a frame-mounted fairing? Let's do one of each. And so on.
We were fortunate enough to get hold of all three bikes at the same time, and took them out for a comprehensive workout in different conditions. Our test run combined a lengthy run on the freeway with good secondary roads, ordinary secondary roads and some quite poorly surfaced roads (not hard to find in NSW). It ended in heavy traffic, where all three of the bikes proved to be quite adept at finding their way forward a little faster than the rest of the traffic … if you know what I mean.
In the event, we have reason to be grateful to Kawasaki for multiplying the VN1700 by three, because each of the bikes turned out to be quite individual and distinctive. But before we look at what separates them, let's check out what unites these three bikes.
Bigger and better?
This has not simply been a matter of boring out the existing 1600cc engine. The new 1700cc unit is based on the VN2000 engine instead. Gone are the pushrods, it now has a single overhead cam in each cylinder head to rev more easily. It also gets four valves per cylinder. The increased compression, now 9.5:1, and increased displacement allow the long-stroke motor to make significantly more torque and power over the 1600, according to Kawasaki. Twin counterbalancers look after smoothness. The engine is fuel injected, of course, and includes an electronic throttle valve (ETV) system. This consists of accelerator position and throttle position sensors. Data is sent to the main ECU which then precisely controls the opening of the throttle plates. Among the claimed benefits of ride-by-wire are better performance, faster throttle response and improved fuel economy.
And you can relax; it feels just like ride-by-cable.
Changes to the drive train include a six-speed transmission with a true overdrive top gear. This is theoretically excellent for fuel consumption, but is not as useful as it might be because you need to be going seriously fast before the engine is really happy in sixth. The shaft drive has been replaced by a belt, and that's definitely a step in the right direction. In the past, belts have had to be very wide to handle the power of big engines, but now Kawasaki has developed a carbon-fibre-based belt that is only 28mm wide. The advantages of course are that belt drive weighs less than a shaft and does a pretty good job of smoothing out any driveline lash.
The frame is shorter from the seat to the head stock to give a shorter reach to the handlebars and also a shorter wheelbase. Kawasaki claims that the single-backbone, double-cradle design is not only 2.5kg lighter, but also 40 per cent stiffer than the Vulcan 1600's. The changes are intended to improve handling, particularly at low speeds, and they certainly seem to have worked — although we'd be inclined to give the tyres a lot of the credit for that (see below). Stability at speed is fine on all three bikes.
Classic cruiser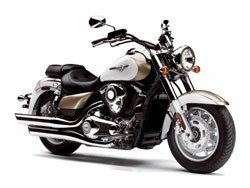 The most basic model of the three, the Vulcan 1700 Classic, has nevertheless seen a lot of attention from the styling department. On the right-hand side its twin exhausts snake sinuously around the engine (I've wanted to write that for such a long time…) and end in slash cuts, while the air cleaner covers now look downright stylish.
New suspension components include twin air-assisted rear shocks which provide 78mm of rear suspension travel. Apart from the air-spring preload they also offer four-way rebound adjustments. Up front, the substantial 43mm fork provides 140mm of travel and does its job well.
Like its sisters, the Vulcan 1700 rolls on new nine-spoke cast wheels with tubeless tyres, a 130/90 front and a 170/70 rear. Congratulations, Kawasaki, for fitting relatively restrained tyre sizes font and back. They make turning far easier than fatter tyres do, at any speed, and contribute to the overall handiness of the bikes. Dual 300mm front disc brakes with twin-piston calipers and a single 300mm rear disc brake with a two-piston caliper provide good stopping power.
The bike is especially easy to ride and even has a gear indicator — useful when you have six speeds to keep track of. We liked the way the power came on earlier than on the other two bikes, and the very low and taut look. If you're after a basic cruiser that can take a bit of customising, the Classic is definitely worth checking out.
The Vulcan 1700 Classic looks terrific in Luster Beige with Pearl Crystal White, and carries an indicative price of $19,499 (plus state-based on-road costs).
Some overseas markets get a Classic LT model as well, which is sort of halfway between the Classic and the Nomad. We think you can create this for yourself with accessories.
Again, with bling
For the Vulcan 1700 Nomad, add Electronic Cruise Control, an adjustable windscreen, hard, lockable panniers, front and rear crash guards, passenger footboards and a well-padded passenger backrest to keep the pillion happy when touring.
The Vulcan 1700 Nomad shares the new long-stroke engine with the rest of the lineup, but as on the flagship Voyager it's tuned to deliver maximum torque and power at a slightly higher rpm to improve its operation on the open road. The engine has been tuned for acceleration between 80 and 115km/h for overtaking.
The electronic cruise control works with the Nomad's fully electronic throttle valve system (ETV) to set steady speeds between 50 and 110km/h in third through sixth gears for comfortable, stress-free and, in our experience, fuel-consumption-friendly highway cruising.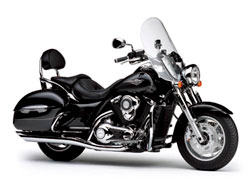 The adjustable handlebar-mounted windscreen, along with a sub windscreen and deflectors, provides good wind protection. The sub windscreen covers the area between the windscreen and headlight when the windscreen is raised. The fork-mounted deflectors help direct air away from the rider's legs, and the main screen is just the right height for riders of average stature.
The Nomad's weak point, like the Voyager's, is the bulbous lockable hard panniers. They aren't just top opening, they actually split horizontally in the middle like clam shells. While each pannier provides 38 litres of storage space, you'll need to pack very carefully to stop half the contents falling out before you get the lid on — and when you open it again.
Seating for the rider and pillion, on the other hand, is comfortable to the point of being plush. The pillion is further pampered by a "luxury" back rest with integrated passenger grab bars, and with floorboards.
Front and rear crash guards remain from the previous Nomad to help protect the bike's engine and panniers in the case of a drop. The Vulcan 1700 Nomad is available in Metallic Diablo Black with an indicative price of $22,499 (plus state-based on-road costs).

All dressed up
Full dressers can look distinctly over the top, and it's to Kawasaki's credit that the Voyager is tidy both from a distance and around the rider's station. The multitude of controls is easy to take in and therefore to use.
The Vulcan 1700 Voyager ABS (anti-lock braking system) is Kawasaki's cruiser flagship. It may give the VN2000 a few hundred ccs, but its equipment level puts it well above anything else from the big K. It really does offer pretty much everything needed for comfortable long-distance touring with or without a pillion.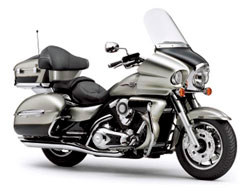 As befits a flagship, the bike comes equipped with a number of new systems including Kawasaki firsts. K-ACT (Kawasaki Advanced Coactive-braking Technology) ABS is designed for smooth braking control and effective, confident braking. We would actually like to see ABS on all three of these bikes. It shares Kawasaki's first fully electronic throttle valve system with its sister bikes for smooth engine response and easy starting in all conditions. Electronic cruise control and an impressive audio system compatible with iPod are also standard.
A number of features on the Voyager are intended to make long-distance touring as relaxing as possible for rider and pillion. The large, stylish fairing with its integrated lights is mounted to the frame so that any wind buffeting is transferred to the frame rather than the handlebars, helping to reduce rider fatigue on long trips. The windscreen was actually too high for all of us — nobody could look over it, which is the ideal on wet days. It's not adjustable. We'd either install a shorter screen or cut down the existing one.
Air vents in the leg shields allow air flow to the legs to be adjusted, which is useful because it can get quite hot behind the shields on a warm day. Magic in winter, of course! Rider and pillion share an almost luxuriously comfortable, sculpted seat which is also remarkably low for the rider. The pillion seat is supplemented by padding on the top box that provides back and arm support. The twin rear air shocks are adjustable, contributing to comfort levels.
Storage is taken care of by a 50L lockable trunk that is large enough to fit two full-face helmets, but unfortunately the Voyager has the same top-opening panniers as the Nomad. Lockable glove boxes in the fairing provide a handy place for storing small items.
Kawasaki says that "all surfaces have a muscular curvature that flows from one end of the bike to the other", and you know what — they're right. The styling is spot on.
With the 1400 GTR, Kawasaki set a new standard for sports tourers. We're inclined to think they have done it again with this bike in the luxury touring cruiser market. Yes, the bike lacks some of the features of the big luxury tourers — no heated hand grips or seats, for instance — but it's well ahead of other, similar cruisers.
Available in Metallic Titanium with Metallic Diablo Black, the Vulcan 1700 Voyager ABS comes at what we consider to be a very reasonable indicative price of $25,499 (plus state-based on-road costs).
Summum bonum
The Kawasaki development team can relax, as far as we're concerned. They made some seriously good decisions, including the relatively narrow tyres for outstanding handling and the low seats for shorter riders. They also split the features well between the three bikes.
If we have any general meaningful criticism (except for those strange panniers) then it's that we would have liked a bit more torque right across the rev range. A job for a Power Commander, possibly.
Given the travel predilections of this magazine's staff you might be surprised to find that our favourite among the three sisters is the Classic. It's followed by the Voyager, which sets new touring cruiser standards as far as we're concerned. The Nomad is a reasonable compromise between the two.
But for all three of these new Vulcans, what we'd really like to say is just — live long and prosper!
Quickspecs
Models: Kawasaki Vulcan VN1700 Classic (Nomad, Voyager)
Warranty: Two years, unlimited kilometres
Power: N/A
Torque: 146Nm @ 2250rpm (136Nm @ 2750rpm)
Engine: Liquid-cooled 4-stroke 50-degree vee twin, SOHC, 4 valves per cylinder. DFI fuel injection, TCBI electronic ignition
Bore x stroke: 102mm x 104mm
Displacement: 1700cc
Compression: 9.5:1
Transmission: Six-speed, belt final drive
Suspension: Front, 43mm (Voyager 45mm) telescopic fork, 140mm travel. Rear, twin air-assisted shocks, 4-way adjustment to rebound damping, 80mm travel
Dimensions: Seat height 720mm (730mm), curb weight 345kg (Nomad 378kg, Voyager 406kg) with full tank, fuel capacity 20 litres, wheelbase 1665mm
Tyres: Front, 130/90-16, rear 170/70-16
Frame: Single spar, twin cradle
Brakes: Front, twin 300mm discs with twin piston calipers. Rear, 300mm disc with twin piston calliper. (Voyager ABS)