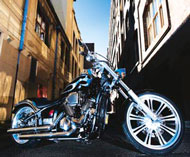 The X File
The bike Nick X built would be a winner anywhere
I have always been interested in Japanese steel. I wanted to create a Japanese bike that could hold its own in the fabricated customising bike field, but which had a practical use and was not just a show bike. I wanted a bike that was economical and light enough to ride around Sydney's CBD and also able to take on the highways. After several test rides of the various mid-sized Japanese cruisers I chose a black 2008 Kawasaki Vulcan 900 Custom, brand-new $10,500 + ORC.
I am a member of a social motorcycle club called the Southern Cross Cruiser Club and we ride most weekends. From time to time, I meet Kawasaki Vulcan 900 owners at some of the popular bike-stop locations around Sydney where we stop on our weekend rides. Not one person who owns the same bike as I do has been able to recognise my bike as a Kawaka VN900. Most people refer to it as "a nice chopper". When I tell them what it is they just shake their heads in amazement and (I hope) admiration.
When I first bought my bike, I really loved the look of the front end; in fact, I liked it from the fuel tank to the front wheel. I was not that keen on the rear fender or the solid 15-inch rear wheel, and the numberplate holder was so low it covered most of the wheel. The bike looked kind of uneven.
I spoke to a few bike fabricators around NSW, but most only dealt with Harley-Davidson motorcycles simply because you couldn't get to many aftermarket parts for Japanese bikes. So I started to search the internet for ideas instead. Eventually, I landed on a few sites and the rest is history.
The first thing I did was remove the seat, rear fender and rear wheel. I replaced the mudguard with a fabricated Miami chopper-styled 10½-inch rear fender that incorporated an LED stoplight and the numberplate inserted in the fender. I then added an 18-inch by 8½-inch rear wheel and fitted a 240mm rear tyre. Then I replaced the stock double seat with a modified solo seat that gives the bike that smooth, flowing look. Next was lowering the bike by three inches.
After that, the next thing on my list was to make the bike sound and breathe better. I removed the stock exhaust and air filter and replaced it with a Vance & Hines slash cuts system, a Hyper Charger Pro and a Power Commander.
I then turned my attention to the front end. Because the rear end was so fat and wide it made the front end look short. I decided to have the front end stretched by six-and-a-half inches. I did this by adding a seven-degree raked triple tree. Since the new triple tree did not accommodate the stock handlebars or headlight, I replaced them with Miami chopper-styled straight bars and a bullet-shaped head-light.
All parts for my bike where imported from the US. The site where I bought everything is www.meancycles.com. I dealt with JC, the guy who does all the orders for OS.
The parts include:
• Kustomsworks rear fender US$261
• Drag Specialties LED tail-light and licence plate holder US$265
• Mortons 7″ over triple tree US$825
• Vance & Hines pipes US$415
• Power Commander fuel system US$249
• Hypercharger air-flow system US$349
• Mimic rear wheel 18'x8.5′ US$1685
• 240mm Metzeler rear tyre US$269
• Cobra head-light US$149
• Flanders handle bars, broomstick style US$90
• BR lowering kit US$149
• Shipping $US500
That makes a total of US$3689. At the time, the US Aussie exchange was .91, so in Aussie it cost a total of $4053. Not bad considering one Aussie bike builder wanted $5000 to fabricate a rear fender on my swing arm over the stock wheel and a fabricated seat.
All work was done by RB racing at Taren Point Road, Caringbah, www.rbimports.com.au. Ask for Harley on 02 9524 3177.
By this stage the bike looked great, but the plain black paint looked boring. I removed the Kawasaki Vulcan badges from the fuel tank and side covers and designed a tribal-style flame/blade image for the side of my fuel tank in silver shades. I also wanted candy apple red flames to cover the top of the fuel tank, both fenders and side covers. Airbrush spraypainting was done by Crows Custom Paint motorcycle spray at Rear 22–24 Tooronga Tce, Beverly Hills, NSW 2209, phone 02 9502 4353.
The end result was a totally transformed Kawasaki Vulcan 900, now with a complete pro-street chopper look. It's good to know there are parts available to build a cool-looking metric bike.
You can join me on weekend rides with the Southern Cross Cruiser Club. We only ride Jap and European-style cruisers. Check us out at www.southerncrosscruiserclub.com or you can contact me via email at tdx1@optusnet.com.au.
Words by Nick, photos by Dominic Loneragan