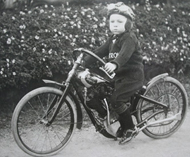 Kevin Kronk once rode a miniature Brough Superior to become the world's youngest motorcycle rider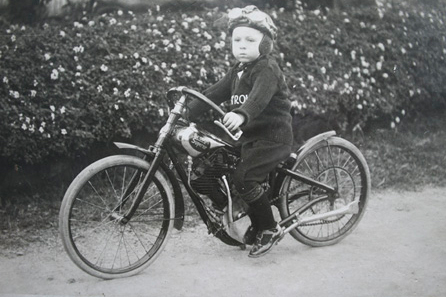 Words: Neil Kronk
Photos: Kronk family
Well, it seemed good to The Bear, so I made the phone call.
When Kevin answered he said we could go to see him about a story I wanted to write about him, but the "blue nurses" were there and could we come after lunch?
You see, I knew Kevin had one world record, but I'm pretty sure he is about to hold another one — not that that's important to him.
He lets us in and there's one of his own home-grown purple orchids sitting on the table, less two of its flowers gifted to the blue nurses earlier that morning. After the usual small talk and catching up I get to why we are here.
We go into the spare bedroom where he has a suitcase opened and inside is a huge array of photos and memorabilia. In this treasure trove there are photos of his father George Kronk, who was a flat-track racer, and lots of Archerfield Speedway programs from the early 1930s. The funny thing is that Kevin rode on the speedway track before his father did — riding his miniature speedway bike at Archerfield in 1927 at only three-and-a-half years old. In fact, he rode demonstrations on several tracks in those days and was quite a popular guest around the circuits. He was even sent an inscribed jumper from Castrol in England after they heard about him.
I see an engraved cup on the cupboard that reads "Kevin Kronk World's Youngest Motorcycle Rider" presented to him by the Deagon Speedway Club. This is amazing; here's a picture of Kevin on his little bike looking very upset with legendary Australian, and later World Champion Speedway star, Lionel Van Praag sitting on the back.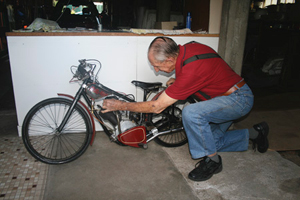 I decided to ask Kevin why he was so upset and he tells me that he thought that Mr Van Praag would break the back of his bike.
There's one program with Sir Charles Kingsford Smith's plane on the cover; he was to be a guest of the speedway club that night. "Oh yes," Kevin says. "I remember that. He was my hero. I did a demo that night and he was there promoting scenic flights over Brisbane to fund his next adventure, but he invited me personally to come up with him as his guest." That plane was the Southern Cloud and it went down a short time later with all aboard lost; it wasn't found for 27 years. Do some people have a story to tell or what?
Kevin "blames" his grandfather for his love of bikes after he sat him on one at the toy store at 18 months old and Kevin wouldn't let it go; a habit he's still having trouble shaking.
His dad rode Indians when he wasn't racing the Douglas, and his mum had an Arial outfit. What chance did he have?
We started talking about the bikes he has owned and wouldn't we like to have any of these parked in our garage today? Try a 350 Calthorpe; a '39 side valve Triumph 600; a '35 Norton 500 or a '36 Arial 500. Then there's the Coventry-Eagle, the 600 Calthorpe, the 350 DKW and the '38 Triumph Tiger 80.
We finally get to go downstairs. There, I see a beautiful example of a Triumph Tiger 80 in mint condition looking ready to go and two Triumph 3Ts over halfway there. The last time I saw them they were nowhere near this and I wondered if they would ever be finished. You see, Kevin is 87 and he has for a very long time been a full-time carer to his wife Ruth, his other great love. He still gets out to swap meets to scout for parts when he can get away, though he says he can't get out so much since she got worse.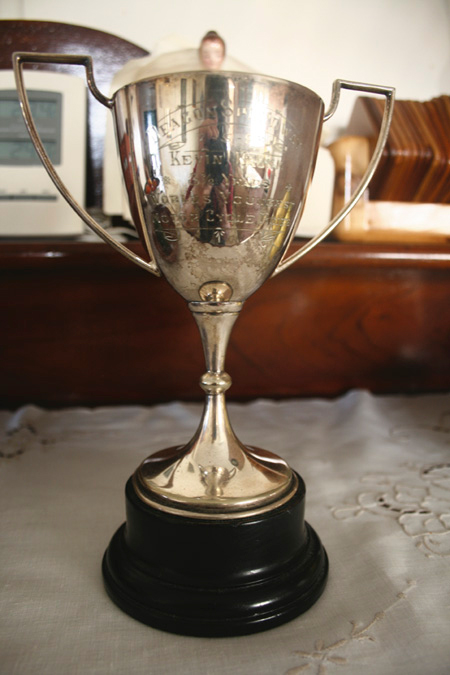 Other parts he makes himself using his engineering and fitting and turning skills. Last time I was there he showed me a new carbie needle for the Tiger 80 he had just turned out of a brazing rod. He tells me about the primary chain case that he bought that had been damaged when the chain gear came loose. He took it to a local welder who said he could weld the aluminium back up. When Kevin went back to pick it up it was wrecked with holes burned through it and the welder was full of apologies — he couldn't understand why he had botched it up so badly. As it turns out, this one was made after the war when they used to melt down all sorts of ex–military machinery to make these sorts of items, so the aluminium was full of all kinds of impurities. He ended up fixing it himself with copper plate beautifully fashioned over the curves.
As I walk around the front of the Tiger 80 he already has it kick-started and is revving it to show off its sweet note. We talk some more and it's easy to forget that he is 87. The bikes were basket cases and parts are hard to come by when you are on a pension budget. He had to shorten some forks he got after they had been lengthened previously for a chopper, then after fitting new seals he even did the gold relining himself. On another bike he made all the engine oil lines and banjos out of copper tubing and sweated them together himself. We take some photos of him with the three Triumphs and what is probably the world's only miniature speedway bike, now 85 years old.
What strikes me, apart from Kevin's obvious skill, is that he is still full of life and passion; the grace of the man and his tendency to always deflect praise make him an extremely likable character. Surely he is the world's oldest motorcycle restorer as well as the world's youngest rider, and not just restoring one bike but another for himself and one for a friend as well. We finally force ourselves to leave, but not before he gives my wife two of his orchids.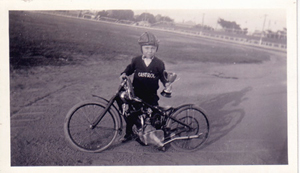 The funny thing is that Kevin rode on the speedway track before his father did — riding his miniature speedway bike at Archerfield in 1927 at only three-and-a-half years old.