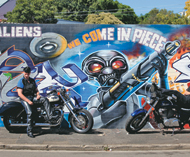 Dykes on Bikes: Riding with Pride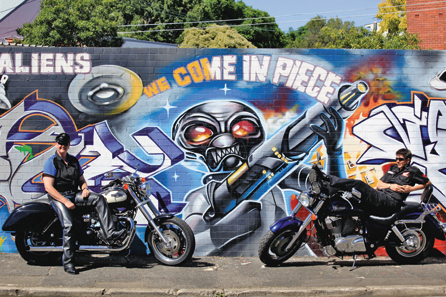 Motorcycle clubs are living, breathing organisms and it pays to shop around before you join. If you find the right one, your club will give you a real sense of belonging.
In this ongoing series, rather than simply provide facts and figures, we are going to profile the people who give a club its character. They are not necessarily committee members and they won't speak to club policy, but what they will do is encourage you along for the ride.
This issue we focus on Nic Fletcher, president of Dykes on Bikes, Sydney branch, which at the time of this interview had been thrilling the crowds at the 2011 Mardi Gras parade. And we should know, because Terri dusted off her camisole and joined in.

Congratulations to you and your committee for another spectacular Mardi Gras Parade, Nic. After all your hard work, did you manage to enjoy the parade?
Yes. Once the flag is dropped and the clutch goes out, all the hard work and effort is a distant memory. Mardi Gras parade for me is about living in that moment and taking it all in. Where else are you going to have half-a-million people standing on the street cheering that you can ride a motorcycle?

The girls really put on a show this year. There were some fantastic costumes and great messages.
What were some of your favourite outfits?
I love to see anyone dressed up for any occasion. The standouts were the girls dressed in Black Swan outfits and our Zombie Undertaker and Corpse Bride. I also have respect for our members brave enough to get bare-chested on the parade route.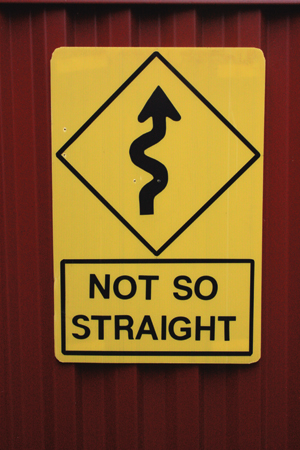 A huge amount of effort, planning and organising go into Mardi Gras every year, to put the show on the road requires a lot of team work and volunteers. We start planning for the next Mardi Gras parade almost as soon as this year's parade has finished. The ride leaders nominate what colour group they would like to lead next year and we hold a debrief on what worked and what we can do better next year.
That wall of sound as all those thousands of people first catch sight of the bikes is almost frightening, isn't it? Especially with all the camera flashes, people screaming and cheering and hanging out of the windows and on the balconies. How many times have you had led the parade as club president, Nic?
This year was my first year as president. For the previous three years I was vice-president and so rode up the front for those years. I have ridden in the parade for 15 consecutive years and more often than not I was the last bike on the parade route. So moving from last bike to first bike was a very different experience. Coming onto the parade route is a huge adrenalin buzz. It can feel scary but it does feel great and it's a case of living in the moment, enjoying the here and now. The heart goes faster, the fingers tingle, the blood rushes in your ears and the crowd feed into that excitement.
How many girls rode this year?
This year we had close to 350 members and pillions. There are always people who leave it too late and I have a hard time telling them, "Sorry, you can't have the best day of the year, or potentially the best day of your life."
We are currently limited to 200 bikes as set down by New Mardi Gras and the NSW Police. In the past in anniversary years we have been allowed 250 bikes and we still had to turn people away. I think we could comfortably have up to 500 bikes but any more than that would be very hard to manage.
What are the major restrictions imposed on the girls? In the old days, there were a lot of on-bike shenanigans going on, weren't there? Tell us about some of that. Any particularly memorable moments?
Our major restriction is not getting off the bikes. Every rider is breath-tested, licence and rego-checked before the parade starts; we cannot ride faster than 15km/h on the parade route and it's a test of your slow riding skills.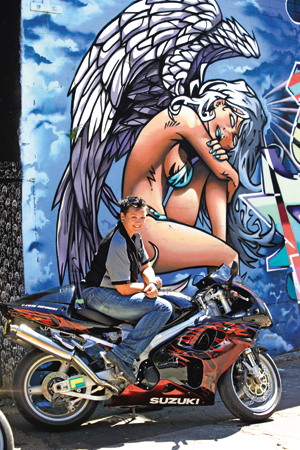 One of my favourite Mardi Gras memories was when in the heat of the moment one of our members was revving her Harley very hard and the oil filter loosened itself and sprayed oil everywhere. She pulled over to the side of the parade route, wrapped a bandana around her hand and in the process of tightening it up hears a thick Scottish accent ask, "Do you need a hand with that?"
Without looking she snaps back in her own thick Scottish accent, "No. F@#k off." She completes tightening the oil filter back on and then turns to look who asked her if she needed a hand. Lo and behold, it's Ewan McGregor who was in Australia filming Star Wars II. Now this member is a huge Star Wars fan and is surprised to see Obi Wan Kenobi asking if she needs help. All I could hear once we were back on the bikes and heading up the parade route again was a thick Scottish accent saying, "F@#k. I'm f@#ed. I told Obi Wan Kenobi to f@#k off, oh f@#k."
My most memorable moment will always be my very first Mardi Gras parade. After my first ride I was not 10 foot tall and bulletproof, I was 100 foot tall and bomb-proof. The adrenalin rush was the best in my life so far. I couldn't sleep for three days and I still get a tingle when I think about it.
So, Nic, back to bikes. How long have you been riding, and what was your first bike?
I have been riding for 16 years now and ride nearly every day. I have racked up over 250,000km on different motorcycles. My first bike was a red Suzuki GN 250. I was too big for it but in the days of 250cc learner bikes it was what I could afford at the time.
What other bikes have you owned and what is your main ride?
I hold onto my bikes for ages. I have owned four bikes: the Suzuki GN 250, a 1995 Honda Shadow VT1100, another 2002 Honda Shadow VT1100 (which I still have) and I also own a Triumph Speedmaster, which is my daily ride. I have owned the Triumph for six months now and love it for my daily commute. The 2002 Shadow is now my project bike — I want to turn it into a Bobber. Since buying my first bike 16 years ago I haven't owned a car.
Have you done any training courses?
Yes, my compulsory rider training to get my licence. I have also done various training courses through work that teach roadcraft and cornering and braking skills.
What's the best ride you have ever done?
My best ride was taking off just after Christmas 2007. I had no plan; it was just a case of going where I wanted to see what I wanted. I took in some great bike roads: the Golden Highway, the Oxley Highway, the Olympic Highway, Buckets Way, Thunderbolts Way and many back roads. I had my swag on the bike and it was a case of I'm here now and the sun is going to set in an hour may as well stop riding now. I was alone and loved the freedom of the bike on the road.
I have some good trips planned. In late October I'm off up the coast to criss-cross my way across the Great Dividing Range to get to Queensland and then home again. I also have a trip planned to tour New Zealand on bikes for my honeymoon with my partner. We have to wait for legalisation of same-sex marriage and once we're legally married we will be off to New Zealand.
What are the main bikes that Dykes on Bikes members seem to buy? There is an assumption that Harleys are the bike of choice, but there were lots of metric cruisers in the parade, weren't there?
The range of bikes in the club reflects our range of members. Yes, we have lots of metric cruisers, usually due to the fact that women are shorter than men and cruisers have lower seats. We also have a big contingent of sports, tourers and naked bikes. We have a growing group of scooter riders, too. The main brand that our members buy is Honda. It seems to be one Honda to one of every other brand with Triumph quickly catching up to Honda.

As well as the Mardi Gras events, the DOB gets involved in many charity events and your members were doing crowd control at the CTP Green Slip demonstration outside NSW Parliament House when we were there.
Yes, our members love going on the Snowy Ride, the Toy Run, the Pink Ribbon Ride and the Blue Ribbon Ride as well as our own monthly club rides and weekends away. We just love to ride, really. We were asked by the MCC to help out with crowd control at the CTP Rally and considering it was a work day we managed to get quite a few of our girls to help out.

Would you like to become more politically active, or do you think that's not your role?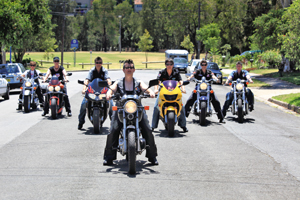 The core of the club is bikes and riding. However, where possible we support causes and organisations that affect our members.

What other events are on your calendar?
We have day rides, weekends away and camping trips as well as a couple of charity fundraisers — a Trivia Night and our annual Black and White Ball in August. These nights help raise funds for our nominated charities which are chosen by our members. This year we are supporting the Gay and Lesbian Counselling Service and Camp Goodtime for children living with HIV.
We have just got through the Mad Mardi Gras month that is February, hosted our annual Bike and Tattoo show and are looking into co-hosting some new events with other Community organisations.

Do hooligans ever give the club members grief? Do you encounter much homophobia, or don't you care?
Yes, we get a bit of grief every now and then. It's more when we are out on a ride and a group of young lads will mouth off and say something stupid. They are usually cut down with fast words and are embarrassed in front of their friends.
Yes, there is homophobia out there; how you deal with it is up to the individual. We have never got any grief from the motorcycling community. Thank you.
As a female, what are the things that bug you when you are out riding your bike?
The things that bug all motorcyclists: bad roads, pot holes, traffic, bad road planning, the cost of CTP, speed cameras, speed humps, poor driving and tailgaters … grrrrr.

So who joins DOB? Are they all riders, do they want to be, or are they partners of riders?
Who joins? Dykes on bikes join. To be a full member you must be a dyke/ lesbian and have a motorcycle licence but not all of our members have motorcycle licences because of age or injury. We also have associate membership which is open to all. A lot of our associate members are our members' girlfriends/wives/partners. Our associate members are also our friends, family and supporters.

When and where do you meet?
We meet for a ride at least once a month at various starting points around the city and plan pick-up points along the way for our members to join in on rides. Our home base is the Hampshire Hotel in Camperdown where we finish most of our rides and hold our Bike and Tattoo Show.

Any last words?
Look beyond the stereotype and see the individual before you. And the club motto is: Ride with Pride.
About the Club
The purpose of the club is to encourage and promote motorcycling to women and the benefits of riding a motorcycle. For more information visit: www.dykesonbikessydney.org.au.

"Where else are you going to have half a million people standing on the street cheering that you can ride a motorcycle?"

"We have never got any grief from the motorcycling community. Thank you."