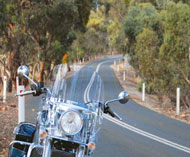 Get out on the highway
The final article in our three-part series sees the Big Boulie ready for the long road!
Yes, there is constant argument about the best tourer, but we're going to bug out and say that there is no such thing. There are good tourers, and some very good tourers, but there is no single best tourer.
Why? Well, because there isn't a standard human being. Both our shapes and our preferences vary, so we need a range of tourers just as we need a range of pants and shoes to fit everyone, and keep them happy.
We, as it happens, like quite a few different touring bike types. One of those is the big touring cruiser — they're almost a byword here for relaxed mile munching. While we were dressing up the Suzuki C109R Boulevard it was obvious that we would eventually kit it out as a tourer.
If you read this magazine regularly (and if not, why not?) you will have read the Possum's critique of the bike on a long-ish trip he made. In general, despite usually being a BMW R 1150 GS rider, he liked it very much. We feel the same way. After fitting the touring gear and before giving the bike back to Suzuki, we took it out on a few rides that covered, on average, 1200km with one 2000km run.
The bike performed very well. At no stage did we feel that it was unwieldy, despite its bulk, but then we didn't take it into really bad conditions. Good gravel — wet in one case after steady overnight rain — was the worst we tackled, but then that's also the worst that most of you tackle if anecdotal evidence is anything to go by.
We would have liked ABS — not because we needed it but because we just like to know it's there, especially with big, heavy motorcycles. All the bits and pieces such as the mirrors and controls work well, both seats and riding positions are comfortable … you can easily spend the day on this bike and get off feeling none the worse for it.
Here are the final accessories we added to our C109R to get it ready to travel.
Classic Windshield ($995.53)
It might seem pretty obvious that you'd put a windshield on any cruiser that was going to be used to notch up big miles, but there is still argument about it. Those against mainly seem to worry about the extra fuel consumption, and the fact that it can be difficult to see through a windshield in really poor weather.
These are both very reasonable objections, although you can treat the plastic of the screen so that rain beads on it and runs off. Fuel consumption will inevitably go up, but that's the price you pay for comfort.
Another argument is that cruisers are mainly ridden quite slowly, so the effect of a windshield is limited anyway. I can't agree with that one; in my experience cruisers get ridden pretty fast and a screen makes travel a lot more relaxed.
Saddlebag Set ($988.50) with Saddlebag Support Set ($162)
These are saddlebags specifically designed to go with the C109R Boulevard, and you can tell. They even have "Boulevard" badges on the sides. Like a lot of saddlebags these days they have a smart-looking buckle that is actually not necessary because the real fastening — hidden underneath — is a plastic snap-together buckle. You get the best of both worlds that way; the bags look good and authentic, but they're easily opened and closed and very secure. A press-stud secures the lid even further.
Made from some kind of modern wonder-material that looks like leather but is waterproof and will keep looking like leather for far longer than leather would, the bags are very useful. Their squat and wide shape makes them really easy to load (and makes it easy to find stuff in them afterwards). They don't make the bike significantly wider and they sit securely in place.
Conclusions
The Suzuki Boulevard C109R is already an impressive cruiser, and it can be made more impressive and useful with a few carefully selected accessories. In this case we stuck to the bling provided by Suzuki themselves, but of course there is a lot more stuff out there. For Suzuki's offerings, see http://www.suzukimotorcycles.com.au/store/road/cruiser/2008/boulevard-c109r/accessories.html.
We found the Boulie a user-friendly and outstandingly comfortable machine, rather more versatile than we had initially thought it would be (it handles poor road surfaces better than we'd expected). It is a bit heavy around town, but a terrific mile muncher once you leave the suburbs behind. We'd be more than happy to take this bike across to Perth and back.
I hope you found our little exercise useful. We certainly did, and we will try to apply some of its lessons in future projects.
PT