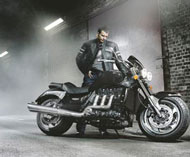 Tough guy
Triumph's Rocket III has testosterone in spades
Triumph can now start counting its money because it has another winner on its hands. The 2.3-litre three-cylinder Rocket III simply blew everyone away in 2004. It was joined later by the Touring, a more "sensible" version with a narrower rear tyre and more user-friendly configuration, which was another huge success in Australia; we buy one in every eight Rocket IIIs made and we ride them hard and long. The improved Rocket III Roadster is likely to eclipse those figures.
What have they done to it? Given it more power for a start, up from 102kW to 109kW and the torque has increased from 194Nm to 221Nm. Bring the huge engine to life and give it a blip on the throttle and, thanks to the lengthways-mounted crank, the torque twist feels as if you're on a rodeo bull ready to go — the hairs on your neck confirm you are not mucking around with some mild and meek machine. But, despite bucket loads of testosterone, the bike is relatively easy to ride.
Other changes centre around the exhaust, which now has two exit pipes instead of the original Rocket's three. The two exit pipes give the Roadster a much cleaner look and Triumph has made it freer-flowing for performance with a deeper tone, which sounds like a freight train heading towards you, giving a definite presence on the road. The over-run snap, crackle and pop down to a standstill only add to the aural delight. Another bonus of having only two pipes is being able to fit good-sized panniers, which makes the Roadster a serious touring option if you can afford keep replacing the tyres.
While the engine is a monster, it is smooth and very useable over a wide rev range. Gear ratios are quite high. We mostly cruised around in second or third gear in traffic, while out on the highway the Roadster sailed along seamlessly in top. The clutch and shaft drive have been upgraded to handle the increase in power and the clutch is now medium to heavy in feel.
Rear suspension has been given a new tougher-looking but softer black spring. It has five preload adjustments, enough to cope with any potential use. In the front, the only major change is blacked-out fork tubes, which again add to the tougher look. Handling in dry conditions is rather good for such a big bike. There is a touch of rear-wheel steer from the fat 240 section tyre, but otherwise the bike offers a really nice ride and is quite easy to get around on in slow traffic. In wet conditions and with so much torque, expect some rear wheel action.
ABS now comes standard, with no increase in the price. The system works extremely well and you soon forget your timidity. The front and rear brakes give plenty of feel and power, which is what you need on such a big bike, and pull it up smartly.
Ergonomics have been changed for a more comfortable ride. The seat is 14mm further forward, while the footpegs have been moved down 22mm and back 123mm and the bars are a little higher and wider. This new riding position is similar to the Bonneville's. You can even stand up to get some blood flowing after long periods in the saddle or to reduce the impact of that pothole you are about to run over. Not that you really need to; the seat is one of the most comfortable we've sat on.
Probably more important is that the revised riding position has made the bike available to shorter riders. Anyone from 170cm up could handle it now.
Pillion comfort is good as well. Our Standard Pillion reported that the seat itself was nice and plush and the position comfortable. Her only complaint was some slight vibration through the pegs. She felt the accessory backrest would improve pillion comfort even more.
The instruments have been improved, first of all by making them easier to read with a classic theme with modern digital functions built in. The left gauge holds an analogue speedometer, digital clock, odometer and two trip meters. The right gauge holds an analogue tachometer, digital bar graph fuel gauge, range to empty indicator (which we found fairly accurate) and a nice gear indicator.
The finish on Triumphs has been up and down, but the Roadster is good. The only thing we found to complain about was the front brakelines, which we couldn't clip into their holders.
Two "colours" are available and we hope you like black — the choice is either shiny or matt finish. The test bike was the Phantom (shiny) black, which has a metallic fleck through it and sparkles nicely in sunlight.
Triumph has more than 90 Rocket accessories listed on the website. If you wanted to go the whole, er … hog, you'll also find some cool-looking leather jackets and some tough-looking boots and gloves, too.
Fuel consumption is not the Roadster's best feature. We managed a combined city/country figure of 9.13L/100km — pretty much what you'd expect with such a large engine and so much power. The 24-litre capacity still gives a range of around 260km and on the open road you could get as far as 300km.
Keeping consumables up to the Roadster is not going to be cheap, either. That rear tyre is going to disappear quite quickly with so much torque and an oil change takes half a tanker of engine oil (around 5.4 litres with filter).
So the new Triumph Rocket III Roadster is a tough-looking bike and certainly an imposing figure on the road. If you're after a cruiser that leaves its rivals behind and packs stump-pulling power, is easy to ride and would make a great tourer, there really isn't anything else around. And you get the Triumph badge.