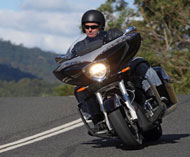 V is for Victory
Well-made, well-priced, great handling Victory Cross Roads and Cross Country are set to storm the big cruiser segment
Victory Motorcycles are relatively new here, but a willing cruiser audience is already ogling the good-looking Victory Vision touring model, which cricks necks everywhere it appears. If you admire the Vision, you can rub your hands together because now the Cross Roads and Cross Country models have landed.
With this launch, Victory has announced its intention to become a serious player in Australia and, in line with its inspiring name, it aims to conquer.
Victory's vice president Mark Blackwell was at the Queensland launch and, as well as unveiling the two new bikes, spoke about the background of the Victory brand.
You may remember Mark as a title-winning motocross rider in the US during the '60s and '70s. He previously worked for Suzuki and Husqvarna and joined Victory (Polaris Industries) in 2000, the same year he was inducted into the Motorcycle Hall of Fame. According to Mark, the driving force behind the marque's international success, the main objectives Victory set itself in designing the Cross Roads and Cross Country were plenty of storage capacity, comfort and performance. Although the word "quality" was not mentioned, it was obviously a given, since both bikes are extremely well built, have a solid feel and their finish is of exceptionally high standard. These models were not churned out overnight. It took Victory three-and-a-half years from pressing the green light to actually producing them — and that's with 80 per cent of the young, motorcycle-passionate team working on the Vision project, too. There were nine full-time engineers on the project; eight separate builds were done involving 2500 hours of analysis and 307 different tests, including 3.86 million kilometres of simulated testing and 400,000 kilometres of actual on-road testing performed in all types of weather. You may have seen the shaker rigs used in high-end motorsport to torture-test equipment under load — well, Victory used a specially built two-wheel shaker rig for these bikes that simulates 19,000 kilometres per hour and they pushed it so hard in tests they actually broke the shaker rig!
Storage
Number one on the mission statement was storage and the Roads and Country share very similar figures, both having 79.5L of luggage capacity and 22L fuel capacity. Total load capacity for the Roads is 263.6kg, while the Country has a total load capacity of 254.5kg — far beyond the nearest rivals.
The hard saddlebags have beautiful flowing lines and the same shape inner saddlebag liners are huge. Fuel consumption (which the Americans consider storage!) is far better than most vee-twin engines and quick calculations reveal you can get around 400km from the 22L tank.
Comfort
Many cruisers don't really match the sorts of comfort levels you would expect as standard, but Victory prides itself on measuring comfort far beyond the showroom floor. I found seat comfort to be supremely comfortable and at no time did I feel any soreness or the need to lift myself out of the seat to restore feeling. Not bad at all. Both bikes have the lowest 667mm seat in the class, making them accessible to just about any rider out there.
They also have the longest floor/foot boards in their class at 450mm; when you see them in the flesh, they are LONG! However, this allows a variety of foot positions and, what's more, you can adjust them forward and back by 100mm — an option missing on most cruisers.
One of the Cross Roads I sat on had highway/touring pegs fitted and while they are a stretch for most, my long pins loved them. If you have shorter legs it takes two minutes to adjust them back. The Country offers these pegs as an accessory.
Most cruiser bike rear suspension travel is short, so bumps normally result in the shock/shocks bottoming out and transmitting sharp jolts up your spine. Not here. Both Roads and Country have rear suspension with 120mm of travel, which is getting into "mainstream" bike territory. I was tensing up over potholes anticipating the usual thump until I realised there was no need to do so and from then on I looked for the crappiest potholes and both bikes glided over the top. Now that's a victory.
Performance
This is where we get serious. If you are used to the power characteristics of a sportsbike or inline four, you are probably already expecting disappointing performance from these vee-twins. But wait. Victory took note of this. It calls its engine the Freedom 106 cube (1731cc) and it gives you just that, freedom.
The engine is a 50-degree vee-twin that many sceptics said would make for an unbalanced engine, but it does totally the opposite because this is one of the smoothest vee-twins I have ever ridden. It pulls strongly from right down at 1600rpm and while other vee-twins will chug and feel like they either want to stall or buck you off, the Freedom 106 does not complain and just pulls away very strongly.
I found 2700rpm to be the engine's sweet spot and keeping it in this range gives you all the performance you could really want and the best combination of power versus torque. The engine is very linear with a wide power/torque range and it delivers a constant over 100ft/lbs (as the Americans say) or over 135Nm (as we say) in the 2000–4700rpm range.
You can feel the slight 9kg weight difference between the Roads and the Country, which gives the Roads ever so slightly crisper throttle response. So basically, if you are ever out on the open road and one of these comes flying past you, just wave bye-bye, for you will have a hard time keeping up unless you are on a big sports bike.
To show just how good this engine is, both the Roads and the Country are fastest in class over the quarter mile and both are fastest in class 0–100kmh. Oh, and did I mention both are also the lightest in weight in their respective classes?
Assisting the smooth performance are true dual exhausts and I was quite surprised by the sweet crisp note. While there are accessory pipes available, I wouldn't change them unless you want to stamp your authority by unleashing full thumping Victory vee-twin noise!
Handling
I was surprised at just how light and flickable both bikes are. Saying they weigh 338kg (Cross Country) and 347kg (Cross Roads) means absolutely nothing when you ride them. Turn-in is precise and ground clearance was another surprise. We all hear so much about how this or that cruiser scrapes at the first sign of lean, but both Country and Roads have ample ground clearance before the boards touch down. I was looking at those long footboards, then someone told me they have great ground clearance, which I thought was rubbish and that they would touch down right away. To shut me up, they didn't and it took some serious lean angle (in cruiser terms) to get the sparks flying.
As stated previously, the rear suspension travel is unlike anything we've seen before on a cruiser in terms of how good it is and how it adds to the comfort of the riding experience, but to assist even further you can air adjust the preload on the rear to your liking. The front is non-adjustable but from how the front behaved on the variety of roads on the test it doesn't need anything else. The front is as good as the rear at soaking up the bumps. Low-speed handling and manoeuvrability aren't easy and, again, the weight of both bikes is not a problem, so whether you are small or a big unit like me you won't have any trouble with either bike.
The brakes on both are conventional and the front pads have been sharpened to give a little more initial bite. They had a nice feel and were confidence inspiring. ABS has just been released on the Vision tourer and Victory is going to watch the market and if warranted will release both the Roads and Country with ABS at a later date, which may possibly add $1000 to the price tag, but I can't see anyone caring too much about that.
Bits and pieces
There are a few noticeable differences between the bikes.
The Cross Roads comes with a full-sized clear screen, which I haven't liked on other bikes but to my amazement this screen actually works right up to just over the 110km/h mark when slight buffeting starts.
The Cross Country has a bar-mounted fairing and the screen is OK until around 80km/h when buffeting sets in. Victory offers two or three different screens for each bike, but they were not available on the launch.
The Cross Country has a two-speaker stereo that is iPod, MP3, CB and GPS compatible and puts out good sound. The Country also has perfect cruise control (the Roads does not). However, the switches for both the stereo and the cruise control look like a bit of an after-thought. Integrated buttons in the bar switch mechanism would tidy things up.
Victory has left no area untouched in designing the bikes and has responded to rider wishes to be more visible by creating taillights with a large, distinct "V" shape as well as "V" arrowhead indicators — all with very bright LEDs. Great job.
Paintwork on both models is top notch and would hold its own in any custom bike show. Whether it is (my favourite) the "solid" Midnight Cherry, which is not a solid colour at all, rather a quite coarse metallic; the Black or the outrageous Skulls, you couldn't go wrong picking either of the three to park outside the cafe.
Both bikes are quite a bit cheaper than the major American brand at $27,995 and $29,995 (depending on colour) respectively and you get a lot for the money. Victory estimates the Roads and Country will achieve about 25 per cent of total sales in the Australian market.
There's already a spectacular Victory-owned store in Melbourne, a Sydney one in a prime location is opening soon and there's already a store in Auckland, which shows that the global financial crisis has not deterred Victory. Hopefully this will have a beneficial effect on the industry as the company continues to grow.
If you feel you need more than standard-issue equipment, Victory lists more than 100 accessories including a Stage 1 exhaust for $1483.01, big mouth exhaust tips for $635.56, Garmin Zumo 550 GPS for $1045 as well as a CB/iCom system. If you're looking for more chrome you can get saddlebag lid rails for $838.95 and luggage rack and front and rear fender accents. Shaped saddlebag inner liners are $635.87 and feature a classy Victory logo on them. There's a passenger backrest for $962.31, a two-heated-seats option, the windshields as mentioned and the highway/touring pegs. If you want to immerse yourself in the brand, there's also a large collection of Victory-emblazoned riding and casual gear in male and female styles.
Conclusion
If you haven't already noticed, I am now an admirer of the Victory range. I kept a cautiously open mind at the launch, so to come away endorsing the Cross Roads and Cross Country as fantastic bikes should be a big help to anyone thinking about getting into the cruiser market or updating their current machine. Victory says, "These are cool motorcycles, built to be ridden". I agree. The new American motorcycle is here.

Quickspecs
Model: Victory Cross Country
Price: $29,995 (Cherry), $29,996 (Black), $30,495 (Skulls) all plus on-road charges
Warranty: Two years, unlimited distance
Power: 68.6kW
Torque: 147.62Nm
Engine: Air/oil-cooled, four valves per cylinder SOHC, four-stroke, vee-twin
Bore x stroke: 101x108mm
Displacement: 1731cc
Compression: 9.4:1
Transmission: Six-speed overdrive, wet multi-plate clutch, belt final drive
Suspension: Front, 43mm USD telescopic fork, travel 130mm. Rear, monoshock, air adjustable preload, 120mm travel
Dimensions: Seat height 667mm, kerb weight 347kg (dry), fuel capacity 22 litres, wheelbase 1670mm
Tyres: Front, 130/70/R18. Rear, 180/60/R16
Frame: Sand cast aluminium
Brakes: Front, twin 300mm discs with four-piston calipers. Rear, 300mm disc, twin-piston caliper.
Fuel consumption: Estimated 5.2L/100km
Theoretical range: More than 400km
Colours: Solid Midnight Cherry; Solid Black; Black and Graphite/Skulls.
Verdict: The meanest looking of them all.
Quickspecs
Model: Victory Cross Roads
Price: $27,995 plus on-road charges
Warranty: Two years, unlimited distance
Power: 68.6kW
Torque: 147.62Nm
Engine: Air/oil-cooled, four valves per cylinder SOHC, four-stroke, vee-twin
Bore x stroke: 101x108mm
Displacement: 1731cc
Compression: 9.4:1
Transmission: Six-speed overdrive, wet multi-plate clutch, belt final-drive
Suspension: Front, 43mm USD telescopic fork, travel 130mm. Rear, monoshock, air-adjustable preload, 120mm travel
Dimensions: Seat height 667mm, kerb weight 338kg (dry), fuel capacity 22 litres, wheelbase 1670mm
Tyres: Front, 130/70/R18. Rear, 180/60/R16
Frame: Sand-cast aluminium
Brakes: Front, twin 300mm discs with four-piston calipers. Rear, 300mm disc, twin-piston caliper.
Fuel consumption: Estimated 5.2L/100km
Theoretical range: More than 400km
Colours: Solid Midnight Cherry; Solid Black
Verdict: A classic tourer with great handling and performance