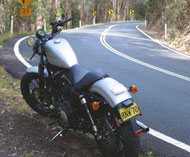 Welcome to the dark side

Looking for an affordable Harley? Look no further than the Iron 883.
Bill Yeats had it right. "Wine comes in at the mouth," he wrote, "And love comes in at the eye; That's all we shall know for truth before we grow old and die."
You don't need much wine coming in at the mouth, either, to fall in love with Harley's special edition "little" Sportster, the Iron 883. Of course it isn't for everybody, but anyone who's keen on traditional cruiser looks is going to give this bike a second glance. While it is not especially powerful — if you want power, H-D does 1200cc Sportsters — it is perfectly capable of keeping up with the traffic and with other similar bikes. And it's very good value at $13,350 ride away.
There are two keys to the attractiveness of this bike. Well, three if you include the price.
I've mentioned the appearance. The smallest Sporty has pretty much always been a good-looking bike, but Harley-Davidson has helped this one along by blacking out almost all of it, with the notable exception of the staggered shorty dual pipes, which for some reason are chromed. The idea here is to freshen up the appeal of any bikes in the range that might be lagging in sales a little, and it sure has worked in this case.
It would not have worked if the bike didn't look just right in the first place. Some other manufacturers have tried the "paint it black" trick over the years and it has rarely worked. In this case, the raw material is right, from the humped shape of the fuel tank to the small headlight and even the short rubber fork gaiters. And I do like the tail lights, which are incorporated in the rear blinkers.
The bike also offers a lot of pleasure without some of the pressure that the bigger hogs bring with them. Just as you're expected to be fast if you ride a sports Ducati, you're expected to be in character if you ride a big Harley. On a Sporty, on the other hand, you can just be yourself. You don't even need to dress head to foot in Harley-sourced and colour co-ordinated clobber. It's a cool bike, but not a confronting one.
Does it sound as if I like the Iron 883?
If it doesn't, I've missed my calling. I enjoyed the bike very much. But not really for the usual reasons. Let's make no bones about this: the Iron 883 is not what you'd call a versatile bike.
Cornering is a bit of a battle of wills, as the bike resists tipping into corners quite noticeably. The suspension is underdamped, so that the corrugated roads we get all too commonly in city and country alike present a real challenge. Shock absorption isn't great, either, so hitting a decent-sized pothole will have the suspension bottoming out. Brakes are OK, but you'd best forget about your sports bike habit of using only the front stoppers. The Sportster needs both front and rear brakes to slow down with any enthusiasm.
As for touring … well, apart from the total lack of luggage capacity, the riding position leaves your knees at a rather acute angle and the bike won't even take a pillion unless you stump up the extra for a dual seat and pillion foot pegs. Interestingly, the small tank doesn't pose much of a problem; the 883 is very economical.
That doesn't sound too promising, does it? And yet the Iron 883 overcomes all of its shortcomings in various ways.
Riding relatively sedately will mean that handling, braking and suspension are less of a problem, and this is definitely not meant to be a tourer anyway. It's an around-town machine, a stylish-looking classic cruiser type of transport that will leave you as relaxed arriving as you were leaving, and which will garner approving looks along the way.
That's not to say that the 883 is a poser's bike; the simple fact that it has "only" 883cc means that it will never be that. What it is, instead, is a bike for someone who is comfortable within him or herself, and who wants to look forward to climbing aboard the bike — even if that's perhaps only on sunny weekends — and who wants to feel in tune with that ol' cruiser spirit from Milwaukee.
Don't sneer if you're an all day, every day rider. We need these people partly to make up our numbers and partly to show us how much pleasure can be gained from gentleness rather than aggression.
Harley-Davidson has created a thoroughly attractive package with the Iron 883, and while it would be possible to overcome all of its "shortcomings" — suspension and braking, for example, would be easy to upgrade — I really wouldn't bother. With all of its limitations, the bike is a lot of fun. It's also, as I mentioned above, remarkably inexpensive for a Harley.
I suspect it will be the path that leads many riders to cruiserdom.
Harley-Davidson Iron 883 Sportster — Quickspecs
Model: Harley-Davidson Iron 883 Sportster
Price: $11,995 (plus on-road charges)
Warranty: Two years, unlimited distance
Power: 39kW @ 5900rpm
Torque: 70Nm @ 3750rpm
Engine: Air-cooled, 45-degree vee-twin; four-stroke, pushrod-activated valves, fuel injection and digital ignition
Bore x stroke: 76.2mm x 96.8mm
Displacement: 883cc
Compression: 9:1
Transmission: Six-speed, wet multi-plate clutch, final drive by belt
Suspension: Front, 39mm telescopic fork, travel 145mm. Rear, twin spring over damper shocks, preload adjustable, 54mm travel
Dimensions: Kerb weight: 261kg; fuel capacity: 12.5 litres; wheelbase 1510mm
Seat height: 740mm
Tyres: Front, 100/90 19. Rear, 150/80 16
Frame: Twin loop steel tubing
Brakes: Front, 292mm disc with two-piston floating caliper. Rear, 292mm disc with floating caliper
Fuel consumption: 4.1 litres per 100km, premium unleaded
Theoretical range: 305km
Colour: Black/grey
Verdict: What you see is what you get