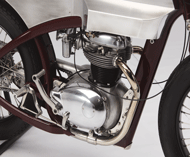 Sea Change
The recent World Championship of Custom Bike Building revealed a surprising change of direction.
As it turned out, the 2010 World Championship of Custom Bike Building wasn't a nightmare on custom street for Freddie "Krugger" Bertrand. After years of slaving over show bikes and coming third three times in this event, he was finally named 2010 AMD World Champion with a "rich and strange" invention in the Freestyle Class called "Veon".
As you would expect, Veon is customised within an inch of its life, but it has a clever-clogs trick up its sleeve. The bike has an electronically adjustable frame that transforms at the flick of a switch from a low cruiser with a long rake to a high-riding sports bike with a shorter wheelbase and steeper rake. Two radical bikes in one. It even allows two sets of foot controls, one for each style of riding. Well done, Freddie and friends.
The annual championship is held in Sturgis and naturally attracts the cream (the chrome?) of USA builders, but there was a successful European invasion this year. Yuri Shif of Belarus not only placed in the Freestyle Class, but scooped the Metric World Championship with his twin BMW boxer engine concoction. Carrying on Spain's recent clean sweep of world sport, Sergio Bayarri won the Production Manufacturing Class with "Flying", a bike that replicates Ducati geometry. Then, the win that really hurt, the Modified Harley class, was won by British builder, Shaw Speed & Custom — watching that trophy march off to the UK was another first in the show's history. The best USA builder for 2010 was second-placed Mark Daley of Thunder Struck Cycles for "Sniper". Mark reversed the inlet and outlet ports on the bike's Indian Powerplus engine, then welded and machined the heads to allow the correct sized valves to be operated by the reverse grind cam.
On the following pages we showcase the winning bikes and some of the more novel ones that caught our eye.
Entrant: Krugger Motorcycles, Basse-Bodeux, Belgium
www.krugger.net
Owner: Peer Tofner
Engine Make/Size: Veon — Harley-Davidson V-Rod
Frame Make/Type: Krugger
Rake (Adjustable): 27 to 32 stretch
Trail (Adjustable): 80mm to 120mm
Front End: TRP
Swingarm: Krugger
Transmission: Stock
Wheels: Front: RSD 3.5×18″. Metzeler ME 880 120.
Rear: RSD 8.5×18. Metzeler ME 880 240
Brakes: Front: Beringer Radial. Rear: Beringer
Painter: Krugger
Freestyle Class — "Beezerker" by Chris Flechtner
Entrant: Speed Shop Design, Seattle, WA, USA
www.speedshopdesign.com
Owner: Chris Flechtner
Engine Make/Size: 1965 BSA 650 unit
Frame Make/Type: Speed Shop Design (SSD) one-off hard tail
Rake and Trail: Stock
Stretch: None
Front End: SSD one-off girder
Transmission: 1965 BSA 650 unit
Wheels: Front: 20″ clencher with spool hub. Firestone 3.85×20″. Back: 20″ clencher with modified Harley hub. Firestone 3.85×20″
Brakes [Front] Front: none. Rear: SSD one off mechanical disc
Painter: Speed Shop Design
More info:
A sheet metal girder fork articulates around a fixed headlight behind an interchangeable lens and grill. Stainless handlebars have cast stainless-steel BMX grips with twist clutch and throttle. Stainless headers merge into a ceramic-coated and painted frame. Modified intake manifold with 1.25″ SU carburettor. Hand-formed gas tank and tail piece from 3003 aluminium. Downtube is the oil tank. All components are hand-fabricated and finished, no CNC has been utilised. All parts are either stainless steel or aluminium, no plating necessary.
Seat design and fabrication by Stough, Tacoma, WA.
Entrant: Dan Gurney's Alligator Motorcycles, Santa Ana, CA, USA
www.allamericanracers.com
Engine Make/Size: S&S 124″
Frame Make/Type: Alligator 4130 Trellis
Rake/Trail: 21 degrees, 2 3/4
Stretch: None
Front End: Marzocchi inverted 50mm
Swingarm: Machined Billet aluminium
Transmission: Chain/chain + S&S clutch
Wheels/Tyres: Front: Dymag — forged aluminium 17×3.5″. Bridgestone 120/60–17. Rear: Dymag — forged aluminium 17×6.0″. Bridgestone 200/50-17″
Brakes: Front: Beringer/four-piston radial 320mm. Rear: Beringer/four-piston
Painter: None — all carbon fibre
Chroming/Plating None — all polished aluminium by Sihilling
Tech info:
Alligator Dual runner 2 1/16″ downdraft intake/port injection; Alligator Penske single-shock multi-link rear suspension; inverted Baker right-side drive, six-speed transmission; custom, one-of-a-kind, vertical oil filter mount; 4130 chromoly chassis with rubber-mounted drivetrain; Pectel closed-loop electronic fuel injection; Pectel multifunction digital dash; Alligator/Beringer hydraulic clutch control; stainless-steel, tuned, stepped header exhaust and collector/muffler; contoured billet cam cover and sprocket cover with hidden clutch-release mechanism; stainless-steel oil tank; S&S wet clutch; billet inner and outer primary; billet front controls; Alligator carbon-fibre bodywork (weave in a chevron pattern over entire bike); Alligator carbon-fibre fuel tank; hidden rear axle and swingarm pivot hardware; forged aluminium Dymag wheels and billet aluminium three-piece swingarm
Freestyle Class — "Black Jack" by John Levey, Karl Koenig and Tim Deml
Entrant: JRL Cycles, Black Hawk, SD, USA
www.jrlcycles.com
Engine Make/Size: Lucky 7 Rotec 2800cc
Frame Make/Type: JRL Cycle/Michael Prugh
Rake: 43
Stretch: 6″
Front End: Goldammer
Transmission: Tech Cycles/JRL
Wheels/Tyres: Front: Ride Wright 3.25×21″. Metzeler P120 70. Rear: Ride Wright 10×18″. Metzeler 300
Brakes: Front: PM six-piston. Rear: PM Driveside
Painter: Rob Focht, Finish Line Paint
Chroming/Plating: Moore Power Coating
More info:
The fuel tank was manufactured by Metal Magic Kenai, Alaska. Fenders were manufactured by Karl Koenig West River Welding and Machine Rapid City, South Dakota. Custom Cycle Control Sytems handlebars.
Production Manufacturer Class — "High Flying" by Headbanger Motor Company S.p.A
Entrant: Headbanger Motorcycles, Milano, Italy
www.headbangermotorcycles.com
Engine Make/Size: TP Engineering 121 cu in.
Frame Make/Type: Headbanger Softail
Rake: 34°
Front End: Telescopic 41mm
Swingarm: Headbanger Motorcycles
Transmission BDL open belt/BDL clutch
Wheels/Tyres: Front: DNA Big Spoke/3.5×21″. Avon 120–70–21″. Rear: DNA Big Spoke/ 18×5.5″. Avon 180–55×18″
Brakes: Performance Machine four pistons/disc front and rear
Painter: Ms Artrix
Chroming/Plating: Headbanger Motorcycles
Additional info:
Lightweight, down drag-bar for great handling and a 121-inch TP Euro 3 approved engine.
Freestyle Class — "Razorback" by Rand Eaton and Kevin Persons
Entrant: Pro1Cycle, Battle Creek, MI, USA
www.pro1cycle.com
Engine Make/Size: Harley-Davidson 74
Frame Make/Type: US Choppers, customised
Rake: 32 stretch
Front End: Leaf springer
Swingarm: Hardtail
Transmission: Evil
Wheels/Tyres: Front: Total Performance Machine 16″, Metzeler 16×14″. Rear: Total Performance Machine 1 8 Metzeler 18 150
Brakes: Front: None. Rear: Disc on sprocket
Painter: Rand Eaton
Chroming/Plating: Black Chrome
More info:
Union Tools Razorback shovels, seat and fender custom tail light, jiffy stand, pipes, bars, shifter, clutch lever and cable, pegs and mounts, grips, licence plate, leaf spring seat, headlight mount, electrics box, brake lever, motor mount, S&S cut-out for mag. Left-side fuel, right-side oil tanks. All stainless-steel oil lines. All stainless-steel bolts, stainless-steel nylocks.
Freestyle Class — "Quantum Leap" by Eddie Meeks
Entrant: Hardly Civilized, Greensboro, NC, USA
Builder: Eddie Alexander Meeks
Engine Make/Size: Patrick Racing/101 cu in
Frame Make/Type: One-off by Eddie Meeks
Front End: One-off by Eddie Meeks
Swingarm: One-off by Eddie Meeks
Transmission: Baker
Wheels/Tyres: Front: RMD Billet/18×13″,VeeRubber/360×18″. Rear: RMD Billet/18×4.25″, Dunlop 160×18″
Brakes: 360-degree/pressure plate front and rear
Painter: Eddie Alexander Meeks
Chroming/Plating: Meclec/Custom Chrome Plating
More info:
Bike is front-wheel drive and rear steer. Both front and rear are suspended by air shocks from Custom Cycle Control Systems and the rear steers and moves with suspension. Bike is shaft-driven and steering is by custom-made hydraulic pumps and works by movement of hydraulic fluids. Wheelbase 75″. Pipes, oil tank, gas tanks, all sheet metal, handlebars, grips/pegs, brake/shifter components, all drive components/gearboxes/shafts, axles, seat base and wiring harness by Eddie Meeks. Mikuni carburettor. Upholstery by Butch Watson. Headlight handmade by Eddie Meeks.
Modified Harley-Davidson — "D'MX" by Danny Schneider
Entrant: HardNine Choppers, Bern, Switzerland
www.hardninechoppers.com
Year/Model: 1942 WLA Harley-Davidson
Engine Make/Size: Orig. 750 cm Flathead
Frame Make/Type: Original flathead frame
Front End: Original 1942 springer
Transmission: 1″ open belt drive/three-speed transmission
Wheels/Tyres: Original Harley-Davidson 19″ front and rear with BMW tyres
Brakes: Front: None. Rear: Original 1942 drum brake
Painter: Black Sheep
Chroming/Plating: Danny Schneider
More info:
Handmade parts: Gas tank — the sides are hand-hammered and the top is from a vintage Puch Velux mofa. Oil tank — includes a six-volt battery because cause magneto ignition is against the law in Switzerland. Handmade rear fender, foot controls, shifter, air filter, headlight, rear and front pegs, triple trees, frame, handlebars, guards, seat plate and all black parts.
Modified parts: Wheel bearings to fit the original drum brake from 1942, rear brake, fork springs, heads, "shaved because it's a flathead, right?" pipes, Dellorto carburettor jets, Yamaha YZ 250 gas grip.
Original BMX parts: Handlebar, rear pegs.
Metric World Championship Winner — "The Machine" by Yuri Shif, Belarus
This bike was inspired by German 1930s race cars. It has two early BMW Boxer engines joined at the cranks. Yuri then reversed the rear pair of heads to allow him to feed all four inlet ports via a supercharger.
Second Place — "Sniper" by Mark Daley, Thunder Struck Custom Bikes Inc
A 100-cubic-inch Indian engine with multi-piece pipes bolted together (where the carburettor would normally be). There are four titanium ceramic outlets, Honda CBR600 Kehin downdraft carburettor (where the exhaust would normally be). Valves were flipped in the cylinders, looking normal but working backwards. A special cam was ground to accommodate the mods. A special spigot-style manifold was made to hold the carburettor.
Winner Production Manufacturer — "Flying" by Sergio Bayarri, Spain
Fitted with a Revtech engine, Ducati/Sbay swingarm, TIG welded aluminium 6061T6 frame, Marchesini wheels with Continental Race Attack tyres, Öhlins and Galfer Wave 220 Brembo brakes, this Ducati-inspired bike was designed using CAD software. The top of the frame holds the oil and the battery is between carbon tanks. The bike, which replicates Ducati geometry, has been developed and tested on European race tracks and the scuffed tyres prove it.
Winner Modified Harley-Davidson — "Strike True II" by Shaw Speed and Custom, UK
Shaw Speed fabricated the H-D gas tank, rear fender, battery cover, rear inner fender and regulator cover. The frame was stripped and the welds cleaned and repainted. The swingarm was modified for drive-side sprocket and rotor assembly. The oil tank came from NYC Choppers. Headlight and rear taillight were from CSC. Roland Sands Design full engine and transmission covers were fitted. Forward controls, master cylinder and switch gear assembly came from Performance Machine. Other mods: 1930 speedster handlebars, Vance and Hines exhaust system, brass footpegs and handgrips, glass/brass air breather 0571 Garage, lowered rear suspension, handcrafted seat on Roland Sands seat pan. Then the H-D rotors and wheels were stripped, modified and rebuilt in-house.
TD