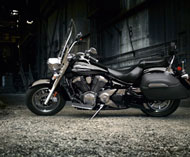 Life after mumbo

The most powerful V-Star, if that's your thing
I'd like to get one thing off my chest right away. There has been a lot of argument recently about cruiser power requirements. For some reason, the mindless pursuit of maximum mumbo that has long marked a certain type of sports bike "enthusiast" (the bloke who thinks that if he only had a couple more horses he could beat his mates) seems to be infecting cruiser riders. Folks, there are very few motorcycles with more than, say, 800cc capacity that actually lack power. And here's a tip to the people who "really" need more mumbo — if you want to go faster than your mates, learn to ride better. Competence will beat power every time, except off the lights where it doesn't matter. Thank you, doctor, I feel better now … so let's talk about this bike.
Yamaha insists quite correctly that this bike is "the most powerful V-Star", although the Roadliner has considerably more power and especially torque — 155Nm as against the 1300's 106Nm — but the V-Star's power is more than adequate.
Anyway, while cruisers don't tend to have very much power they do usually offer a fair bit of torque, and for the kind of use they get that's far more important. This V-Star does not disappoint, with its 106Nm quite enough to pull the bike along in almost any gear. I selected top as soon as I could and mainly left the bike there — a pleasant capability that sports bike riders can only dream about.
And, yes, in true long, low, rumbling, all-day cruising nirvana the V-Star meets the most crucial test: it's comfortable. I did one long day on our test bike (well, 800km is a long day for me these days) and was able to walk and enjoy normal social intercourse afterwards without suffering from hearing loss, which has got to be a good thing.
No, no cruiser is yet truly comfortable for such a run — but the V-Star comes pretty close to being the best I've ridden for a while. Mrs Bear was unavailable for pillion testing, but I did find someone for the job who is somewhat larger and heavier than she, and he described that experience as "not as bad as I expected". Frequent pillions might encourage owners to look for an aftermarket seat; although the pillion riding position is not too bad at all.
The bike handles well, with Yamaha's decision to put nearly half its weight on the front tyre making for surefooted steering. I'm not allowed to complain about cruisers scraping in corners any more; a reader reckoned that this is irrelevant, and while I agree to some extent I must say that there are still different levels of "scrap city". The 1300 is not quite as good here as its 1100cc brother, but then the smaller bike is exceptionally good for a Japanese cruiser.
"Some folks like to get away," sings Billy Joel, "take a holiday from the neighbourhood…" There are few if any cruisers that will allow you to do that in more style than Yamaha's V-Star XVS1300A — at least in the special edition that I rode for this story. For a limited time the bike came complete with screen and panniers at no extra cost — that time will be over when you read this, but I reckon asking nicely might convince your Yamaha dealer that it's worth making the investment in your case, too. I certainly liked the convenient leather-look panniers very much, and the screen — well, not quite so much but still a bit.
Cruiser riders are focusing even more on the looks of their bikes and their ability to be customised. The V-Star provides the looks, especially since hidden hoses disguise the liquid cooling and make it appear like a traditional air-cooled bike. The flangeless tank helps, too, as do little touches such as the stainless-steel fork covers. Even the two-into-one pipe is (kind of) reminiscent of old Indian Chiefs. Unlike some of the newer generation cruisers, however, the V-Star still leaves plenty of scope for easy, bolt-on customising.
All in all, the XVS1300A V-Star is a good cruisin' choice, especially if you're going to do some distances.
OK, they say the trick is to "leave 'em laughing", so here are a couple of quotes from Yamaha's description of the bike.
"The XVS1300 is a product developed with the concept of 'No.1 Middle Class Cruiser in Ease of Operation & Sporty Sensual Performance.'" … "The XVS1300A … inherits the basic concept of the first-generation model, but adds a new Wide Range Classic Cruiser development concept."
With that concept in mind, let's go cruising!
Quickspecs
Model: Yamaha XVS1300A V-Star
Price: $17,299 (plus on-road charges)
Warranty: Two years, unlimited distance
Power: 53.5kW @ 5500rpm
Torque: 106Nm @ 4000rpm
Engine: 60-degree vee-twin, OHC, four valves per cylinder, two balancer shafts
Bore x stroke: 100x83mm
Displacement: 1304cc
Compression: 9.5:1
Transmission: Five-speed, wet multi-plate clutch, belt final drive
Suspension: Front, 41 mm telescopic fork, travel 135mm. Rear, lever-type monoshock, travel 110mm
Dimensions: Seat height 715mm, kerb weight 303kg (with fuel), fuel capacity 19 litres, wheelbase 1690 mm
Tyres: Front, 130/90 16. Rear, 170/70 16
Frame: Steel double cradle
Brakes: Front, twin 298mm discs with twin-piston floating calipers. Rear, 298mm disc, floating caliper
Colours: Raven, Pearl White
Verdict: Hard to pass up if you are not obsessed by double litre figures