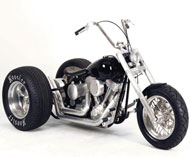 Russell Mitchell's glam-punk customs
Johnny Rotten and Billy Idol would be so proud

How does a kid born in a small West England farming village get to be a white-blond, tattooed TV star and president of a multi-million-dollar custom parts and bike corporation in Hollywood? Well, perhaps like fellow bad-boy Brits, Johnny Rotten and Billy Idol, Russell Mitchell was searching for his own voice.
Exile Cycles in North Hollywood is now 10 years old and going off, but no-one handed success to Russell on a plate. He was smart enough to graduate from England's Bristol Uni as a veterinary surgeon and got a job in a surgery in wild and crazy London. Within months country boy became Glam-punker and Russell partied like mad.
The '80s was scooter revival time in England and Russell, who swapped his skateboard for a motorcycle in his teens, started building custom Lambrettas! In so doing he annoyed the hell out of the scooter purists not only with his chopped scooters, but by wearing a non-regulation leather jacket. He became what he calls outcast "scooter scum".
In 1983, 20-year-old Russell reincarnated a Lambretta into Exile 1. It had a coffin tank, twisted forks and a foot-shift — a landmark build which won trophies all over the place. When Russell tried to enter the Lambretta in the Kent Custom Bike Show, the Hell's Angels, who ran the event, said they couldn't guarantee his safety. Wisely, Russell dropped the idea but borrowed a mate's motorcycle to check out the show anyway. His first "ton" on the 650 was an epiphany. At the next Scooter Rally he raffled Exile 1. He finished Exile 2, a flat-black chop Lambretta, then he used the raffle proceeds to buy a KZ650, which became Exile 3, a rigid, red Kawasaki. It was the last "coloured" bike he ever built. Then Russell bought his first Harley, a basket-case, kickstart Sporty that he transformed into a tough black hardtail in his veterinary surgery waiting room! A smorgasbord of motorcycles followed, depending on his state of poverty at the time.
When he wasn't working as a vet, or building bikes, he was partying, and a chance meeting at a charity do launched a side-career in modelling. Charismatic Russell soon became the TV vet on the morning news. When a top Los Angeles model agency offered him a contract in the States, he decided to try it for a few months. That was 15 years ago!
He arrived in the US and spent nearly all his money on a 1987 Softail. In 1994, after he featured in a lucrative Marlboro commercial, Russell had enough dough to build a couple of identical customs. He gave full vent to his creativity, learning welding and machining along the way. A year later, Easyriders ran a feature on one of the customs. There was so much response that Russell launched a part-time venture from his garage using the Exile name, which was both appropriate and ironic. Demand grew to the extent that Russell gave up modelling to concentrate on creating Exiles in his garage, until his wife politely requested he get the hell out from under her feet.
Today, Russell operates with his team of characters in a 20,000-square-foot facility in Hollywood. Exile Cycles manufactures nearly every conceivable part which it sells direct to the public and through its 1000-dealer network. Exile produces around 20 complete custom bikes a year, which have been featured in magazines worldwide.
Russell's vision is for bikes with clean, tough, industrial styling, in other words a complete departure from over-painted, over-chromed customs that are the US norm. Now his minimalist European style is catching on in America and Exile Cycles is right up front. It's been said that Russell has been preaching this styling ethic from his soapbox for so long he virtually has a monopoly on it.
As part of his effort to convert "traditional" custom builders, Russell and his crew have competed in many of the Discovery Channel's Biker Build Off shows as well as the World Biker Build Off. He now hosts his own show, Build or Bust, for Speed Channel, which airs several times a week and is in its second season.
Is Russell Mitchell the coolest builder on the planet, or what?
For more information visit www.exilecycles.com