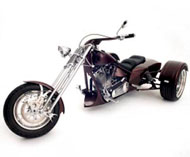 Exuberance is beauty
Bill Blake knew what he was talking about…
Mick Fiora built Heidi's trike, which we featured in C+T Vol 1, #4. When we were putting that story together he also sent us some photos of another of his trikes, and we just can't resist sharing them with you.
Mick has been "customising" for a long time.
"Back in the mid 1960s I developed a fascination for motor bikes," he says. "As high school students, we used to pick up old bikes and strip them for the dirt. This was typical all around Australia, I think.
"My first attempt building a custom bike was in 1967. I built a custom frame and used a 600cc Panther motor; the wheels and the gearbox were Triumph and the tank was from a BSA Bantam."
We all remember Bantam tanks, if we remember anything from that time; they were pretty close to the "peanut" shape that American chopper builders were using then. As a result, the tank on a Bantam was worth considerably more than the rest of the bike put together. Still is, probably.
"One day we decided to build a trike," Mike goes on. "We used a 500cc AJS engine and a rear end out of a car. We replaced the crown wheel with a home-made sprocket. When it was going, we had a lot of fun — that was 1968. Between 1968 and now we have built many bikes, frames, tanks, pipes and lots of other parts. In 1978 Fiora Machinery was started, building custom bikes, parts and machinery.
"In 1986 we designed and built an 850 Moto Guzzi trike for a customer. We designed and built the frame, the suspension was made out of Subaru parts, with the fibreglass and painting contracted out."
That was the beginning of the operation that is now building trikes like Heidi's and this beautiful machine in the photos. And that, as they say, is not all!
"Since this trike was built, we have made many improvements in design and in the manufacturing process," says Mick.
If you're interested in discovering more, and maybe even having your own three-wheeled dream made reality, go see Custom Trikes Australia and talk to Mick. As for me, I'll leave you as I started, with a few words from William Blake.
"The road of excess," he said, "leads to the palace of wisdom …"
Custom Trikes Australia
The factory at 363-365 Sevenoaks Street, East Cannington, Western Australia 6107 is open weekdays from 8am-5pm (WST) and can be contacted on 08 9356 1811 or at trikes@customtrikesaustralia.com. Website: www.customtrikesaustralia.com
PT