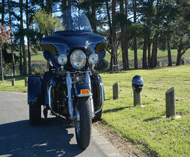 Three-Wheeling in Unzud
Yes, we've ridden it. No, you can't
Yes, I can hear you all the way over here. "Why?" you're asking, "Why oh why are we waiting? Where are our Harley-Davidson TriGlides, Bear?"
Well, I can tell you where there are some Harley-Davidson TriGlides, and it's not far away. But as for yours… only the good folk at the Department of Infrastructure, Transport, Regional Development and Local Government (as it was when I wrote this) in Canberra can tell you this. DITReDALG sets and administers the Australian Design Rules (ADRs) and the TriGlide has run afoul of these wonderful rules, which keep us safer than anyone else in any other country around the circular, spherical globe.
The New Zealanders, poor buggers, have no NZDRs along the same lines to protect them, and just look at the carnage that swamps the highways and byways of their islands with blood every day, nay, every hour, as a result! But what they do have are … TriGlides.
Introduced at Harley-Davidson's 105th anniversary celebrations, these three-wheeled conveyances began to arrive in New Zealand when the domestic demand in the US was reasonably satisfied. They have been pretty popular, which was to be expected for the first trike built for an OEM (Original Equipment Manufacturer) since 1973. These days they are no longer just built for Harley-Davidson, they are built by Harley-Davidson.
But none have reached Australia.
I pursued the reasoning (if I may use such a term in the context of a government department's thinking) behind the TriGlide's exclusion from Australia, and came up with the following story. I don't vouch for this, by the way, since the Deep Throat who passed it on to me was laughing so hard that I may have missed a vital bit.
Someone at DITReDALG, it seems, decided some time ago that Australia was in danger of being invaded (possibly by boat from Indonesia) by three-wheeled taxis of the "bemo" type. Horrified at the thought — after all, these Third World conveyances couldn't possibly be safe — he, she or it cast about for a way of excluding them without making it too obvious that it was, in fact, bemos that were to be excluded.
"Why hide this, Bear?" you ask. I do not know, but it may have had something to do with free trade agreements or some such pinko waffle.
Our bureaucrat friend came up with an answer that was almost as elegant in its simplicity as it was cretinous in its extent. The importation of all and any trikes above a certain weight would be banned and their registration would be prohibited. It seems that nobody thought to check if there were other, and perfectly safe, trikes that exceeded that weight as well. As it happens, most completed trike kits end up weighing just under the limit – but you'd better not fit too many accessories.
Sadly, however, the TriGlide is somewhat over the limit.
Harley-Davidson Australia (H-DOz), with commendable patience, is trying to talk sense to Canberra. Am I telling you something that you don't know when I suggest that you do not hold your breath? I thought not. H-DOz will succeed in the end, I expect, but only a braver bear than I would put a date on that.
Patience, it is said, is a virtue. Little wonder then that I lack, as well as several other virtues, patience entirely. My friend Clement Salvadori had ridden the TriGlide for us in the US, but I wanted to have a go myself. Fortunately, H-DOz was happy to help me to achieve this and a short flight across the Tasman saw me knocking on the door of Auckland Motorcycles & Power Sports (AMPS) to collect my conveyance.
AMPS is always very helpful and it was a matter of minutes before Shane was explaining the intricacies of a large, black and shiny TriGlide to me. I three-wheeled out into the traffic, hit the freeway south and was on my way to a favourite road test "track", the Pacific Coast Highway. I won't bore you with the technical details of the TriGlide because if you're interested in one of these then I'm sure you've read them several times over — not least in Volume 1, Number 4 of this magazine. Suffice it to say that this is an ElectraGlide with a two-wheeled rear end designed by Lehman Trikes. I'll concentrate on what it feels like.
And what it feels like is terrific. Most three-wheeler novices initially worry about tipping over. There's very little chance of that — remember how stable your tricycle was when you were little? In fact, the TriGlide corners as if on rails. And, should you find yourself on real rails (wet ones, with a soupçon of diesel added) as I did at one stage on this ride, it stays upright a lot more convincingly than a two-wheeler. It is possible to lift the inside rear wheel when cornering really hard, but actually flipping the thing over would, in my opinion, require genuine stupidity on the part of the rider.
What you do notice when cornering not-quite-that-enthusiastically is that riding a trike requires a bit of upper body effort. Not a worry when you're just turning and roaring out into the traffic, as I did when I started, but once you hit the snaking hillside stretches of a road like the Pacific Coast Highway, your shoulders do get a workout. Trail has been reduced with slightly increased rake and extended forks to reduce steering effort, but it's still harder work than a bike.
You can always take it easy, of course, but where's the fun in that?
Once on the freeway I gave my throttle hand a bit of a workout — always within legal limits, of course — to dodge the heavy and somewhat erratic traffic. The TriGlide is geared a little shorter than the donor bike — the gearbox is the same six-speed unit as in the ElectraGlide, but the belt's rear sprocket has 70 rather than 68 teeth. On the freeway that translates to easily enough acceleration to keep the tin tops at bay.
Haring up through the twisties on the back roads, I found myself singing* "King of the Road", always a good sign because that indicates that I am enjoying myself. It is easy to ride the TriGlide smoothly and to cut from one curve to the next. Because of that it's fun as well.
Here's a bit of housekeeping. The top box and "trunk" between them hold a bit more than the original bike's panniers; there's a handbrake, even though its location is a little awkward; the rider's and pillion's seats are just as outstandingly comfortable as the ElectraGlide's; and it's no fun hitting judder bars (speed bumps to Aussies). It is also hard to avoid hitting potholes because of the triple track.
My trike had the optional reverse gear, which made it very easy (and impressive to the wahines) to pull away from outside Rocco's in Thames that night after dinner. A quick reverse into the road, and up, up and away! I would have liked a heated seat the next morning because Thames had had its fifth consecutive night of frost and my motel did not have undercover parking. Aah! Cold!
That case of Chully Bottom was soon forgotten as I made my convoluted way back to Auckland. I skidded twice — once on black ice in the Coromandel Hills and once on that rail crossing — and just kept going, smiling all the way and enjoying the improvement to my upper body muscle tone. The TriGlide in my opinion is not only a lot of fun, it's also remarkably safe.
So… why, oh why, are we waiting?
PT
*Well, what I call "singing". I cannot actually sing. Can't carry a tune. Hopeless even at karaoke. This is a real shame when you consider that I once aspired to becoming Australia's Louis Armstrong. A white-ish version.