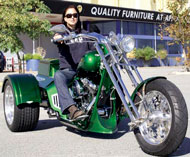 Happy ending

There is at least one very good reason for ordering a trike…
Mick: "Hi, my name is Mick Fiora and I have been designing and building trikes for many years. About two years ago, Heidi and Dave dropped in to see if I could build her a trike. They wanted a custom for riding and showing. The only problem was she had no use of her legs."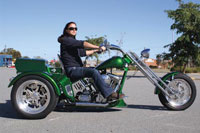 Heidi: "Ok, the first thing you need to know is that this is a chick's trike. Up to 2002 I had ridden motorbikes most of my life, but unfortunately in November of '02 I had a serious life-changing accident with a tree. I'm now a paraplegic using a wheelchair full-time. While still in the spinal unit in the UK, my father mentioned getting a trike, but I had no interest at the time.
"In 2006 I moved to WA and met my current partner David, who is also into bikes. I jumped on the back of his Harley a few times but I'm more a rider than a passenger, not to mention the fact that we couldn't take my chair with us on rides, which meant David had to carry me everywhere we went and, for an independent girl like me, it was a real frustration. It was also difficult for David getting thrown out of the ladies' room all the time."
Mick: "Dave has a Harley and they go on camping trips and hiking, but they wanted something for Heidi the carry the wheelchair."
Heidi: "Given that my partner had a bike and the beautiful Australian weather and the great WA countryside and roads, I started looking into getting my own piece of freedom in the form of a trike.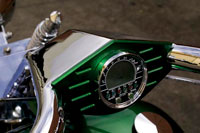 "All I knew was that I wanted a vee-twin, chopper-style trike and not a conventional VW backend-style trike, which is what most people think of when you mention trikes. I also wanted a show winner! So with what I was after and being a paraplegic, I knew it wasn't going to be easy finding a builder.
"After hours on the 'net and only finding trike builders in the eastern states, I stumbled across the type of machine I had been dreaming of and, to my surprise, the builder was local and only half an hour down the road."
Mick: "At the time I wasn't too keen to do a trike that was different to my standard range. I gave them some numbers of other manufactures over east — because we are the only trike manufactures in WA, all the other builders are "backyarders" and I could see she needed something different. After not having any luck they came back and I decided to build the trike, which needed a few mods.
Heidi: "And so began an incredible 17-month journey with Mick Fiora from Custom Trikes Australia…"
Mick: "With the help of Dave & Heidi we worked out what she needed. Dave chased up a power plant, a Revtech 100 motor with reverse in the gearbox and an electric shift with shift buttons on the 'bars.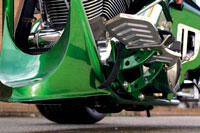 Ian Splat from Dragways Performance Engineering made the wheels and the rest we manufactured over 14 months.
"Mind you, I had three months off to go fishing up north!
"I enjoyed building the trike and I hope it gives Heidi and Dave new adventures."
You will read more about Mick and Custom Trikes Australia in Cruiser + Trike; we've got some wonderful photos of one of his other creations. Keep your eyes on this magazine.