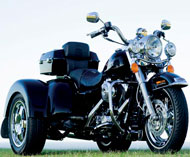 Falling down? Here's how to avoid that, according to Grahame "Simmo" Simpson
I have always wanted a trike. Not exactly always, but for a long time. The wanting began when I realised that there was no way I would ever stop riding and there was also no way I was going to get any younger.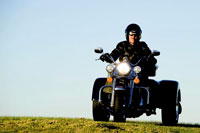 At first I thought my Guzzi California was the perfect trike candidate. I thought that for the 13 years I procrastinated over the "are you really going to cut up that beautiful Guzzi" questions from all those around me. Then I had a revelation. My left leg cramped up on a long ride and the Guzzi had to go. Mrs Pillion stated that someone 6′ 2″ and with legs all the way up to … you know … never did fit on a Guzzi. So began the search.
We tried them all. Nothing with a fairing or bodywork would fit my legs and nothing without hard saddlebags or a backrest was permitted. All but one felt cramped and not at all like I imagined a cruiser should feel. Some internet research revealed an accessories catalogue with infinite possibilities. Did you know that Harley even caters for people who are deformed like me and also for people with problems at the other end of the size spectrum?
A lot of dollars later, I wobbled out of the dealers on a Harley Road King, the biggest, heaviest bike I've ever ridden. A few weeks of practice (I had been riding for 35 years at this stage) and I was ready for Mrs Pillion.
What is your worst nightmare? Mine is falling over in a crowded car park with a pillion attached. It didn't help that my arm had only been out of plaster for a week after a work accident. So there we were, taking a little rest on the side at Stanwell Tops on a busy Sunday. Thank you to the four lads who picked up the Harley and Mrs Pillion.
Trike building, or a suitable trike kit, was now a priority. I knew what I wanted. I also knew that I could not get a trike kit in Australia unless I sold at least two of the grandchildren. Harleys and the USA are like Bundy and Coke — they belong together. There are lots of trike builders in the States, mainly for Harleys and Goldwings, and so it was time to make a decision.
I had to have independent suspension, as my research told me that it gave the best handling, while a solid rear end such as the new Harley Tri Glide gave the best ride. A few weeks of research later I contacted the Trike Shop (http://www.trikeshop.com) in Minnesota, which had a great-looking kit for a Softail or an Ultra Classic (or any other Harley if you are handy with the tools). I liked the engineering of the chassis and suspension and the price was well under anything comparable.
The basic kit, complete but unpainted, was US $8999 and, of course, there was a list of accessories to upgrade the kit to the limit of your credit card. But the basic kit will get you mobile.
The next item on the shopping list was a set of raked triple trees to make the steering easier. Trikes are different. Steering is done by turning the 'bars the full angle that the wheel has to move. There is no counter steer like on a normal motorcycle. If you leave the fork angle as standard, you will either run into lots of things or develop shoulders like Arnie Schwarzenegger. Harley increases the rake by 2.75 degrees on their forks for the Tri Glide, but most of the trike builders use four or five degrees. Prices vary, so shop around.
Then there is the reverse gear. Do you really need it? Sure, trikes roll easily on level ground and you could just be careful where you park, but you will stuff up. Then you have to push. Backwards is OK if the slope is minor and you have some help, but do not relax for a second and let it roll forward. The trike rear wheels are wide apart and will delight in running over your foot. With your foot trapped under the wheel, there is no way you can push the bloody thing up that tiny hill. Use the handbrake, which comes with the Trike Shop kit.
Most Harley trike builders have an optional electric reverse gear that connects to the rear belt drive sprocket. I think it's messy and just another thing that needs adjusting. Champion Trikes (http://www.championsidecars.com) has a reverse gear that fits inside the Harley gearbox. It's about the same price but does require fitting, which is a bit fiddly. And it does not add to the weight. This is absolutely critical! More on that later.
Shipping for something like this is usually by sea freight (four to six weeks) and is handled by UPS Supply Chain Solutions. Customs duty is not payable for motorcycle parts, which is how they class trike kits, as they are not considered to be "a vehicle". But you will be up for GST for the value including the cost of freight. It is easiest to let UPS handle the customs clearance details and pay the bill when you pick it up, which will be done by the UPS forklift. The crate weighs around 300kg and will not fit in a Holden utility. Get a large trailer and four strong mates to unload it at home.
The Trike Shop kit arrives fully assembled in the crate but must be broken down to its component parts to be assembled on the bike. The chassis and suspension bolt on at the swing arm pivot and at the upper shock mounts. Beautiful engineering! The only cutting necessary is removal of the lower six inches of the rear guard to give clearance for the differential. However, the whole primary drive must be disassembled to fit the new wider, longer, Gates carbon-fibre drive belt. This operation and the fitting of the in-box reverse gear should not be attempted unless you know what you are doing and have the tools and the correct workshop manual.
You may want to fit the raked triple trees first, if you have them. If you then decide to test them out on the bike before you fit the trike kit, be sure to take a good first-aid kit with you and wear full protective gear — you will need it.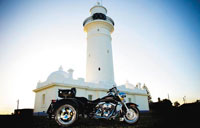 The finish on the body they supplied was a bit of a disappointment, but I notice on the website that they now have a range of bodies and I would hope that the quality has improved. The underside of the body was rough fibreglass straight from the chopper gun. This would only deteriorate if ridden in the rain. My local Whitworths boating supplier advised the use of Flowcoat and catalyst to paint over the rough strands. Now I have a lovely, smooth finish that is waterproof and easy to clean. Then I discovered that the standard Harley taillights and blinkers were not a good fit in the moulded recesses. Body filler putty and a few hours of shaping solved that little problem.
Every trike needs a boot and a topbox. The kit comes with a handy-sized boot, but no topbox, so more modifications to the body were needed. Trike Shop suggests that you cut the top of the body away to clear the standard Harley Ultra Classic TourPak mounts. I don't like removing fibreglass from a major strength area. So, after many fitting sessions, I had a topbox that fitted like it came from the factory with tiny chamfered cutaways for each mounting bolt.
Time for the RTA engineer's certificate and the weighbridge certificate. Motorcycle trikes that weigh a maximum of 450kg are treated as modified motorcycles. Any trike more than 450kg is a totally different class of vehicle with a whole new set of rules. Do not go there. My first weigh-in was a disaster. I realised that I had to remove all of my bolt-on and not strictly necessary accessories. This included topbox, windscreen, crash bars etc — I'm sure you get the picture. That worked. With my weighbridge certificate out of the way, I went shopping for an RTA engineer qualified to certify motorcycles.
[We do not, of course, encourage our readers to break or bend the law in any way — Ed]
If in NSW, go to the RTA website http://www.rta.nsw.gov.au/registration/downloads/vsi/vsi_dl1.html and download Vehicle Standards Information sheet VSI 15 (Engineering signatories) for a list of qualified engineers. There are several other applicable information sheets on that website, so look around. Ensure that all lights, handlebars, braking systems, seats and exhaust systems are standard for the original motorcycle or as close as possible. These are the areas most likely to cause problems and increase the fees if a determination has to be made by the engineer. The Trike Shop kit uses the original lights, braking systems, seats and exhaust, so no problems there.
The last step is the Blue Slip to check that everything works and have the details updated on the RTA website. With all that paperwork in hand, go to the RTA and get your new rego papers and rego label. Now is the time to refit all those absolutely essential bolt-on accessories, plus any bling bits to make the whole trike the envy of all those without one.
After riding my creation for a few weeks, I noted that the front forks sagged about three inches with me on board. A set of Progressive Suspension fork springs http://www.cassons.com.au made a world of difference. No more sag and no more bottoming out on minor bumps. Then Mrs Pillion complained that the rear springs were too hard. It is true that they were designed for the weight of an Ultra Classic Electra Glide carrying two American-sized riders plus luggage. But the springs were set at the softest position. Off came the body and the suspension units were removed and modified to give more travel. Back on the road again and feeling all right.
Would I do it again? With the benefit of my accumulated knowledge, I probably would, but with nothing any heavier than a Road King. Even the electric reverse would have put it over the weight limit. Perhaps there are kits out there that are lighter, but not with the independent rear end and differential that I wanted. For all those considering going down this path, there are some essential steps to follow:
• Research your trike and be sure of exactly what is involved from start to finish.
• Buy a "Hello" card (less than 5¢/minute to USA) and actually talk to the trike builders.
• Get quotes from prospective assemblers/mechanics in Australia (with a timeframe) so you can add their cost to your budget.
• If you are confident to DIY, get a genuine workshop manual for your motorcycle. You cannot do this without it. The associated parts catalogue is also excellent for the expanded views.
• Invest in accurate tension wrenches (ft/lb and inch/lb for Harleys) and get hold of some generic torque tables for UNC and UNF bolts and nuts. These items are essential! I like the story of the mechanic who torqued bolts up until they snapped and then backed them off half a turn.
• Get quotes from your local RTA engineers, as prices vary depending on their focus.
• Remember that no matter who builds it you will be the one riding it and the one who feels the consequences.
• Go to http://btw-trikers.org and click on the photos link to see that absolutely anything is possible and everything has been done before. Unbelievable!
Special thanks to Mrs Pillion for her patience, understanding and nimble little fingers to reach those inaccessible screws; my good friend Mouse for unravelling the mysteries of body filler putty; Marc at Sydney Custom Spray Painting for understanding my search for perfection; Carla at High Plains Harley (www.highplainshd.com) New Mexico, for the best and fastest service and supply of Harley parts anywhere in the world. www.highplainshd.com