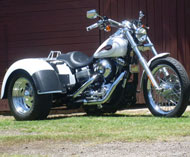 Astrid Campbell's Harley Dyna Lowrider Will Be…

The last trike out of here
I'm a 48-year-old Ulyssian and love to ride. I started out in 2002 (late bloomer) on a Kwaka ZZR250 and after 35,000km traded that in on a 2005 Triumph ST Sprint. I put approximately 35,000km on that, too, but I only weigh 50 kilos and found it a struggle muscling the bike in car parks and doing U-turns.
My husband had just finished building a full custom chopper and I saw that come together from a box of parts to a finished motorcycle, so when I chose to build a trike, it was pretty much a natural progression from there. I've always been around fast cars, drag racing, that sort of thing. In fact, we used to drag race a 1934 Ford Hotrod, which we used as our wedding car.
If I was going to trike something, it just had to be a Harley. I don't know why, it just did.
So, in 2008, my husband and I went down to the local Sunshine Coast Harley dealership and I sat on a few bikes. The Dyna Lowrider was by far the best in the range for my size. So, before we left, we put a deposit on one — subject to the model being suitable for a trike conversion. I'd already found the Motortrike kit on the internet, so my husband and I went down to Eagle Trikes, the Australian distributor for Motortrike, and had a good ol' chat to Hoppy, the owner there. He proved to be very helpful and told us the Dyna Lowrider was a perfect bike to convert, so we dropped off another deposit to get the kit from the USA and headed back home to the Sunshine Coast and immediately rang Jason, the local Harley Dealer, back and told them to get the bike ready for pick up.
The Harley felt right and the Motortrike kit, well, it's got that bit of a hotrod look to it and it seemed to just flow. So we had put steps in progress to replace Trevor the Trumpy with, what else? Trevor the Trike.
We didn't really start with a budget. We thought about getting a low-mileage second-hand Harley, but by the time you do that, a new one was only a tad dearer, so we went with a brand newie, straight off the showroom floor. The plan is to ride it till I'm into my 70s or 80s, so I broke it down to a daily amount based over 30 years (only about $4.60 per day).
Sticking to the budget was easy: buy bike, pay for kit and fitting. No added expense (except for louder pipes and triple trees). We knew the price of the kit when I ordered it and it was really just a matter of adding the price of the Harley to it.
My design ideas came from my imagination and internet but I wanted a trike that could be ridden, after all. I'd like to think I'll still have this when I'm in my 70s, so we spent the money at the beginning to achieve the "perfect trike" so we wouldn't need to upgrade along the way.
The best thing is that it's so much fun to ride that even if I wear it out, I can always rebuild it when it has a lot of kilometres on it. This one is most definitely a "keeper".
Because Eagle Trikes is the sole Australian distributor, we didn't really get a choice of who was doing the conversion, but that's OK because Hoppy did really good work and I'm very happy with the outcome.
The bike was delivered to Hoppy on the Gold Coast with a grand total of 298km on it. In two days, the entire rear of the bike was stripped — from the swing arm back. The kit was a different story. Motortrike in the States hadn't done a 2008-model kit at that time, so they had to borrow a new Lowrider from their local Harley dealer and make the changes necessary to convert the bike.
That held us up for a couple of weeks but it was all going OK and it was sorted quickly. Hoppy did all the mock up, got everything ready to go and then the fibreglass tub went off to the painters.
At first, we couldn't get the paint code number from the paint shops and we were having no luck.
So I just rang Jason from Sunshine Coast Harley and in minutes he had what we needed and the colour match for the pearl white was underway.
Then we discussed handling. A problem with a lot of trikes is they are very heavy to steer. My husband wanted to fit some 4" over forks and some raked triple trees to give it a bit of a chopper look, but Hoppy was quick to point out that it would bugger up the steering and make it heavy as well. I had also read many horror stories about trikes not handling around corners and being heavy to steer, so this issue had to be dealt with. Hoppy came to the rescue pointing out that a set of five-degree triple trees would make it light to steer and a dream to ride. Couple this with the independent shock and air bag suspension in the kit and … he was right. The trike is super-easy to steer and ride.
My husband got onto Chop from Hellbound Choppers in Singleton and ordered a set of five-degree trees and these took a couple of weeks as well because they were the first set of 49mm raked trees in the country back then.
Because my husband had a motorcycle accident shortly before the trike was finished, Hoppy delivered it to the Sunshine Coast for us. There's nothing wrong with the service from Eagle Trikes.
As far as costing for everything — from memory, the bike was $29,000 and the kit came in at $21,000, so that was a nice neat $50,000. Add on the triple trees at $1000, plus we sourced some nice tapered turbo straight through mufflers for it — you know, so it sounds like a Harley — so in total it came to just above the $50,000 mark. We could've come in lower in price by choosing a different bike, Hoppy can fit Motor Trike kits on a multitude of different bikes, but this was the one I wanted.
I guess my advice to anyone contemplating building a trike is to deal with people who know their trade and it will work out fine. I love my trike — it's the best to ride and lots of fun
When people ask me what I'll build next, I tell them I won't need to do it again, I'm really happy with this one. If I did have to do it again, I would do it exactly the same way.
The people who deserve a special thanks are Hoppy from Eagle Trikes, Jason from Sunshine Coast Harley, Chop from Hellbound Choppers and my husband for not even questioning why I wanted a trike, he just backed me up all the way.
The only thing left is to ride for the next 30 or so years.