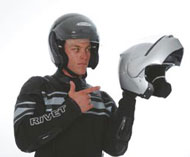 Flip it!
Keep your options open with the new ZS-3000 helmet from the Zeus range.
As it comes out of the box, the ZS-3000 is a flip-front affair, making it easy to down the vital fluid without removing your lid when you've pulled over for a coffee stop, or put on your sunnies without having to jam them through the visor aperture.
Better yet, the optional Jet kit allows you to convert the helmet to an open-facer, giving you two helmets in one. The ZS-3000 is fitted with a "cool-weave" comfort liner that can be removed for washing. The ZS costs $299, the optional Jet kit an extra $59.
Not keen on full coverage? Zeus has also just released two new open-face helmets.
Coded 210A with peak and 210B with visor, they share lightweight PC Alloy and ABS construction and feature flow-through air vents on front and sides for greater summer comfort.
The graphic on the 210B comes in white, red and Yamaha blue, while the 210A is available in matt and metallic black and gloss light silver.
Recommended retail prices are a low $99 and $79 respectively. There is also a visor kit available to convert the 210A into 210B for $49.
More information is available from R&R Speedsports on 02 9709 4655.