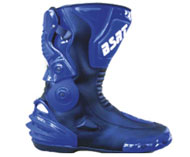 SYGA Race Development has launched a new range of motorcycle boots onto the Australian market. At an introductory price of $285, the boots represent good value.
The BSRT race-derived motorcycle boots are comfortable both on and off the bike. The design is sleek, stylish and offers superior protection.
From an original Italian design, the boots feature: high-quality leather, seven colour combinations, shin, calf and ankle protection, an adjustable calf ratchet system, flexible ankle pivots, extra toe sliders and screws and even a unique accident exchange policy. Sizes are 36 to 47.
Contact: SYGA Race Development, phone: 0411 166 628 or info@sygarace.com, or see http://www.sygarace.com.