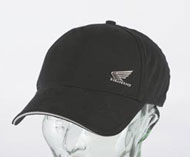 Who says Honda doesn't have any goodies? Here is a small selection of new stuff available now.
The Fitted Wing Badge Cap features a silver Honda Wing badge on the front and the word "Honda" and costs $25. The Cord Cap is available in black and also in white and this textured cap features the Honda Wing on the underside of the cap peak and also on the side; it costs $20. The Classic Suede Jacket is a warm, lightweight 100 per cent chocolate suede jacket that's versatile as it is perfect with a pair of jeans or can also be dressed up with a pair of slacks. The choice is yours! Sizes are small to 2X-large and the cost is $260.00.
All this stuff and more is available from your local Honda Motorcycle dealership. For locations call 1300 146 632 and you can see the Honda Genuine Merchandise Range at www.honda.com.au.